The small, carefully selected, entering class of the CUNY School of Medicine is a microcosm of the ethnic diversity of the city and of the population students can expect to serve in their careers in medicine. Students are united by a common purpose and by the camaraderie which emerges in the pursuit of a difficult goal.

The student body is recruited directly from high schools throughout the New York metro area. Special recruitment efforts are focused on minorities under represented in medicine and residents of medically-underserved areas.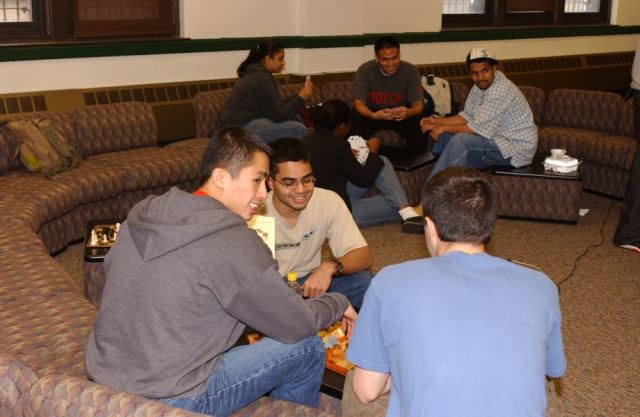 Life at the City College Campus
Like New York City, the City College of New York is a rich composite of people from all walks of life and every part of the world. The range of activities available to students reflects this diversity. The college sponsors a wealth of cultural, social, and artistic events, ranging from dance spectaculars at the Leonard Davis Center for Performing Arts to outdoor forums at the NAC.

Nearly 150 student organizations and an extensive intramural and intercollegiate athletic program provide students with many choices for becoming involved in campus life.
Special Biomedical Student Activities
Students in the CUNY School of Medicine are active in a number of organizations reflecting their special interests and concerns.

Among these organizations are the American Medical Student Association, the Association for Women in Medicine, the Biomed Asian Health Coalition, Physicians for a National Healthcare Program, the Student National Medical Association, and Vision Latina.

Additionally, Biomedical students have formed a number of their own organizations, students participate in inter-class competitions such as intramurals and SING. The Biograph is the CUNY School of Medicine newspaper, published several times a year. The Biomedical student yearbook is produced annually by the graduating class. Students have their own lounge which serves as the center of student life at the School. It is a place to study, eat lunch, and relax with friends. Recently refurbished, the lounge has lockers and mailboxes for all students.
Student Government
CUNY School of Medicine students elect their own Student Government, which serves as the official channel of communication between students, faculty and the administration. The Student Government meets regularly for discussions of concern to the students. In addition, during the monthly Deans' lunch meeting with Student Government, direct dialogue about relevant school-wide issues occur between the School administration and the Student Government leaders. The Student Government also sponsors and provides financial support for various student activities and organizations. Students elect two representatives from each class as well as the President, Vice President/Treasurer and Secretary.
Parents' Council
CUNY School of Medicine also has a Parents' Council, founded in 1974, to enhance communications between parents and the School. The Council has been the source of strong support for the School and its programs and meets during the academic year on a regular basis.