All classes for Fall 2021 on the CCNY Downtown Campus will be offered remotely. Review the course directory and your course syllabus for class/section descriptions. The following modes will be used for courses at our division:
Synchronous: You will meet live in real-time on the day and time scheduled.
Asynchronous/Fully Online: You will not have any required live sessions and students can complete the work on their own schedule (many instructors teaching this way hold optional live office/discussion hours).
Hybrid/Blended: You will meet live in real-time for part of the class session on the scheduled day (e.g., 6:00-7:30, or every other week for the full time, or for roughly 1/3 of the class sessions, etc.) and asynchronously for the rest of the time.
---
LOGINS
Access CUNY First, Blackboard and Degreeworks Blackboard enables student and faculty participation in online classes and online course materials to complement face-to-face learning.
Register for Classes, pay your bill, view financial Aid award CUNYfirst provides essential student, human resources and finance administration across the University via an integrated enterprise technology solution.
Dropbox lets you share files, collaborate on projects and store your work in the cloud.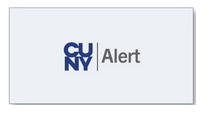 CUNY emergency alert system delivers text, email and/or voice alerts of emergencies or weather-related University or campus closings.
Microsoft Office 365 ProPlus provides free access to all active students through the Microsoft Office in Education program.