Dear Students, 
I would like to introduce to you the 2022 Spring Schedule. We have an extensive variety of courses across all our academic concentrations for the Interdisciplinary Liberal Arts major as well as the Early Childhood Education degree program. Our Academic Advisors will continue working with you by appointment to help you decide on classes that are best for you, not only for your academic goals, but also those that will keep you on track for graduation. Staff members are making an extraordinary effort to meet your expectations in this unusual time. 
Please note that there is a mix of online, hybrid and in-person courses offered. Online and hybrid courses will remain the same as they are conducted now in collaboration with your instructor. The in-person classes will be conducted in physical classrooms at the Center. There are also opportunities for a hyflex modality with some students physically in class and others attending remotely. 
All the support services we currently provide will continue---therapist, tutors, student affairs, financial aid, admissions, enrollment, advising and IT; and are available remotely through our website and our Virtual Front Desk. Some tutoring services will be in-person. Please check the website later for the specific tutoring schedule. Our administration, faculty, and staff continue to work to provide our students the best service and support. As I wrote to you in the early days of the pandemic, now 18 months later as we move to expand our in-person presence, our mission is stronger than ever and we will continue to stay strong together.
All the best to you and your families. Be well, and stay safe. 
Sincerely,
Juan Carlos Mercado, Dean
25 Broadway, 7th Floor
New York, NY 10004
212-925-6625 ext 246
---
View the course schedule for the SPRING 2022 here or on our website.
To schedule an appointment complete the information below and email to cwefrontdesk@ccny.cuny.edu   and a front desk representative will send you the available time frames for your designated advisor.
Course Registration Process:
Contact the front desk ( cwefrontdesk@ccny.cuny.edu ) to schedule an appointment with your academic advisor with the following information:

Full Name
Empld ID
Phone
CCNY Email:
Advisor:
Concentration:
Reason for appointment:

Review the Spring 2022 course schedule BEFORE your advising appointment
Virtually meet with your advisor for Spring 2022 registration
Process your registration for courses via CUNY First
---
Financial Aid: Reminder to apply for financial aid: https://www.ccny.cuny.edu/financialaid/how-to-apply
If you have questions about Financial Aid please contact the front desk beginning November 2nd to meet with our CWE Financial Aid Advisor.
---
CWE Virtual Front Desk Operating Hours: Monday-Friday 10am-6pm~~Email & Phone
Email:  cwefrontdesk@ccny.cuny.edu and phone: 212-925-6625 ext 0
Send an email or leave a voicemail with your full name and phone number and receive a response within 24 hours during business hours.
---
REGISTRATION SCHEDULED APPOINTMENT INFORMATION
* Appointments are for one hour. Please be prepared to start and complete the appointment within that time frame. Prepare your planned course schedule and any questions you may have prior to the appointment.
* Make sure you have the schedule of classes open in your device for easy reference.
* Make sure you leave your phone number and email for the scheduled appointment. 
Please note the following for each type of appointment:
Phone: An advisor will call you from a blocked phone number at the time of your appointment. Please make sure your phone battery is charged.
Blackboard Collaborative Ultra Live Video Conference: You will be emailed a link before the appointment. You have the option of using or not using your video camera for the video conference.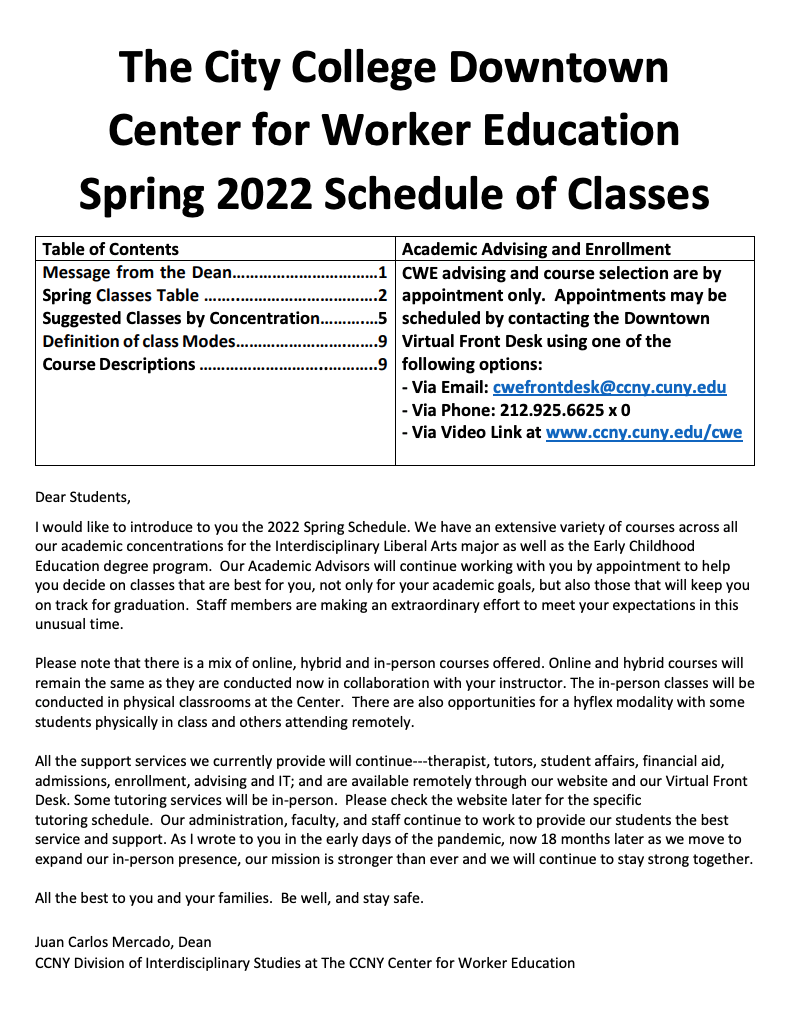 Last Updated: 11/03/2021 09:58