Summer Session 2022
Summer Session at the Division of Interdisciplinary Studies at CWE  is a condensed summer schedule for students to catch up or get ahead of their studies during the summer months. We aim to provide flexibility and convenience with our courses taught via distance learning with extraordinary faculty, virtual library resources and live staff support.
Courses offered at our Division gear towards a BA in Interdisciplinary Arts and Sciences and a BS in Early Childhood Education. 
Contact the cwe front desk for more information. 
---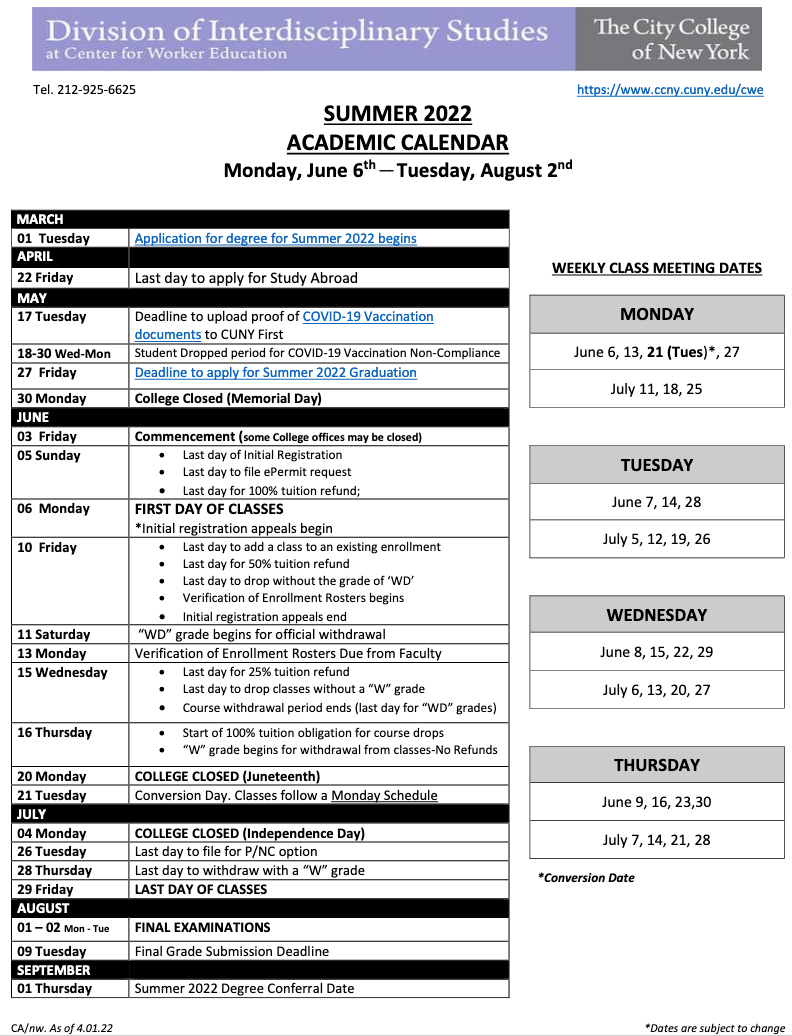 CUNY Academic Calendars Click Here.
CCNY Academic Calendars Click Here.
Appointments are scheduled based on the following:
Priority Appointment Scheduling begins-Students with the AccessAbility Center/Student Disability Services or the Veterans Affairs Office.
Appointment scheduling for Academic Seniors (90+ completed credits) & Early Childhood Education Majors who passed ECE Interviews.
General Appointment Scheduling for all other continuing students.
For further details please see our registration overview page.
Continuing IAS-CWE Students: All course enrollment at CWE is by appointment only with your assigned academic advisor, as listed in your Student Center in CUNY First. Please schedule your remote advising appointment through our virtual front desk. An email announcement indicating registration appointment openings will be sent directly to your citymail account from the office manager:  nwoods2@ccny.cuny.edu .
CCNY(Uptown Campus) Students: If you are interested in taking a course in our division and not transfer/change your major to our program you will need to sign up for our course waiting list. Go here: Summer 2022 Course waiting list.
Visiting/Non Degree: Students from other CUNY Schools, Visiting/Non Degree Visiting/Non Degree students, and students from other CUNY Colleges who wish to take downtown courses via Epermit should schedule an appointment with an academic advisor. 
Please check your email and this page frequently for updates. Further question please contact our virtual front desk.
Last Updated: 04/06/2022 00:28