In Defense of Childhood Conference
In Defense of Childhood Conference
                                             
IN DEFENSE OF CHILDHOOD:
Keeping the Joy of Learning Alive
This all-day City College Conference was held on March 10, 2012 and opened in Shepard's Great Hall. The conference was premised on the belief that optimal learning results when the whole child is supported in his or her cultural context; when teaching fosters active engagement, is responsive to diverse cultures and languages, supports family involvement in learning, and develops not only cognitive skills but other human attributes such as curiosity, perseverance, empathy, flexibility, resilience, and social awareness.
It is in the context of these issues that this conference addressed how educators and schools can nurture children in accordance with their developmental needs and teach them in the ways that they learn.  Presenters shared effective practices and made recommendations for how school and societal challenges can be negotiated to create more effective and more equitable learning environments to enhance the life chances of our youngest citizens.
What a great day we had! With over 700 registrants (and we think over 600 actually came!), an inspiring keynote by Nancy Carlsson-Paige, forty interesting and informative break-out sessions, a cultural arts fair that provided information about the work of 38 NYC cultural arts organizations, a smashing performance by the 4th grade African drummers from the Bronx Community Charter School, and a brilliant closing panel, we think the conference accomplished our goal of raising issues critical to the well-being of children, featuring practices that are supportive of children and families, and inspiring and renewing commitment to advocate for a healthy and equitable childhood for all. 
We believe that City College is the absolutely most appropriate place in New York City to have held a conference with a message of ensuring that all children are provided with the education they deserve. We hope to keep the energy going by staying connected through this website (/education/in_defense_conference) and also through a recently created facebook page: https://www.facebook.com/InDefenseOfChildhood 
Many thanks to all the presenters; to Gay Wilgus and Jesus Fraga, who led a crew of volunteers from amongst our students, graduates, and faculty; to Sobha Paredes and Jennifer Katona for organizing the cultural arts fair; to all the supporting organizations; and to CCNY President Lisa S. Coico and all of our other sponsors who so generously contributed funds so that we could make conference admission free. 
Professors Beverly Falk (Education) and Bill Crain (Psychology), Conference Conveners
Video of the conference- Coming soon!
Join our network
Sponsoring organizations: President Lisa S. Coico, The City College of New York's Graduate Programs in Early Childhood Education, Psychology Department, Educational Theater Program, Colin Powell Center for Leadership and Service, Auxiliary Enterprise Corporation, Office of Student Affairs, New Educator journal, School of Education and School of Education's Retired Faculty Association, and the Lillian Weber Fund.
Supporting organizations: Alliance for childhood, American Museum of Natural history, Bank Street College of Education, Bronx Community Charter School, Child Care Council at CUNY, Child development Institute at Sarah Lawrence College, City College Child Development Center, Community Playthings, Democracy Inquiry Group of New England, Fashlight Press, Manhattan Country School, New York City Early Childhood Professional Development Institute of CUNY, Sciplay Center of the New York Hall of Science, and the UFT Teacher Center.
Related Sources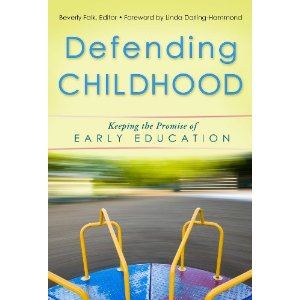 New report from the American Psychological Association: Reducing Academic Pressure May Help Children Succeed
National Association for the Education of Young Children - http://www.naeyc.org/
Alliance for Childhood - http://www.allianceforchildhood.org/