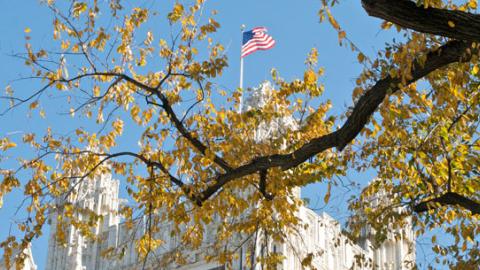 The mission of the Faculty Senate of the City College of New York is to serve as the authentic voice of the faculty. The Faculty Senate operates College-wide in three main areas:1) to advance student learning in all its forms, 2) to promote the interests and well-being of the faculty, and 3) to partner with the College administration in advancing the historic mission of City College.
The Senate considers a host of College-wide matters including curriculum questions, faculty affairs, allocation of resources, student affairs, College administration, new initiatives, approval of all student degrees, and the relationship between the College and the community.
64 Senators, who are elected for fixed terms by the many divisions and schools of the College, comprise the Senate. The day-to-day operations of the Senate are managed by a seven-member Executive Committee elected annually by the Senate. The Senate convenes a series of standing committees each year to consider specific areas of interest to the Faculty.
Plenary meetings of the Senate take place on the third Thursday of each month during the academic year. These meetings are open to the College community. I encourage members of the Faculty, Senators or not, to come and contribute to advancing the teaching and research mission of the College.
Faculty Senate Plenary:
Fall 2023
Thursday, September 21 (2PM to 4PM, SH-350)
Thursday, October 19 (2PM to 4PM, SH-350)
Thursday, November 16 (2PM to 4PM, SH-350)
Thursday, December 14 (2PM to 4PM, SH-350)
ZOOM link: https://ccny.zoom.us/j/81732875580
Spring 2024
Thursday, February 15 (2PM to 4PM, SH-350)
Thursday, March 21 (2PM to 4PM, SH-350)
Thursday, April 18 (2PM to 4PM, SH-350)
Thursday, May 16 (2PM to 4PM, SH-350)
Status of Membership 2023 – 2024
Department
Authorized Seat
Vacancies as of 11/16
Senators
Anthropology

1

0

Angel-Ajani (2025)

Architecture

2

0

Birignani (2024)
Rickenbacker (2026)

Art

2

1

Handy (2025)
 

Biology

2

0

Emerson (2026)
Lohman (2026)

CSOM-MCBS

 

3

3


 

CSOM-CHASM
1
0
Sohler (2024)

CSOM-Med-Ed

2

2

 

Biomedical Engineering

2

0
 

Fritton (2025)
Williams (2025)

Chemical Engineering

2

1
 

Chen (2026)
 

Chemistry & Biochemistry

3

0

Jeruzalmi (2025)
Salame (2025)
Stark (2025)

Civil Engineering

2

0

Agrawal (2025)
Piasecki (2025)

Classical & Modern Languages & Lit

2

0

Estevez (2025)
Elhanan (2025)

Computer Science

2

0

Fazio (2025)
Troeger (2025)

Earth Sciences

2

0

Block (2025)
Wang (2025)

Economics & Business

2

0

Arora (2025)
Shachmurove (2025)


EDU-Leadership & Human Development

2

0

Davis (2025)
Huang (2025)


EDU-Curriculum & Instruction

2

        0

Cardwell (2024)
Valle (2025)
 

Electrical Engineering

2

0

Gilerson (2025)
Madamopoulos (2025)

English

3

0

Dekel (2026)
Higney (2024)
Raboteau (2026)

History

2

0

Felber-Seligman (2025)
Kalia (2025)

Interdisciplinary Studies (CWE)

2

0

McDonald (2025)
Rosenbaum (2025)

Library

2

0

Aponte (2024)
Crowley (2026)

Mathematics

3

1

Chatterjee (2025)
Kucherenko (2025)

Mechanical Engineering

2

0

Ramamurthy (2025)
Yu (2024)

Media & Communications Arts

2

2

 

Music

2

0

Carter (2026)
Holober (2026)

Philosophy

1

1

 

Physics

3

1

Koder (2025)
Punnoose (2025)

Political Science

2

0

Baver (2025)
Greenwald (2025)

Psychology

3

0

Anglin (2026)
Espinosa (2025)
Fraenkel (2025)

SEEK

1

0

Sant-Barket (2024)

Sociology

1

0

Biles (2025)

Theater and Speech

1

0

Judell (2025)
Notes:
Executive Committee of the CCNY Faculty Senate
(2023-2024)