Processing Honoraria
Honoraria are modest payments made to individuals to acknowledge and provide compensation for their services. At CUNY, honoraria are paid to many individuals for a variety of services, but most often as event speakers.  
It is important to remember that for tax purposes, while the recipient of an honorarium is entitled to receive up to $600 annually as non-reportable income, all payments from the CUNYfirst Tax-Levy Business Units will be aggregated to determine the total annual payments from CUNY as a single entity.  Consequently, all payments for fees must be considered reportable and made through the CUNYfirst purchase order process.
Honoraria Process Flowchart

Payroll Verification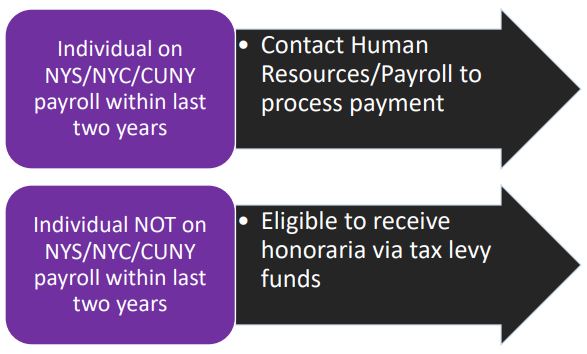 CUNY Vendor & Payee Registration
Recipients of honoraria must be included in the CUNY Vendor Management file as a "Supplier."  Confirm vendor status through one of the following methods:
In CUNYfirst follow: Financials Supply Chain > Main Menu > Vendors > Vendor Information > Add/Update > Review Vendors and change "SETID" to "STAPR - State Procurement" to search using various criteria such as Tax ID number.
Search by CUNYfirst EMPLID using the following CUNYfirst query: CU_FSTE_EMPLOYEE_VNDR_EXISTS - Does Employee exist as Vendor
Perform a vendor search during requisition creation
If the individual is not available in the vendor file prior to creating a CUNYfirst requisition, then proceed with the standard process for CUNY Vendor & Payee Registration .
CUNYfirst Requisition & P.O. Issuance
Create a CUNYfirst requsition for P.O. issuance to process honoraria payments made with tax levy funds, as fees for services provided by individuals.  If the individual will be providing their services more than once throughout the fiscal year, they must complete the CUNY Honorarium Claim form and it must be uploaded and attached to the CUNYfirst requisition as supporting documentation.
By creating these transactions, a clear and accessible record of the agreement, the cost to the College and approval of the budget expenditure are captured in CUNYfirst and are easily made available for reporting and/or audit purposes. 
Important Note:  Failure to submit a CUNYfirst requisition for P.O. issuance from Purchasing BEFORE services are rendered will jeopardize departmental compliance to CUNY procurement policies and may result in disallowance of the use of tax levy funds to pay honoraria.  
Last Updated: 11/04/2020 08:57