The 2022 Division of Humanities & the Art Commencement
Congratulations to the Class of 2022!
---
The Divisional Commencement Ceremony:
WEDNESDAY, June 1, 2022
South Campus Lawn
Entrance at the southeast corner of Convent Avenue and West 135th Street.
10:00 AM
(Gates open at 8:30 AM)
Graduating students are expected to arrive at the Graduate Line-up area (see map below) no later than 9:00 am.
Graduating students must have a black cap and gown to walk in the Humanities & the Arts Commencement.
Tickets are required for admittance to the ceremony.
Seating is first-come, first-served.
The ceremony is outdoors on a grassy surface.
---
The Humanities and Arts Commencement will be live-streamed via Total Webcasting.
---
All visitors to campus must be vaccinated against COVID-19 and have obtained clearance through the visitor/guest portal:
Also accepted: Excelsior Pass (or another state's equivalent), CDC Vaccination card, New York Covid Safe.
---
Guidance for Inclement/ Severe Weather Plan
All ceremonies will go on rain or shine.  Graduates and their guests should prepare for the possibility of inclement weather, bright sunlight and extreme heat.  If rain is forecasted on the day of any ceremony, graduates and guests should come prepared with appropriate attire.  

In the event of heavy rain, an abbreviated ceremony will take place as long as it is safe to proceed. If there is severe weather, the ceremony will be cancelled.  Where possible this decision will be made in advance.
---
IMPORTANT:
There is a ban on bags at Commencement.
Dear All,
"The security of our students and their families is always a College priority.  To ensure guest safety and efficient entry into all commencement ceremonies, no drones, bags, packages, backpacks, umbrellas or selfie sticks will be allowed into these venues during our main and divisional graduations. 
Venues include The South Campus Great Lawn, Aaron Davis Hall, the Great Hall of Shepard Hall, NAC Amsterdam Room and Spitzer Gallery.
Those who do not comply with this directive will have banned items searched, and can expect to be delayed in entering the seating or marching areas. There will be no provisions for checking these items.
Thank you for your cooperation at this important time. "
---
Accessibility Accommodations
If you and/or your guests require accommodations for commencement activities (both main and divisional commencements) due to a disability, please go to The Accessibility Center/Student Disability Services' Commencement Access page to receive information and request accommodations in advance of the ceremonies.
---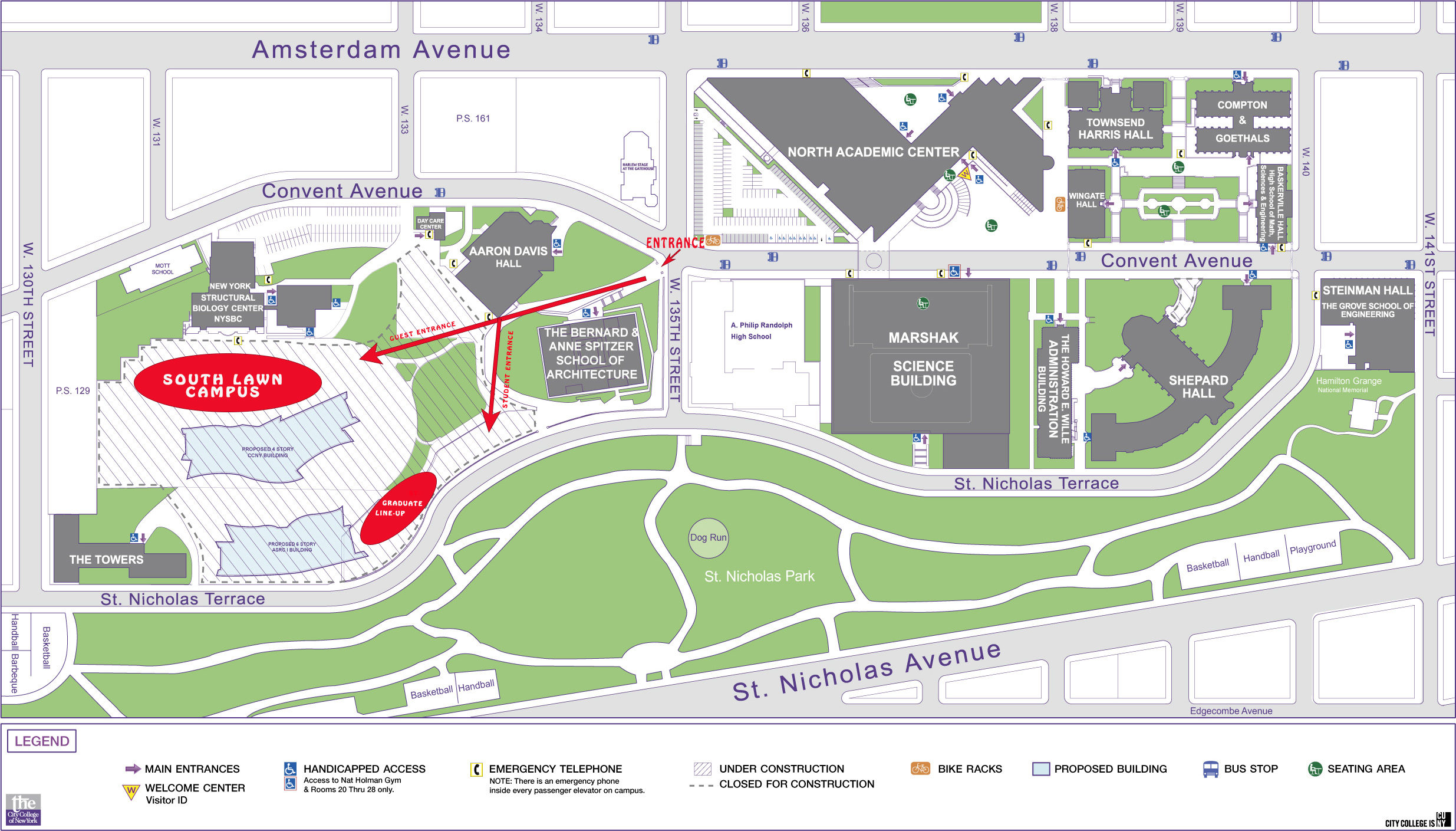 ---
Log in to Campus Groups to find your tickets!
---
Order your tickets here:
Each student may reserve a maximum of 2 tickets for guests.
Sign up here to be contacted about extra tickets if they become available: Extra Ticket Sign-Up.
Only students who graduated in September 2021,
or January/February 2022,
or applied for June 2022 graduation
may request commencement tickets through the link above which will be activated by May 9. 
Each graduating student from the class of 2022 is guaranteed two tickets which may be reserved HERE.
Graduates from the Classes of 2020 and 2021 please request your tickets here.
(https://form.jotform.com/220866772950162)
Please RSVP by Monday, May 23, 5:00 pm
---
For more information about the Main Commencement, the purchase of cap and gowns, graduation pictures, and the yearbook click  here .
If you have additional questions or concerns, please see below for the contact information.
---
Cap and Gown Pick-up Days & Times* May 25th -  12:00 pm to 7:00 pm May 31st -  11:00 am to 6:00 pm June 1st - 9:00 am to 4:00 pm

Grads are asked to RSVP for the day they plan to pickup:

https://groups.ccny.cuny.edu/Commencement/cap-and-gown-information-/
*There will also be an opportunity for the last-minute purchase of caps and gowns.
 

---

Please check back regularly for updated information. Last updated May 4, 2022

---

Frequently Asked Questions: 1) Can students attend two divisional/school ceremonies if they double majored?

No, students are allowed to participate only in the ceremony of the division/school which is listed as the first major on their transcript.  For example, a student whose majors are listed as English and Psychology, in that order, would participate only in the Humanities and the Arts Divisional Ceremony.  

2) Where can students order and pick up their cap and gown?

Ordering information available here: https://groups.ccny.cuny.edu/commencement/cap-and-gown-information/ (please continue to check your City College email for further updates or changes to the pick up location).

 

3) Do graduating students need a ticket to attend the divisional ceremony?

No, a graduating student's cap and gown acts as their ticket into the ceremony.  Tickets are for the graduate's guests. 

4) Can students RSVP for tickets to the main commencement ceremony through the Humanities and the Arts webpage?

No, the main commencement ceremony has its own RSVP ticketing system.  Please check your City College email regularly for information regarding the ticket process, you can also contact the Office of Student Life for any questions or concerns (Phone: 212-650-5002 Email:  studentlife@ccny.cuny.edu )         

5) Do infants or small children need tickets?

Children under the age of 3 do not require a ticket.  However, they cannot occupy a seat.  

6) Where do students and guests enter for the divisional commencement ceremony? 

Students and guests enter at 135th Street and Convent Avenue.

7) Is there campus parking available for guests or students?

No parking will be available on campus. We recommend that you start early and take public transportation, car-pool, or get dropped off if possible. The following is a list of public parking lots near CCNY:

MPG Uptown 2, LLC 3333 Broadway (between 134th & Riverside Drive) 

(212) 281-0698  Open 24 Hours, 7 Days a Week.

MTP Uni Facility 631-635 West 131st Street

(212) 368-2579  Open every day from 6 am-9:30 pm

MTP Parking, 90 Old Broadway (between 131st & 133rd Street)  

(212) 280-7487 Open 24 Hours, 7 Days a Week

Y&H Garage, 526-534 West 134th Street (between Broadway & Amsterdam Avenue)

(212) 862-3502  Open 24 Hours, 7 Days a Week

MTP Operating Corp. 265 Edgecombe Avenue at 145th Street

(212) 234-9227  Open every day from 7 am-7 pm
Last Updated: 05/31/2022 09:29