---
TUESDAY NOV. 1, 2022
6:30-7:30PM
Join the CCNY MFA in Creative Writing on Tuesday, Nov. 1 at 6:30PM in CCNY's Shepard Hall, room 350 for the final event in our "Spotlight: Writers on Iran" series with author and MFA of Creative Writing Professor of fiction Salar Abdoh about his latest novel Out of Mesopotamia, in conversation with Pulitzer Prize-winning journalist Chris Hedges.
"One of a handful of great modern war novels...These wars will not end until we look at what we are doing and what we have done. Abdoh's novel lifts the veil on the murderous insanity." —Chris Hedges, Pulitzer Prize-winning journalist
"If there were a formula for war novels, it might include a healthy dose of Ernest Hemingway and a splash of Tim O'Brien mixed with a subtle tincture of Leo Tolstoy. In writing, however, following a formula rarely produces anything exceptional. Author Salar Abdoh defies all formulaic constructions, despite the very real influence of these seminal writers in Out of Mesopotamia." —Shelf-Awareness
Salar Abdoh is a professor of fiction in CCNY's MFA in Creative Writing. His novels and essays are translated widely around the world; he has authored the books The Poet Game, Opium and Tehran at Twilight, as well as edited and translated Tehran Noir. His latest novel, Out of Mesopotamia, was acclaimed as one of the best books of 2020. His forthcoming book, When a Woman Burns Herself, is due in September 2023.
Chris Hedges is a cultural critic and author who was a foreign correspondent for nearly two decades for The New York Times, The Dallas Morning News, The Christian Science Monitor and National Public Radio. He reported from Latin American, the Middle East, Africa and the Balkans. He was a member of the team that won the 2002 Pulitzer Prize for Explanatory Reporting for The New York Times coverage of global terrorism, and he received the 2002 Amnesty International Global Award for Human Rights Journalism.
Sponsored by The Estate of Kenneth Kowald Fund for Advancing American Literature
Spotlight is a new series engaging authors, writers and the public in the most pressing conversations of our time, through the lens of literature and the arts.
---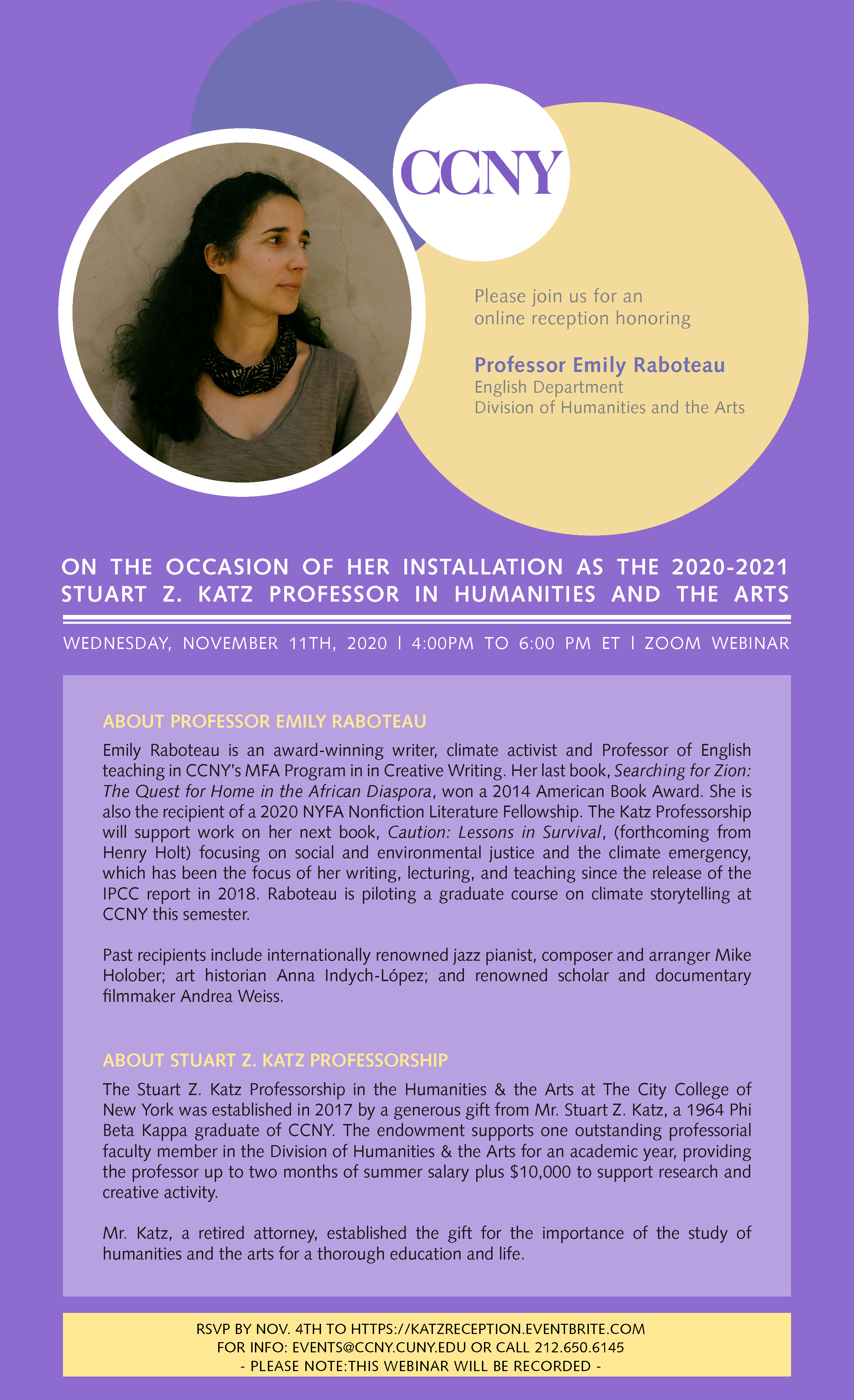 Please join us for an online reception honoring
Professor Emily Raboteau, English Department
Division of Humanities and the Arts
ON THE OCCASION OF HER INSTALLATION AS THE 2020-2021
STUART Z. KATZ PROFESSOR IN HUMANITIES AND THE ARTS
Wednesday, November 11th, 2020 | 4:00PM to 6:00 PM ET | ZOOM WEBINAR
Emily Raboteau is an award-winning writer, climate activist, and Professor of English teaching in CCNY's MFA Program in Creative Writing. Her last book, Searching for Zion: The Quest for Home in the African Diaspora, won a 2014 American Book Award. She is also the recipient of a 2020 NYFA Nonfiction Literature Fellowship.  The Katz Professorship will support work on her next book, Caution: Lessons in Survival, (forthcoming from Henry Holt) focusing on social and environmental justice and the climate emergency, which has been the focus of her writing, lecturing, and teaching since the release of the IPCC report in 2018. Raboteau is piloting a graduate course on climate storytelling at CCNY this semester.
---
---
---
---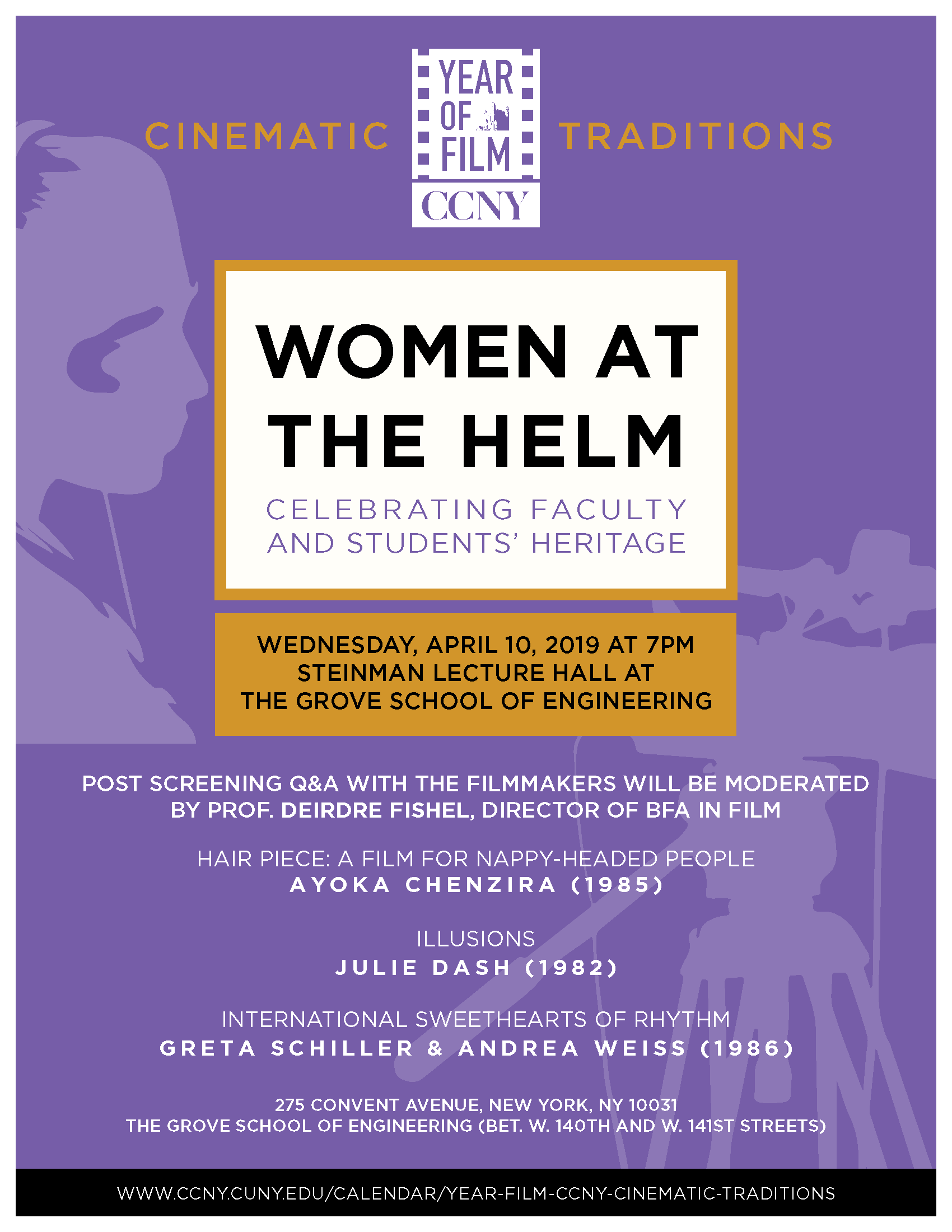 "Year of Film" screening Women at the Helm featuring CCNY female filmmakers, April 10
As part of The City College of New York's "Year of Film" celebration, four female filmmakers with CCNY links will screen their work at the "Women at the Helm: Celebrating Faculty and Students' Heritage" on Wed., April 10 at 7 p.m. in the Steinman Lecture Hall.  Films by Ayoka Chenzira, Julie Dash, Greta Schiller and Andrea Weiss will all be shown. The event is free and open to the public.
Deirdre Fishel, associate professor and program director of the BFA Film and Video Program, will moderate a post-screening Q&A with some of the filmmakers. CCNY's film program is housed in the Division of Humanities and the Arts' Department of Media and Communication Arts.
Following are the three films that will be screened:
"Hair Piece: A Film for Nappy-headed People" by Ayoka Chenzira, the former chair of the Department of Media and Communication Arts at CCNY. She managed programs in advertising, public relations, journalism, film and video and also co-created the MFA Program in Film, formerly the MFA in Media Arts Production;
"Illusions" by Julie Dash, alumna and American film director, writer and producer. She received her MFA at the UCLA Film School and is one of the graduates and filmmakers born out of a time known as the L.A. Rebellion; and
"International Sweethearts of Rhythm" by Greta Schiller, alumna and Emmy-winning documentary filmmaker and science educator who has received multiple National Education Association film awards and was the first Fulbright Arts Fellowship in film, and Andrea Weiss, Emmy-winning filmmaker, professor and co-director of the MFA Program in Film, whose research is funded by her 2014 Fulbright Scholars award for production of "Bones of Contention," which focuses on the erasure and denial of LGBT history in post-Franco Spain.
About CCNY's "Year of Film"
As early as 1934, student members of the aptly named Film and Sprockets Society were rolling out motion pictures at The City College of New York, establishing CCNY as one of the earliest film schools in the nation. In 1941, pioneering Dadaist and filmmaker Hans Richter took charge of the Institute of Film Techniques, CCNY's first formal filmmaking program, founded by Irving Jacoby. Nearly eight decades later, CCNY has declared 2019 the "Year of Film" to celebrate Richter and the legacy of arguably the oldest, continuous film program in the U.S.
---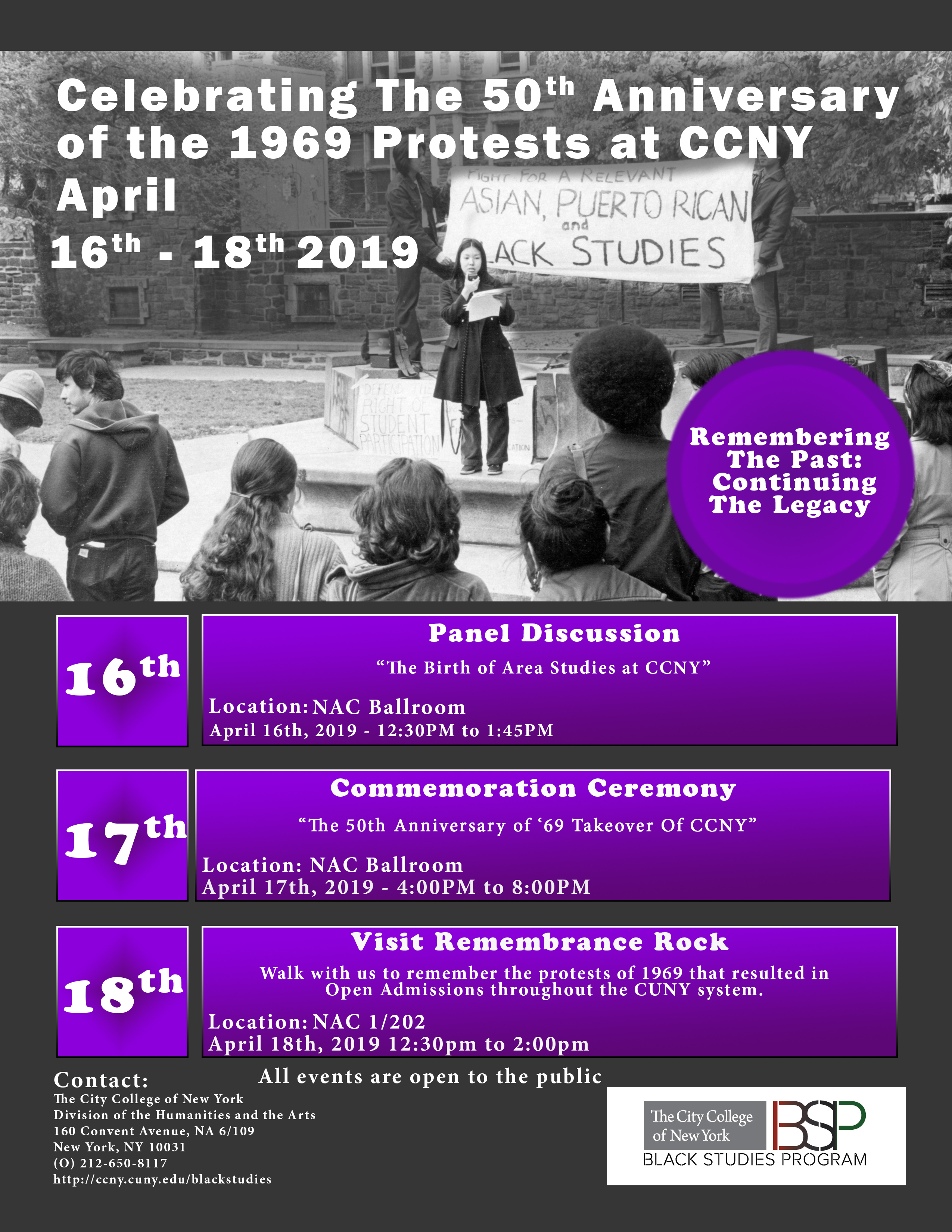 50th Anniversary of the 1969 Protests at CCNY
April 16 - 18
April 16 - 12:30 - 1"45 pm - NAC Ballroom - Panel Discussion - "The Birth of Area Studies at CCNY" - Vanessa K. Valdés, Director Black Studies Program
April 17 -  4:00 - 8:00 pm - NAC Ballroom - Commemoration Ceremony - 50th Anniversary of '69 Takeover of CCNY
April 18 - 12:30 - 2:00 pm - NAC 1/202 - Walk to Rememberance Rock
---
---
---
---
---
---
---
---
---
---
---
---
---
---
---
---
---
---
---
---
---
---
---
---
---
---
---
---
---
---
---
---
---
---
---
Last Updated: 02/08/2023 19:36