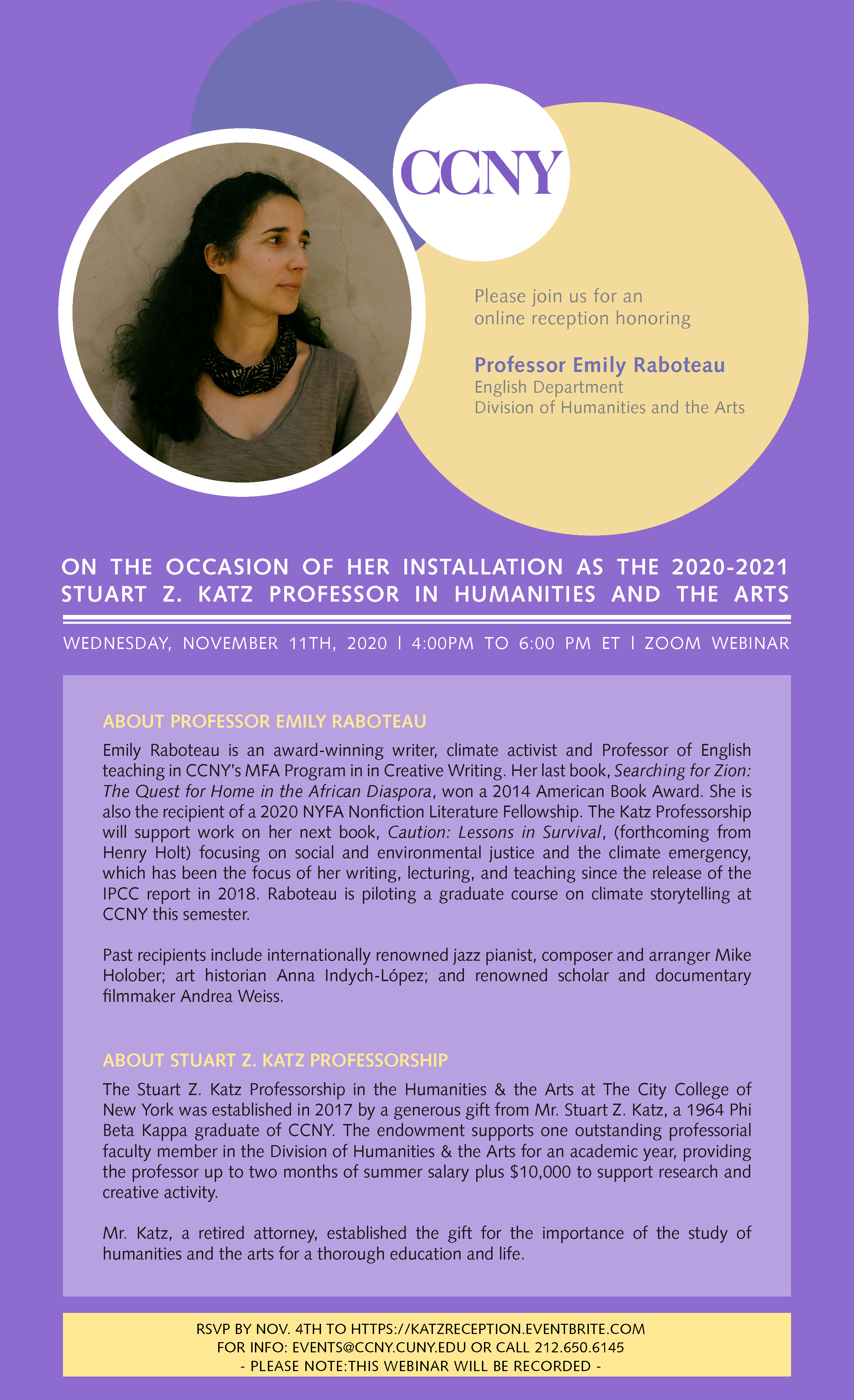 Please join us for an online reception honoring
Professor Emily Raboteau, English Department
Division of Humanities and the Arts
ON THE OCCASION OF HER INSTALLATION AS THE 2020-2021
STUART Z. KATZ PROFESSOR IN HUMANITIES AND THE ARTS
Wednesday, November 11th, 2020 | 4:00PM to 6:00 PM ET | ZOOM WEBINAR
Emily Raboteau is an award-winning writer, climate activist, and Professor of English teaching in CCNY's MFA Program in Creative Writing. Her last book, Searching for Zion: The Quest for Home in the African Diaspora, won a 2014 American Book Award. She is also the recipient of a 2020 NYFA Nonfiction Literature Fellowship.  The Katz Professorship will support work on her next book, Caution: Lessons in Survival, (forthcoming from Henry Holt) focusing on social and environmental justice and the climate emergency, which has been the focus of her writing, lecturing, and teaching since the release of the IPCC report in 2018. Raboteau is piloting a graduate course on climate storytelling at CCNY this semester.
---
---
---
---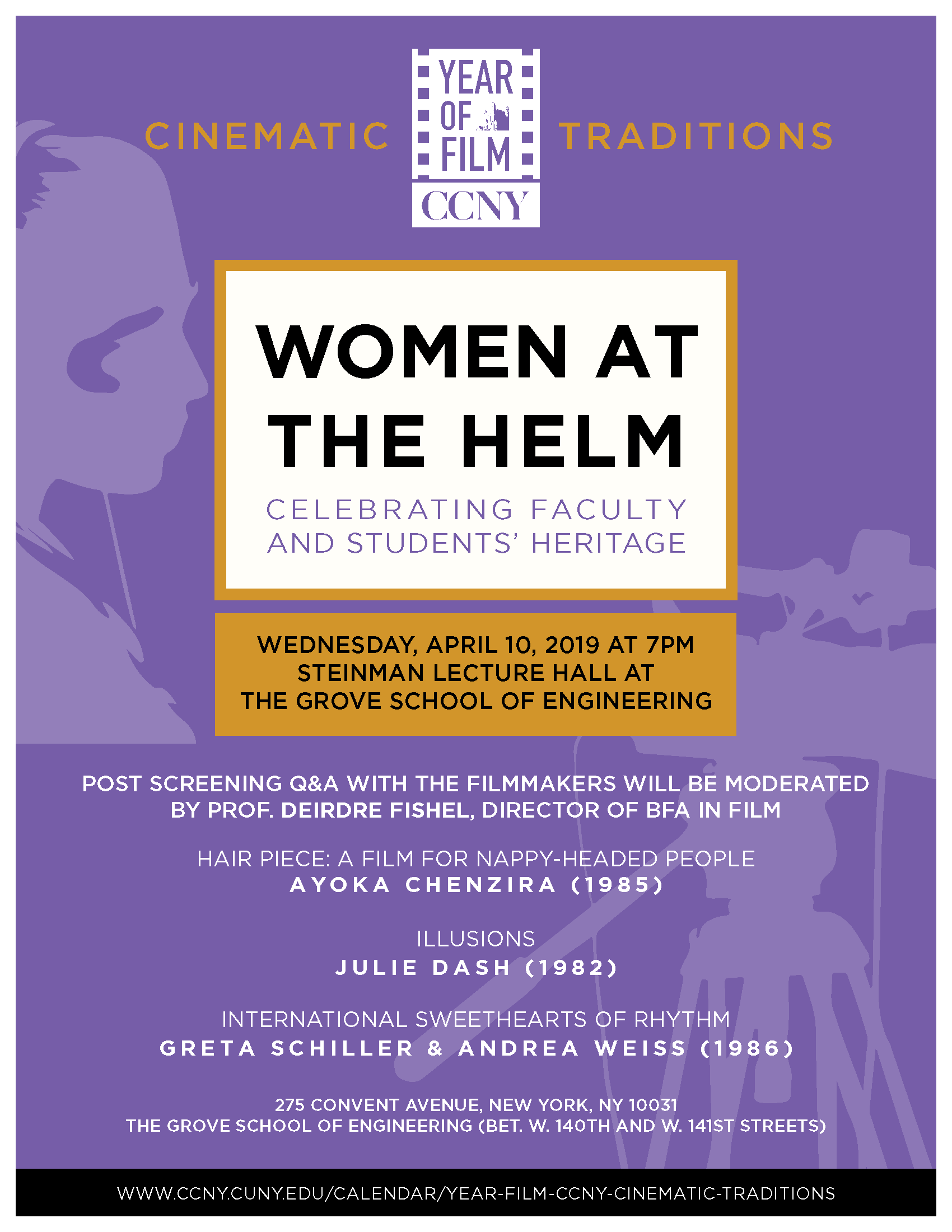 "Year of Film" screening Women at the Helm featuring CCNY female filmmakers, April 10
As part of The City College of New York's "Year of Film" celebration, four female filmmakers with CCNY links will screen their work at the "Women at the Helm: Celebrating Faculty and Students' Heritage" on Wed., April 10 at 7 p.m. in the Steinman Lecture Hall.  Films by Ayoka Chenzira, Julie Dash, Greta Schiller and Andrea Weiss will all be shown. The event is free and open to the public.
Deirdre Fishel, associate professor and program director of the BFA Film and Video Program, will moderate a post-screening Q&A with some of the filmmakers. CCNY's film program is housed in the Division of Humanities and the Arts' Department of Media and Communication Arts.
Following are the three films that will be screened:
"Hair Piece: A Film for Nappy-headed People" by Ayoka Chenzira, the former chair of the Department of Media and Communication Arts at CCNY. She managed programs in advertising, public relations, journalism, film and video and also co-created the MFA Program in Film, formerly the MFA in Media Arts Production;
"Illusions" by Julie Dash, alumna and American film director, writer and producer. She received her MFA at the UCLA Film School and is one of the graduates and filmmakers born out of a time known as the L.A. Rebellion; and
"International Sweethearts of Rhythm" by Greta Schiller, alumna and Emmy-winning documentary filmmaker and science educator who has received multiple National Education Association film awards and was the first Fulbright Arts Fellowship in film, and Andrea Weiss, Emmy-winning filmmaker, professor and co-director of the MFA Program in Film, whose research is funded by her 2014 Fulbright Scholars award for production of "Bones of Contention," which focuses on the erasure and denial of LGBT history in post-Franco Spain.
About CCNY's "Year of Film"
As early as 1934, student members of the aptly named Film and Sprockets Society were rolling out motion pictures at The City College of New York, establishing CCNY as one of the earliest film schools in the nation. In 1941, pioneering Dadaist and filmmaker Hans Richter took charge of the Institute of Film Techniques, CCNY's first formal filmmaking program, founded by Irving Jacoby. Nearly eight decades later, CCNY has declared 2019 the "Year of Film" to celebrate Richter and the legacy of arguably the oldest, continuous film program in the U.S.
---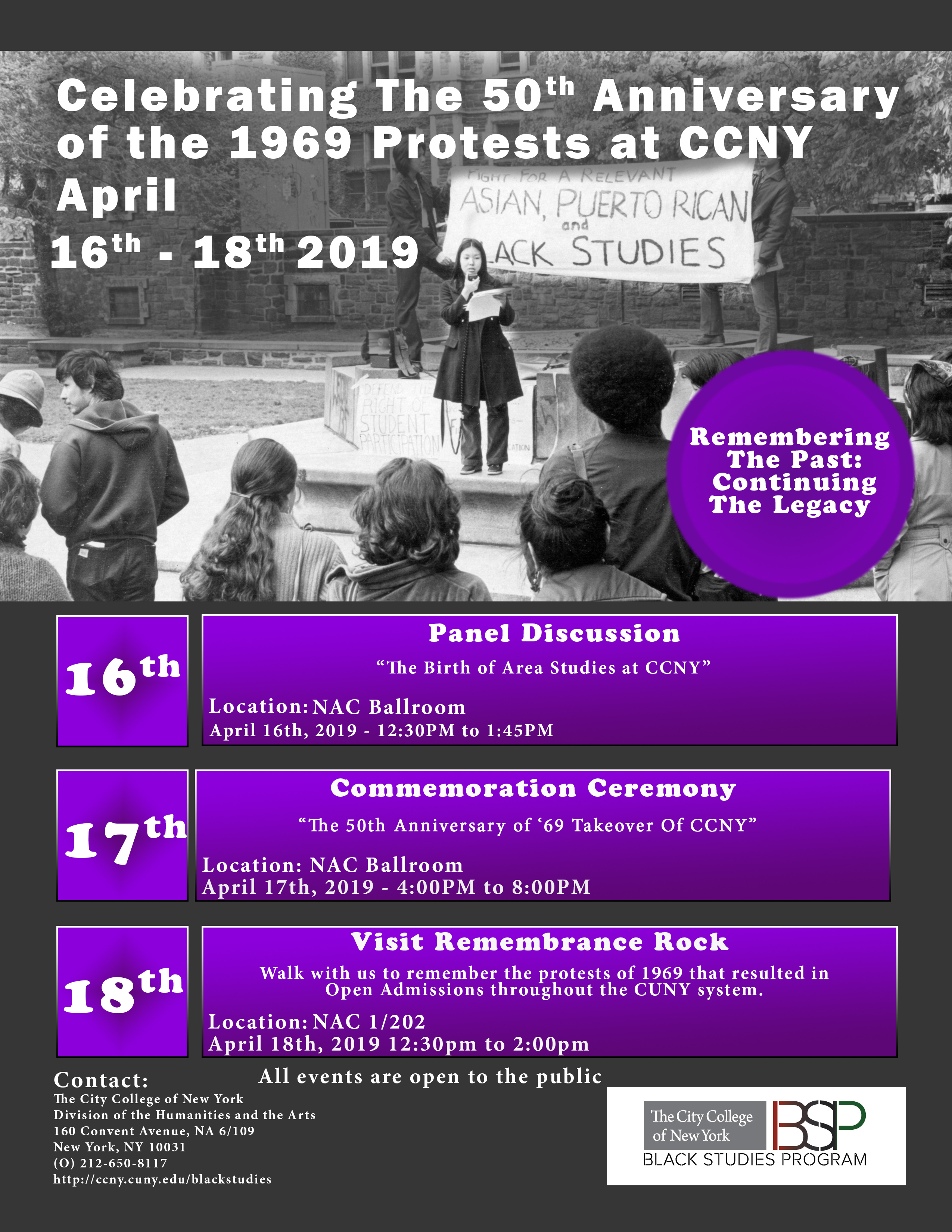 50th Anniversary of the 1969 Protests at CCNY
April 16 - 18
April 16 - 12:30 - 1"45 pm - NAC Ballroom - Panel Discussion - "The Birth of Area Studies at CCNY" - Vanessa K. Valdés, Director Black Studies Program
April 17 -  4:00 - 8:00 pm - NAC Ballroom - Commemoration Ceremony - 50th Anniversary of '69 Takeover of CCNY
April 18 - 12:30 - 2:00 pm - NAC 1/202 - Walk to Rememberance Rock
---
---
Technology & Literary Studies: A Day-Long Seminar hosted by Prof. Dennis Yi Tenen, Mar 14, 2:00 - 8:00 PM, NAC 6/316
---

MLK 50: Let Freedom Ring
Aaron Davis Hall - November 13 - 7:30 pm.
The City College Division of Humanities & the Arts is pleased to present MLK50: Let Freedom Ring to honor the great civil rights leader, Dr. Martin Luther King, Jr. and commemorate the 50th anniversary of his tragic death.  The evening's event will express our deep appreciation for Dr. King and will inspire us to work in unity to create a society dedicated to dignity, freedom, and equality that Dr. King envisioned.
The program will highlight performances, reading, speeches, and film excerpts from faculty and students of the Faculty Jazz Ensemble, the Graduate Jazz Ensemble, the Theatre & Speech and Media & Communication Arts departments.
---
THE CCNY MFA PROGRAM IN CREATIVE WRITING       
FALL 2018 EVENTS
THE KOWALD READING SERIES
HASANTHIKA SIRISENA
Fiction reading with prize winning Author of THE OTHER ONE
WEDNESDAY, OCTOBER 24
6:30 - 8:00PM
RIFKIND ROOM, NAC 6/316
EDWARD GREENSTEIN
Epic in the Ancient Near East and the Bible
Editor and Translator of THE BOOK OF JOB
THURSDAY, OCTOBER 25
7:00 - 8:00PM
RIFKIND ROOM, NAC 6/316
TYEHIMBA JESS
Poetry reading with Pulitzer Prize winner and Author of OLIO
Co-Sponsored with the Rifkind Center
TUESDAY, OCTOBER 30
6:00 - 8:00PM
SHEPARD HALL 95
DONNA MASINI
Poetry reading for her new collection 4:30 MOVIE
TUESDAY, NOVEMBER 13
6:30 - 7:30PM
RIFKIND ROOM, NAC 6/316
MFA READING SERIES - A monthly reading series organized by the MFA Students
ALL EVENTS ARE FREE AND OPEN TO THE PUBLIC. PLEASE VISIT OUR WEBSITE FOR
MORE INFORMATION: https://citycollegemfa.commons.gc.cuny.edu/
These events are made possible through the generosity of The Estate of Kenneth Kowald Fund for Advancing American
Literature and the Rifkind Center for the Humanities
---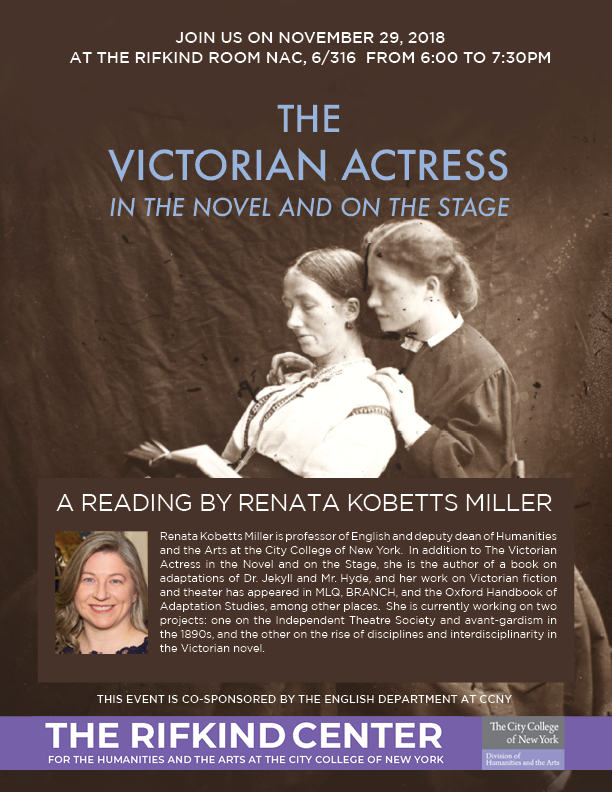 ---
Join us Tuesday, November 13 from 4:30 - 6pm
North Academic Center 5/144D - 160 Convent Ave
Refreshments will be served.
Meet faculty and students and learn about affordable graduate opportunities and scholarships.
We offer a unique BA/MA Degree, as well flexible MA Degrees, with both a thesis and non-thesis track.
---
EFFECTIVE/DEFECTIVE: JAMES BALDWIN, A TALK WITH DR. ROBERT REID-PHARR
THURSDAY OCTOBER 25, 2018
FROM 6:00 TO 8:00 PM IN SHEPARD 95

---
---
The Black Studies Program Presents:
Black Detroit: A People's History of Self-Determination
A reading and book signing
Tuesday, March 27, 2018 from 6:00 PM - 8:30 PM, Shepard Hall, Room 250
---
---
---
---
---
---
---
---
---
---
---
---
---
---
---
---
---
---
---
---
---
---
---
---
---
---
---
---
---
---
---
---
---
---
Last Updated: 10/12/2021 15:53