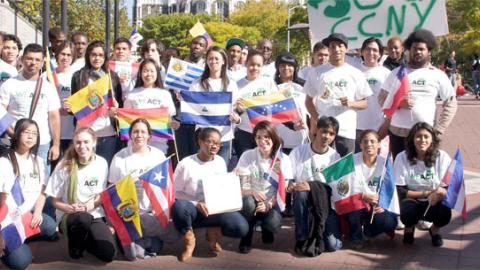 SPECIAL MESSAGE FROM THE CHAIR: COVID-19 EMERGENCY
IN ACCORDANCE WITH CUNY POLICY, THE CHAIR AND STAFF OF THE DEPARTMENT ARE WORKING REMOTELY.
WE ARE WORKING AND WE ARE HERE FOR YOU!
REACH US:
Professor Sarah Muir (Deputy Chair, Program Director, and International Studies Advisor): smuir@ccny.cuny.edu
Ms. Natalie Meyers: nmeyers@ccny.cuny.edu or (212) 650 - 7350 (available 9a.m. - 5p.m.)
Ms. Jaime Lovelace: jlovelace@ccny.cuny.edu or (212) 650 - 8663 (available 10a.m. - 3p.m.)
COVID-19 RESOURCES FOR STUDENTS
​CR/NCR option for Spring 2020 classes: During the Spring 2020 semester, all students have the option to convert the letter grades (A-F) they earn to a Credit/No Credit grading (CR/NCR). You should consult with a financial aid and an academic advisor before exercising the CR/NCR option to make sure you understand the potential impact it can have on your financial aid, your GPA, and academic progress.​ To read the CUNY-wide policy, see: https://www.cuny.edu/cuny-continuity/cuny-continuity-for-students/#grade-policy
Professional development services with The City Tutors--For help with your resume, cover letter, or LinkedIn profile, fill out this google form to get started: https://lnkd.in/dkj2nAB​ 
Food pantry

--

To gain access on weekdays, call 212-650-8844 and someone will meet you at the pantry, located in Hoffman Lounge (1st floor of the NAC)
Emergency grants--The Colin Powell School has emergency relief grants available. Email Charlene Darbassie ( cdarbassie@ccny.cuny.edu ) to request the application. The application process is fast and streamlined. 
______________________________________
The International Studies Program at the Colin Powell School for Civic and Global Leadership prepares students for careers in a wide array of fields, from diplomacy and global governance to NGOs and multinational corporations. The International Studies major offers a flexible curriculum, in which students take classes with faculty across many departments and programs at CCNY, including Anthropology, Black Studies, Economics, History, Latin American and Latino Studies, Political Science, and Sociology. The Program draws on the rich diversity of City College's student body as well as on the academic, institutional, and cultural resources of New York City to give students the skills and experience necessary to engage with the most pressing international and global issues of our day.
In the program, students develop expertise in one of the following four areas of concentration: Culture and Communication, Development, International Relations, or International Public Policy.
** The Department of Anthropology, Gender Studies, and International Studies is excited to announce that we are now offering a minor in International Studies! For a comprehensive review of the minor requirements, see Courses & Requirements