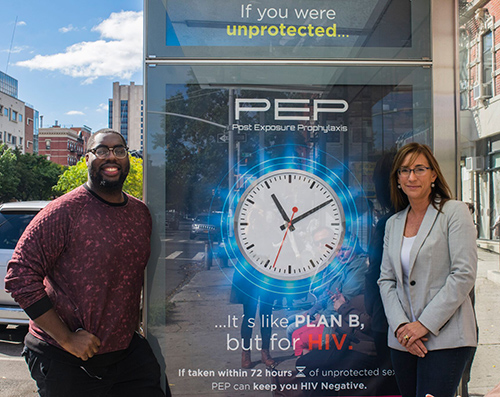 Victoria Frye (right) and Jeremy Fagan (left) in front of PEPTALK ad on 132nd street and Adam Clayton Powell Jr. Boulevard.
Researchers from the CUNY School of Medicine at The City College of New York are making strides in HIV prevention with the launch of their bus shelter ad campaign "PEPTALK" in Upper Manhattan and the Bronx. The campaign focuses on increasing awareness and access to Post-Exposure Prophylaxis (PEP), a medication that prevents HIV infection if taken within 72-hours of exposure to the virus and consistently for 28 days.
The campaign is part of a two-year NIH-funded research study, which was awarded to Dr. Victoria Frye, principal investigator and associate medical professor at the CUNY School of Medicine at CCNY. The R21 grant from the National Institute of Allergy and Infectious Diseases is designed to develop and evaluate a campaign to increase access to and uptake of PEP among people living in high HIV prevalence areas and minority communities. The campaign is a collaboration between the CUNY School of Medicine and The Oval Center of Montefiore Medical Center.
"This kind of ad campaign is needed; one thing that is pretty consistent is that most community residents, even younger people - students in my classes, don't know about PEP," said Frye. "PEP is effective and has been used for decades by medical professionals to prevent infections after needle sticks. Now, it is one more tool we can use to prevent HIV."
The ads are designed to drive demand for PEP, evaluating both the effectiveness of the campaign and a brief behavioral intervention to increase clinical care engagement among PEP patients, gay men of color in particular. They were designed after a significant formative research phase was conducted with in-depth interviews and focus groups led by Jeremy Fagan, project director of PEPTALK, and Barry Zingman, co-principal investigator at Albert Einstein College of Medicine and medical director of the AIDS Center at Montefiore. 
On Friday, October 19 at 11 a.m., Frye and her colleagues will gather at 132nd street and Adam Clayton Powell Jr. Boulevard to engage with the community about PEP and unveil the new bus shelter ad campaign.
About The City College of New York
Since 1847, The City College of New York has provided a high quality and affordable education to generations of New Yorkers in a wide variety of disciplines. CCNY embraces its role at the forefront of social change. It is ranked #1 by the Harvard-based Opportunity Insights out of 369 selective public colleges in the United States on the overall mobility index. This measure reflects both access and outcomes, representing the likelihood that a student at CCNY can move up two or more income quintiles. In addition, the Center for World University Rankings places CCNY in the top 1.2% of universities worldwide in terms of academic excellence. More than 16,000 students pursue undergraduate and graduate degrees in eight professional schools and divisions, driven by significant funded research, creativity and scholarship. CCNY is as diverse, dynamic and visionary as New York City itself.  View CCNY Media Kit.
Ashley Arocho
p: 212.650.6460
e: //aarocho@ccny.cuny.edu /" style="box-sizing: content-box; margin: 0px; padding: 0px; outline: 0px; text-decoration-line: none; font-family: Raleway, sans-serif; font-size: 13px; background-color: rgb(243, 243, 243); color: rgb(158, 48, 57) !important;"> aarocho@ccny.cuny.edu
View CCNY Media Kit