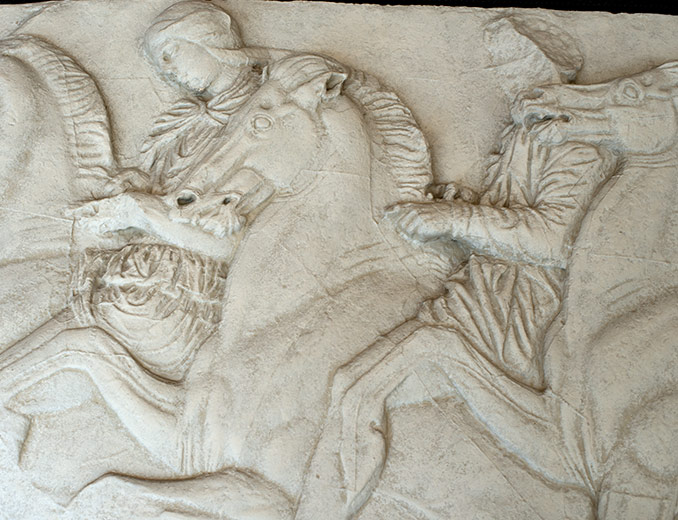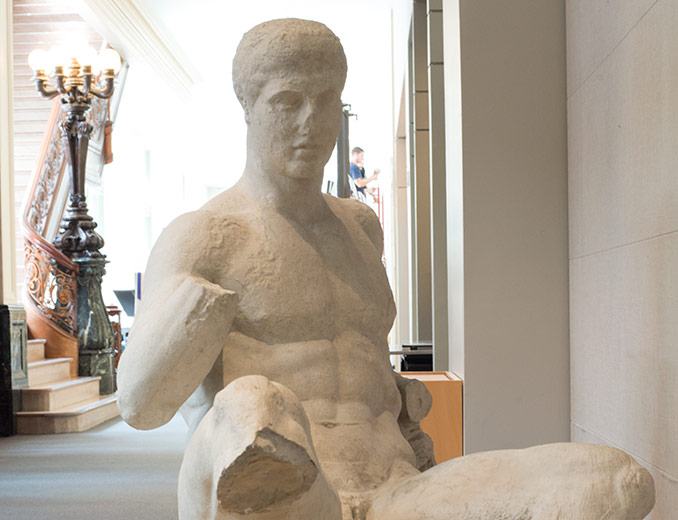 The City College of New York's casts of the Parthenon frieze, sometimes called the Elgin Marbles, are on display at the Graduate Center, CUNY. The casts were recently installed in the Graduate Center lobby and Mina Rees Library where they are visible to the public.
 
The casts consist of 20 plus rectangular relief panels that were part of the Parthenon frieze; four metopes (square panels that were on the exterior of the Parthenon); a reclining figure of Dionysus; and a horse's head from a pediment (the triangular roof).
"The Elgin Marbles casts came to the U.S. during the nineteenth century, most likely among the first three sets to arrive here," said Harriet F. Senie, co- director of the Master of Art's Program in Art History and Art Museum Studies. "They have the insignia of the British Museum attesting to their authenticity."

They were gifted to City College in 1852 by Charles M. Leupp, Esq. Although the casts were incomplete, they served an important educational function in the college's Art Department studio and art history classes for more than a hundred years.
In 1992, the casts were scheduled to be destroyed together with the building that housed them, but the Onassis Foundation USA agreed to fund the restoration of the casts and the installation at Olympic Tower, where they remained until recently.

The casts will be on long-term loan at the Graduate Center and are entirely viewable in the public lobby and visible from the Mina Rees Library windows along Fifth Avenue at 34th Street, in the landmark building formerly known as B. Altman & Company department store.
"Since most of us will not have the privilege of seeing the originals, these offer a unique experience of interacting with the Parthenon casts on a regular basis," said Senie. "With repeated viewings, students and faculty alike, as well as visitors, will have the opportunity to have nuanced and personal relationship with these priceless pieces of the past." 
About The City College of New York
Since 1847, The City College of New York has provided low-cost, high-quality education for New Yorkers in a wide variety of disciplines. Today more than 16,000 students pursue undergraduate and graduate degrees in eight professional schools and divisions, driven by significant funded research, creativity and scholarship.  Now celebrating its 170th anniversary, CCNY is as diverse, dynamic and visionary as New York City itself.  View CCNY Media Kit.