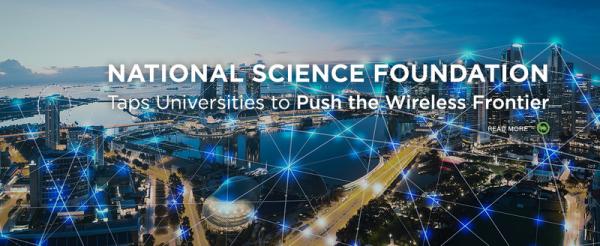 The City College of New York's Grove School of Engineering is a partner in a $100 million National Science Foundation-funded wireless revolution designed to push mobile technology to the limits. In addition to faster downloads, it could pave the way for surgeons operating remotely on patients, cars that rarely crash, and events that can be vividly experienced from thousands of miles away.
Over the next five years, NSF will fund a set of wireless networks for researchers to test new ways of boosting Internet speeds to support data-intensive applications in robotics, immersive virtual reality and traffic safety. New York and Salt Lake City are the first cities set to each receive $22.5 million from NSF to build testbeds under its Platforms for Advanced Wireless Research (PAWR) initiative.
Led by researchers at Rutgers, Columbia and New York University, and in partnership with City College, New York City, Silicon Harlem and IBM, the "COSMOS" platform will be a proving ground for a new generation of wireless technologies and applications.
COSMOS is the acronym for Cloud Enhanced Open Software Defined Mobile Wireless Testbed for City-Scale Deployment. It will cover one square mile in West Harlem, with City College to the north, Columbia University's Morningside Heights campus to the south, the Hudson River to the west, and Apollo Theater to the east. Home to about 30,000 residents and the busy Broadway-125th Street shopping corridor, this vibrant neighborhood is seen as an ideal place to push the bandwidth and latency limits of 4G, and even fifth-generation wireless technology (5G), which carriers are starting to roll out in some cities now.
Five testbed nodes will be deployed at CCNY, said Myung Jong Lee, professor in both the Grove School's electrical and computer engineering departments.
A component of the project is to provide hands-on STEM training for students and West Harlem residents who will be among the first to see and touch technologies that are still years away from appearing on the market. Silicon Harlem will involve K-12 students from the community in the experiments and City College will partner with researchers to involve its engineering students and support the testbed installation.
NSF estimates that the number of Internet-connected devices is expected to grow to 20 billion by 2020, creating an urgent need in the U.S. and abroad for infrastructure that can rapidly process all that data.
About The City College of New York
Since 1847, The City College of New York has provided a high quality and affordable education to generations of New Yorkers in a wide variety of disciplines. Today The Chronicle of Higher Education ranks CCNY #2 among public colleges with the greatest success in ensuring the social mobility of our student body; at the same time the Center for world University Rankings places it in the top 1.2% of universities worldwide in terms of academic excellence. More than 16,000 students pursue undergraduate and graduate degrees in eight professional schools and divisions, driven by significant funded research, creativity and scholarship. CCNY is as diverse, dynamic and visionary as New York City itself.  View CCNY Media Kit.