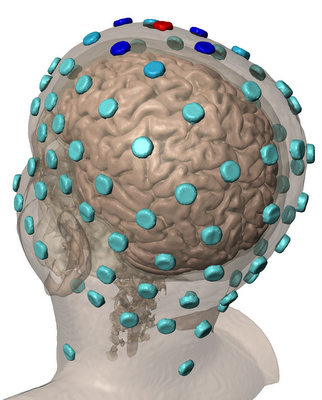 Biomedical engineer Marom Bikson's internationally recognized contributions in medical device innovation include research on noninvasive electrical brain stimulation to treat brain disorders such as depression, chronic pain, and stroke. The City College of New York professor is now the recipient of a $1.8 million grant from the National Institutes of Health aimed at revolutionizing the treatment of brain diseases using brain stimulation that is personalized to each patient. Eighteen medical centers around the country and Google are also partners in this research.
Bikson's medical device design group is supported by several additional ongoing awards. These include a $377,000 award from Boston Scientific to support Bikson's research on high frequency spinal cord stimulation and $1.2 million from the National Cancer Institute to develop devices for brain cancer treatment. 
"The BRAIN initiative calls for improvement of existing brain monitoring and treatment techniques," Bikson said, regarding the NIH grant. "There is presently great interest in technologies developed by my team at CCNY because it allows therapy to be delivered to specific brain regions of patients suffering from neuropsychiatric disorders or brain injury.
"Our collaborators include leading medical centers where subjects' brain can be scanned to identify their brain targets, and also industry partners with software that allows us to search for the best therapeutic pathways."
Brain stimulation, also called neuromodulation, is technology that acts directly upon nerves. The type of brain stimulation developed by Bikson's group is non-invasive with no significant side-effects. It can be used in the doctor's office or at home. Neuromodulation devices and treatments can be life changing.
Bikson's research group in City College's Grove School of Engineering is among the nation's most productive in the design and testing of medical devices.  Technology developed in his lab has been tested in over 200 medical centers around the word. His team also provides technical support to dozens of biomedical device companies and various agencies.
About The City College of New York
Since 1847, The City College of New York has provided low-cost, high-quality education for New Yorkers in a wide variety of disciplines. More than 15,000 students pursue undergraduate and graduate degrees in eight professional schools and divisions. View CCNY Media Kit .