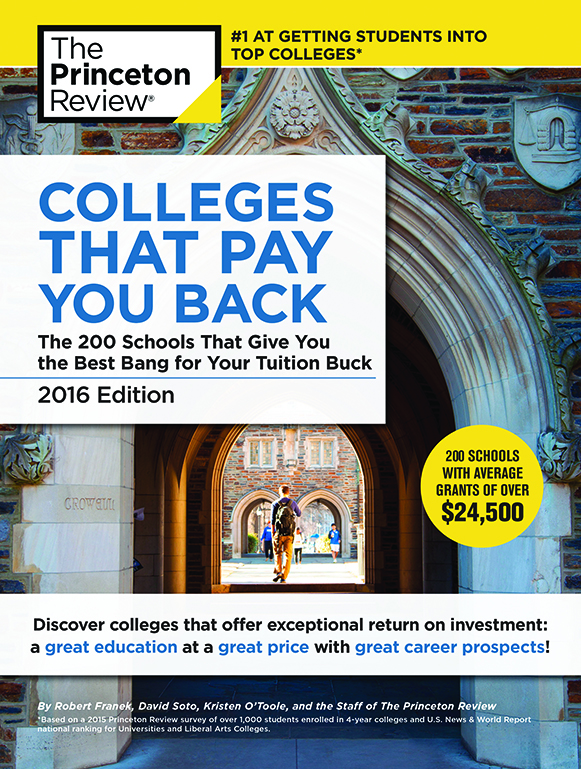 The Princeton Review Colleges That Pay You Back 2016
The City College of New York is among the outstanding colleges and universities that offers students a valuable return on their investment in higher education, according to the new 2016 edition of The Princeton Review's Colleges That Pay You Back: The 200 Schools That Give You the Best Bang for Your Tuition Buck.
Highlighting academics, affordability and career prospects, The Princeton Review editors said CCNY offers students a real opportunity to realize their future at a remarkably affordable cost.
City College stands out not only for its outstanding academics but also for affordability via comparatively low sticker prices and generous financial aid to students with need, said Robert Franek, The Princeton Review's senior vice president/publisher and lead author of the book. He also points out that City College students graduate with great career prospects as well as alumni connections and post-grad support.
Key factors cited by CCNY students include rigorous academic programs and strong ties to research; close ties to the business community of New York City; and an array of contacts and networking opportunities leading to internships and real-life work experiences.
Using a unique rating system, Princeton Review culled data from surveys they conducted in 2014-15 of administrators at 650 colleges and of students at the schools. They also factored in data from PayScale.com surveys of alumni at those schools.
The Princeton Review also lists City College as one of The Best 380 Colleges for 2016 and a Best Regional College for 2016.
About The City College of New York
Since 1847, The City College of New York has provided low-cost, high-quality education for New Yorkers in a wide variety of disciplines. More than 15,000 students pursue undergraduate and graduate degrees in the College of Liberal Arts and Science; Bernard and Anne Spitzer School of Architecture; School of Education; Grove School of Engineering; Sophie Davis Biomedical Education/CUNY School of Medicine; and the Colin Powell School for Civic and Global Leadership. U.S. News, Princeton Review and Forbes all rank City College among the best colleges and universities in the United States.
Communications and Marketing