Colin Powell Fellowship in Leadership and Public Service
 
Now accepting applications for the 2022-2023 school year!
The Colin Powell Fellowship in Leadership and Public Service is a two-year program for undergraduate students who want to pursue careers in government, nonprofit organizations, and other forms of public service. It is particularly for students who immigrated to the US or whose parents immigrated to the US, as well as those who demonstrate interest in exploring social issues that impact African American and other underserved communities. The fellowship prepares you with the skills necessary to tackle issues of public concern. You acquire a broad knowledge of political institutions and the policymaking process, and learn about public service opportunities. Through seminars, internships, and professional development activities, you will explore methods of creating lasting social change.
If you're interested in public service and can commit to a two-year fellowship, this opportunity is for you! No prior experience is necessary — just a desire to learn about and work toward social change.
SUPPORT
Each fellow will receive a maximum of $8,000 each year for two years (assuming you remain in good standing). Fellows are also eligible to receive an additional stipend of $5,000 for a summer internship. Support comes from the Fulvio V. Dobrich New Americans Scholarship Fund and the New York Life Foundation.
SEMINAR
Over the course of two full academic years, you are introduced to the key themes of the program: leadership, public service, and teamwork. The seminars explore a variety of pressing public problems and social justice issues; the foundations of policymaking; career paths in public service and the nonprofit sector; leadership and project management skills; and teamwork. You will meet guest speakers representing a variety of public service careers and issues. These seminars are mandatory for fellows and take place on Tuesdays from 5:30 to 7:30 pm during the fall and spring semesters. Each seminar comes with 3 SSC credits.
SUMMER INTERNSHIP
We encourage you to participate in a summer internship between the first and second years of the fellowship that fits your goals, as well as those of the program. Full-time, unpaid interns who work for at least 9 weeks at nonprofit organizations or government agencies can receive a $5,000 stipend. This stipend will be adjusted for paid internships.
PROFESSIONAL DEVELOPMENT
We emphasize professional development in the seminar by helping you plan for your careers, develop your resumes and cover letters, and network. Fellows are also required to attend special events and networking opportunities.
ELIGIBILITY
Applicants for the 2022-2023 fellowship must be full-time undergraduate students from Fall 2022 to Spring 2024, graduating in May 2024 or later. We accept students from any school/major and regardless of citizenship status. There is no GPA requirement. However, you must have a demonstrated interest in a career in public service.
APPLICATION QUESTIONS
Please upload responses to the following questions through the application form. Write your name on all application materials.
Personal Statement: Tell us about your scholarly interests and experiences in college. What factors shaped your interests? What are your career goals, and how are they related to public service? Upload an essay that is between 150 and 250 words.
Essay 1: Describe an issue or a problem that you are passionate about. This may be related to a project that you participated in, or it might be an issue that you have yet to tackle. What are the root causes of the problem? What recommendations would you make to policymakers, organizations, community members, and/or other vested interests that might help address the problem? Upload an essay that is between 500 and 750 words.
Essay 2: What are your career goals, and how are they related to public policy and/or public service? How do you think the Colin Powell School Fellowship in Leadership and Public Service might help you achieve those goals? Upload an essay that is between 500 and 750 words.
Recommendation Letters: You must provide two recommendation letters, one of which must come from a professor, although that professor does not have to teach at CCNY. Advise your recommenders to email their letters to cpsfellowships@gmail.com by the application deadline.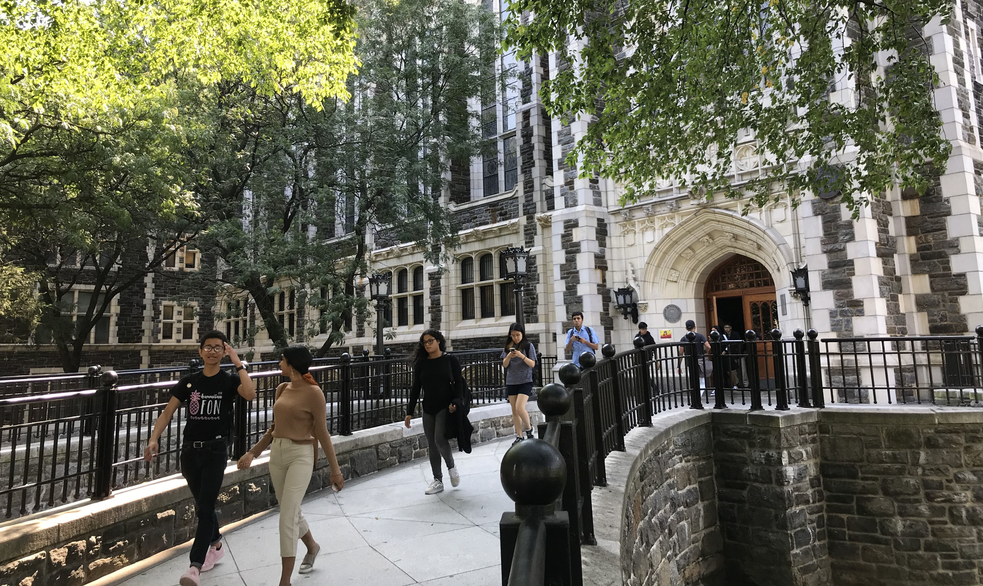 2-year program
- seminars
- summer internship
- professional development

$8,000/year over 2 years
additional stipend of $5,000 for a summer internship
Early Deadline: Dec. 15th, 2021
Regular Deadline: March 15th, 2022
---
Colin Powell Year 1 
---
Vanessa Crowe
Vanessa Crowe is a rising sophomore at CCNY majoring in Economics. She was born in Jamaica and migrated to New York when she was 9 years old. She is a Dobrich New Americans fellow who hopes to use her skills to contribute to her community. She hopes to help parents and students who struggle to find financial resources relating to college or daily life. While going to high school, she realized how hard it was to find these resources and saw many people giving up college because they thought they could not afford it, which led her to apply for the Public Service Fellowship. Vanessa knew CCNY was the right choice for her when it came to all the opportunities and seeing how students were from various countries, she knew the school would introduce her to several different mindsets. 
Nija Daniels
Nija Daniels, an East Elmhurst resident, was born in New York to Jamaican immigrants. She is a junior at CCNY, majoring in international studies and double minoring in English and legal studies. Nija is a Dobrich New Americans fellow, S Jay Levy fellow, Skadden scholar, and Jeannette K. Watson fellow. Passionate about law, she founded and is the current President of the CCNY Pre-Law Club. The Pre-Law Club aims to create a safe space, allowing like-minded peers to gather, network with professionals, and share opportunities. Nija's past experiences and education at CCNY have inspired her to view business law as a way to help under-resourced entrepreneurs, create generational wealth in marginalized community groups, and help mitigate poverty worldwide. Combining her education in international studies and aspiration to attend law school, Nija intends to provide access to legal aid to disadvantaged communities and those in need of new opportunities to succeed in life.
Ondrea Kanwhen
Ondrea is an electrical engineering major who is passionate about expanding the implementation of large-scale renewable energy projects. Her long-term goal is to start a renewable energy utility company to provide services to underserved communities. She is a researcher at the Smart Grid Interdependencies Lab focusing incorporating resiliency and energy efficiency in the Food Energy Water nexus. Ondrea is a certified solar installer and volunteers with Grid Alternatives to provide low-cost solar to low- and moderate-income households. As a Colin Powell Fellow at City College she also plans to pursue policy change that improves the availability and affordability of renewable energy.
Cheri Keating
Cheri Keating is a first-generation student and a junior returning to school after a 31-year career as a celebrity makeup artist and hairstylist. She is a New York Life fellow. Lessons learned from their own mental health struggles have inspired them to pursue a Bachelor of Arts in Psychology through an intersectional lens. Cheri was attracted to City College because of the school's reputation as academically rigorous yet financially accessible — the Harvard of the Proletariat. Ultimately, their goal is to earn a Master of Arts in Mental Health Counseling. As a therapist, they hope to assist marginalized youth and individuals through an intersectional and trauma-informed approach. As a consultant, they intend to help shape how schools support the mental health of students. When not designing and sewing new creations or cataloguing street art with their camera, Cheri faithfully serves the whims of two royal felines, Lord Otto Van Buren and Sir David Jones. 
Esmirna Mateo
Esmirna Mateo is majoring in Political Science and will graduate in 2023. She is Dominican Republican, was raised in the Bronx, and has lived in the city her entire life. Her passion for environmental change and justice brought her to the Colin Powell Fellowship, where she is a Dobrich New Americans fellow. Recently she participated in Theatre of the Oppressed, which has a unique way of raising awareness on a variety of social issues and expressing them through acting. Living in the city has given her so much opportunity to explore, including visiting art galleries, dining spots, and other attractions. One of her favorite hobbies is traveling internationally.
Kimberly Pereyra Monero
Kimberly Pereyra Monero is a junior majoring in Political Science and minoring in Community Change. As a minority, Kimberly has seen the struggles that her society faces as a result of gun and domestic violence. She believes that in light of these issues, minorities cannot depend on the system and when they do, it fails to do them justice. As the daughter of two immigrants, Kimberly has fought hard to not only make them proud but to also use her story as fuel for her interests and desires. Seeing the beauty in diversity, Kimberly decided to attend CCNY hoping to not only meet people as passionate as her, but to also connect with others through their personal struggles as minorities too. Kimberly applied to the Colin Powell Fellowship, where she is a Wells and Dobrich New Americans fellow, to be part of those who strive for change and fight to dismantle a system that is not competent and reliable enough to support communities that are in serious need, and that deserve much more than what is currently being given to them. Besides advocacy, Kimberly loves her Dominican culture and enjoys Spanish literature. When she is not advocating for change or reading, she spends time with her parents who recently moved to the United States to support her dream of one day becoming a lawyer.
Alexander Pichol
Alexander Pichol was born in Guatemala and at 16 immigrated to the United States. Alexander grew up in a large and poor family. The lack of opportunities to continue his education drove him to pursue the American Dream. Since he arrived in the US, Alexander has mastered the English language and attained an Associate's Degree. He is now working towards his Bachelor's Degree at CCNY, where he is a Dobrich New Americans fellow, intending to pursue a major in Architecture. Alexander's background makes him very passionate about the issue of poverty and he plans to join the fight against this issue with a particular focus on helping children from poor communities have the opportunity to pursue an education. Being part of CCNY and the Colin Powell School is a great opportunity for Alexander to learn how to be a leader in public service and to succeed in his academic and professional goals.
Ingrid Romero
Ingrid Romero is an artist, educator and organizer, born and raised in New York City — the unceded, traditional lands of the Munsee/Lenape — with deep roots in the Andes of Colombia. They are a Dobrich New Americans fellow. Currently, Ingrid is Project Co-Director at Mayday Space while a full-time student in their junior year at CCNY studying Art Education. They grew up as the only documented person in their family and began doing community work through their local youth group at St. Brigid's Church in Bushwick. Ingrid has been organizing for fifteen years, and brings ten years of facilitation and youth work experience. Their youth work experience includes the Sadie Nash Leadership Project, The Brotherhood/Sister Sol, Kite's Nest, and Global Action Project. Ingrid has completed trainings and fellowships from School of Unity & Liberation (SOUL), Good Ol' Lower East Side (GOLES), Third World Newsreel, and The Laundromat Project. 
Safiyyah Savage
Safiyyah Savage is a first generation college junior at CCNY, where she is a Dobrich New Americans fellow. She is a double major in English and Political Science. At CCNY, Safiyaah has participated in various clubs such as City College Model UN, where she was their Social Media Coordinator, and the Mock Trial Club. In her free time Safiyaah enjoys giving back to her community through volunteering. She spends her weekends volunteering her time as a stylist at Dress for Success, training young girls at her old high school to fence as a sabre, and teaching children at her local Islamic Center. Safiyyah wants to use her skills, experiences and opportunities to keep giving back to her community, as well as do her part in justice. 
Fawziyah Shamim

Fawziyah Shamim is a rising sophomore in the Macaulay Honors program at City College and a Dobrich New Americans fellow. She is majoring in Psychology and minoring in Human Rights Studies. Fawziyah has aspirations of attending medical school and becoming a psychiatrist so she can provide mental health services for people in underserved communities. She is currently working with the Memorial Sloan Kettering Immigrant Health and Disparities Center to help provide cancer screening services and education about mental health to immigrant communities in New York City. She hopes to battle racism in healthcare through education and systemic change. Fawziyah is active in both the Macaulay Honors and City College community, serving as her class's Macaulay Scholars Council Representative. She also chairs the council's Diversity Committee and is currently President of the Macaulay Research Club. Fawziyah's parents are immigrants from Bangladesh and she has a close attachment to her South Asian and Muslim background, wearing her identity as a daughter of immigrants proudly everywhere she goes. 
---
Colin Powell Year 2
---
Kyle Abrahams
Kyle Abrahams is a rising senior at CCNY in the Macaulay Honors College receiving his BA in Psychology and a New York Life fellow. As the youngest of three siblings growing up in Brooklyn, Kyle was always fascinated by the diverse experiences he saw each day. He noticed the anxiety, which comes with being young in the world today, and was inspired to help others. This led him to his interest in becoming a mental health advocate for young people. That passion for understanding the individual led Kyle to major in psychology and try to understand the experiences of others. Some of the ways Kyle wants to advocate for better mental health awareness are through policy change and public service, making the Colin Powell Fellowship a perfect fit. By using the leadership and collaborative skills he learns in the fellowship's seminars he hopes to help create a more caring and empathetic world for kids to grow up in. 
Kethia Calixte
Kethia Calixte is a junior at CCNY majoring in Psychology and International Studies, pursuing her interests in policy, health, and education. Her humble beginnings in Jacmel, Haiti, have inspired her to pursue a career in caring for others. Kethia has worked with the Brooklyn Public Library in tutoring and distributing meals, CAMBA in helping feed and find shelter for the homeless, and the Campaign Against Hunger. At the age of seventeen, Kethia graduated from the Clara Barton School for Medical Professions as a licensed practical nurse. From April 2020 to January 2021, after learning the high stress on our medical systems caused by the COVID-19 pandemic, she dedicated her time to the most susceptible population — the elderly. Kethia is an AmeriCorps member and completed a term of service at The St. Nicks Alliance Workforce Development Center as a youth workforce specialist working with minority and low-income communities to increase access to job training and readiness. Her academic and work experiences have helped her gain a multi-dynamic understanding. Kethia plans to use these experiences as well as an interest in public service, health, and education to induce change. These, along with her desire to develop additional academic and professional skills, have drawn her to the Colin Powell Fellowship, where she is a New York Life fellow.
Adrianna Galbraith
Adrianna Galbraith is a senior at CCNY studying Sociology to pursue a career in the foster care or the prison system. Her interest in Sociology began in senior year of high school, where she took it as a College Now class. During the course, Adrianna discovered why she was interested in learning about the development, structure, and ways in which society functions. The Colin Powell Fellowship, where she is a New York Life fellow, teaches her more about public service and how to make a difference in this society as a young black immigrant woman. She intends to use every opportunity given to her in order to better the lives of others affected by the system, as well as grow, challenge, and make positive changes in her environment. Adrianna can be described as empathic and compassionate about people who are struggling and always willing to help. When she isn't thinking about the injustice in the world, Adrianna enjoys solving puzzles, watching movies, attending fundraising events, knitting, painting, sewing and reading. 
Sarah-Hannah Herman
Sarah-Hannah Herman is a rising Senior, majoring in Political Science and minoring in Theatre and Legal Studies. Being a part of both the Colin Powell Fellowship, where she is a New York Life fellow, and Skadden Arps Honors Program in Legal Studies, she is learning how to utilize the law for the public's benefit — especially the underprivileged. As someone with personal experience with an unjust economic system, Sarah-Hannah feels compelled to work to create a more equitable society. During her Legal Aid investigative internship last summer, she thoroughly researched police misconduct as part of a massive exoneration project. This school year, as an Allen Y. Lew intern, she will use her fervor to work diligently to protect the indigent's right to food security. In the future, she intends to become a lawyer who writes legislation that betters the lives of the marginalized and fundamentally changes the criminal justice system. When she is not meditating on improving society, she (attempts) to draw and paint and binge-watches Korean dramas.
Catie Hernandez
Catie Hernandez is a Junior at CCNY and is currently majoring in anthropology and double minoring in art history and Jewish Studies. She is a Dobrich New Americans Fellow and was raised in Babylon, NY. She has always loved City College's history of equity and justice in education, and as Catie had always been interested in social justice and equality, she chose to attend for its amazing and continuing legacy. Catie is particularly interested in art decolonization, a field that deals with the stolen and looted artifacts that fill western museums back to their communities of origin. She hopes to use the tools given to her by the Colin Powell school to work on this important issue throughout her career, as well as to help make the necessity of art decolonization more widely acknowledged. 
Aryaana Khan
Aryaana Khan was born and raised in Bangladesh, a country submerged underwater every year as a result of climate change. She is a Dobrich New Americans Fellow. Four years after moving to New York, she began doing grassroots and climate advocacy work with various non-profit organizations, such as Global Kids and the Alliance for Climate Education (ACE), and began understanding the deep connections between climate and her experiences in Bangladesh. During her sophomore year at the City College of New York, she became an inaugural Climate Policy Fellow with the Colin Powell School, and is currently a second year Colin Powell Fellow. She is a junior, completing a Bachelor of Science in Biology with a minor in Sociology. Professionally, Aryaana hopes to carve her own path in climate science and policy; in her free time, she enjoys writing poetry, gardening, and spending time outdoors.
Nabeela Mustafa
Nabeela Mustafa is a senior in the Macaulay Honors Program at The City College of New York where she is majoring in Cognitive Neuroscience through the CUNY BA program. As a Patient Advocate Volunteer in Emergency Room Services at Bellevue Hospital, Nabeela was exposed to a wide range of underserved communities in NYC facing homelessness, addiction, and mental health issues. The patient encounters she experienced as a volunteer sparked her interest in learning more about the various social determinants of health that lead to certain minority groups receiving a lack of healthcare. During her first year as a Colin Powell Fellow in Leadership and Public Service, where she is a Dobrich New Americans fellow, she was able to learn more deeply about the numerous factors that intertwine with the healthcare system and lack of clinical services for individuals based on their socioeconomic status, race, gender, and ethnicity. As an aspiring physician, Nabeela aims to earn an MD/MPH to directly engage in clinical work while simultaneously amending public health issues that target underserved communities. In addition, she is also a 4th year member of a Bollywood Fusion dance team called Macaulay Deewane that competes at local, regional, and national level collegiate dance competitions that celebrate South Asian dance styles. 
Hannah Shulman
Hannah Shulman is a junior at CCNY and a Dobrich New Americans fellow. She is the oldest of three siblings and lives in a small Jewish community in West Hempstead, NY. Hannah originally came to CCNY because of her Macaulay scholarship with little knowledge of all the opportunities CCNY has to offer. She quickly learned about the Colin Powell School and fellowship program, and has since explored many different major paths, eventually choosing a degree in Economics with a minor in Public Policy. Hannah is interested in learning ways to apply her interests in economics and finance to a socially impactful organization, and is looking forward to pursuing opportunities that expose her to a career in this field. 
Dolma Sherpa
The search for a better future and opportunities brought Dolma and her family to the land of dreams. Dolma's parents have always emphasized the importance of education in one's life since they were deprived of one. Dolma is a first-generation student so going to college is a big milestone for her and her family. She is double majoring in Biology and Psychology. She believes the places we come from shapes us into becoming who we are today. Coming from a place that lacks good health care services, she has learned to value the importance of good healthcare in people's lives. She is very passionate about medicine and wants to pursue her passion in college. She hopes to become a well-rounded healthcare professional and help underserved communities, like the one she comes from.
Megan Viera
Megan Viera is a native New Yorker born and raised to a single mother in the Bronx. Drawn to CCNY for its diversity and various extracurriculars, she is currently entering her senior year where she will be graduating with a Bachelor's Degree in Political Science. Her interest in the political world started at a young age after she began studying the numerous cases of racial profiling in the nation against minority groups. Her interest was further driven by the tribulations and instances of profiling she and her family have been subjected to at the hands of the system. These experiences have propelled her interest in exploring not only the dynamics of the American political system, but the creation of public policy and law, as well as the ongoing battle against systemic racism. Once she has completed her degree, she is set on obtaining a career within a lobbying organization that represents the underserved, struggling minority communities all around America. As a second-year Colin Powell New York Life fellow, Megan has learned the importance of public service as well as the strength in collaborating with her peers on the pressing issues that threaten the American landscape. When Megan is not busy studying the political climate of the nation, she enjoys a good book, dancing to salsa, and fitness. 
There are additional fellows who asked to be omitted from the website.
Last Updated: 03/09/2022 13:18