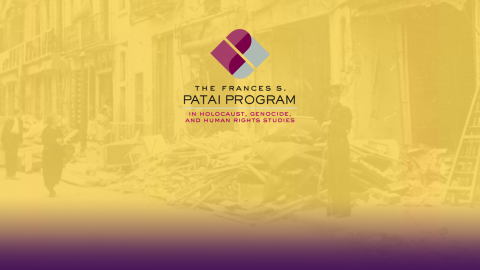 The Patai Program
Among the most unique aspects of the Center for Worker Education is its commitment to supporting a diversity of profound, yet topical, educational opportunities.  One such example of this commitment is its Frances S. Patai Program in Holocaust, Genocide, and Human Rights Studies.  The Patai Program at CWE supports courses, conferences, and symposia, as well as public lectures, lectureships, and an annual student essay competition—all dedicated to the lasting and transformative lessons of Holocaust, Genocide, and Human Rights studies.
In addition to being one of the first female graduates of City College, Mrs. Patai was a strong supporter of providing educational opportunities to those people who would otherwise possibly not have access to a formal university education. With this in mind, Mrs. Patai bequeathed a generous donation to CWE that allowed for the creation of a program that now bears her name.
Mrs. Patai was motivated by three aims when she gave her support.  First, she wanted to keep alive the memory of those volunteers who joined the Abraham Lincoln Brigade to fight against fascism in the Spanish Civil War.  Second, she wanted to make sure students did not forget the terrible events of the Holocaust and believed that an important way to ensure such a tragedy was never repeated was through education, particularly those who did not necessarily have a personal, cultural, or religious connection to it.  In keeping with her desire to educate about the universal implications of such unchecked hatred, Mrs. Patai supported programs that encouraged students to use their knowledge as a springboard for exploring other such events, including both the realities of modern genocide and the ongoing global struggle for human rights.
The mission of the Patai Program is to promote an understanding and acceptance of diversity through explorative education.  The Patai Program works to fulfill these aims in various ways: by supporting regular course offerings, by sponsoring a student essay competition, by building up a reference library for students and faculty, and, lastly, by offering community outreach programs including an annual series of free public lectures and events. 
Patai Courses:
Contemporary World Conflict
Genocide from the Colonial Era to the Present
Genocide in the Twentieth Century
Nationalism, Imperialism, and Racism
The History of Human Rights
The Nazi Holocaust
Division of Interdisciplinary Studies
25 Broadway, 7th Floor, Room 7-65
New York, NY 10004
e:  jmercado@ccny.cuny.edu
p: 212-925-6625
Patai Program Director
25 Broadway, 7th Floor, Room 7-46
New York, NY 10004
e:  dzach@ccny.cuny.edu
p: 212-925-6625 | Ext. 307