About Service-Learning
Colin Powell School for Civic and Global Leadership (incorporating the Colin Powell Center)
WELCOME TO OUR SERVICE-LEARNING PAGES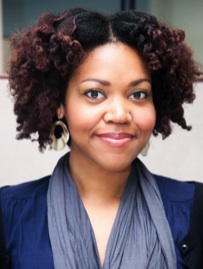 Greetings!
I am excited that you have taken the time to visit our site. It is my hope that we can share some helpful information with you while you are here. Whether you are a valued faculty member, community partner, student, or campus administrator, our aim is to create a valuable, user-friendly hub of resources that can help you to feel more confident about practicing this pedagogy.
We will be updating the site throughout the year, so please drop in often for new information. Or make an appointment to visit us at the Center.  If there is anything I can do at any time to enhance your service-learning experience, please do not hesitate to contact me. Also, please let me know what you think of the site!
Thank you,
Genéa Stewart
Director, Service-Learning
Featured CCNY S-L Course
A new look at the Americas: Exploring Latin@ Literature & Culture 
Through this FIQWS course, taught by Professor Vanessa Valdes,  students infuse Afro-Latin@ literature and history into engaging, interactive presentations for the seventh graders at PS/MS 161.  These weekly presentations include discussions about Afro-Latin@ art, historical figures, musical influence and movements, and literature. Through this course, students develop skills in analysis, critical thinking, facilitation, and public speaking.
 "A good college affirms that service to others is a central part of education."
—The Carnegie Foundation, College: The Undergraduate Experience in America
Service-Learning Essentials
SERVICE-LEARNING (S-L) IS...
a teaching and learning strategy that integrates meaningful community service opportunities into a student's coursework. Students are able to become active participants in the learning process by using what they learn in the classroom to solve real-life problems.
The Colin Powell Center formally defines service-learning as:
a) a course-based, credit-bearing educational experience in which 
b) students participate in an organized service activity that meets community identified needs AND 
c) reflect on the service activity in such a way as to gain further understanding of course content, a broader appreciation of the discipline, and 
d) an enhanced sense of civic responsibility.
Definition adopted from R.G. Bringle and J.A. Hatcher, A Service-Learning Curriculum for Faculty, Michigan Journal of Community Service Learning, 1995, 2: 112-122
OUR MISSION...
Through the Colin L. Powell Center for Leadership and Service, we aim to maximize the s-l experience for all students enrolled in CCNY s-l courses.  S-L staff provide training that supports faculty instruction, in order to prepare CCNY students for future careers, and foster the development of active, engaged citizens in modern society.
OUR FUNCTION IS....
The Colin Powell Center provides service-learning training, support, and resources to participating faculty, students, and community organizations.