Engaged Scholarship at CCNY Enters a New Era
Colin Powell School for Civic and Global Leadership (incorporating the Colin Powell Center)
Engaged Scholarship at CCNY Enters a New Era
Office of Engaged Scholarship forms a committee of faculty members committed to expanding opportunities for service-learning, public scholarship, and community partnership.
A foundational pillar of the Colin Powell School, the Office of Engaged Scholarship is characterized by both its innovation and its reach. After nearly a decade of developing and building up campus service-learning programs—which forged lasting connections between City College and community organizations in Harlem and beyond—the school's engaged scholarship programming is entering a new era of expanded leadership and scope. With the establishment of an engaged scholarship committee, the office formally integrates faculty into the policymaking and management of all programs. 
The Office of Engaged Scholarship comprises a number of initiatives and programs originally run through the Colin Powell Center: service-learning courses, community-based participatory research (CBPR), public scholarship, the NYMAPS Collaborative (formerly the New York Metro-Area Partnership for Service-Learning), and the new NYMAPS Community Partner Institute and Fellowship. 
Through all these aspects, CCNY faculty and partnering community-based organizations explore a variety of pathways to leverage academic expertise for public good. The office invites faculty to broaden the audience for their research, connect with community partners for collaborative projects, and design a service-learning course to enhance student learning. Furthermore, the office provides participants with both the expertise and resources to secure success.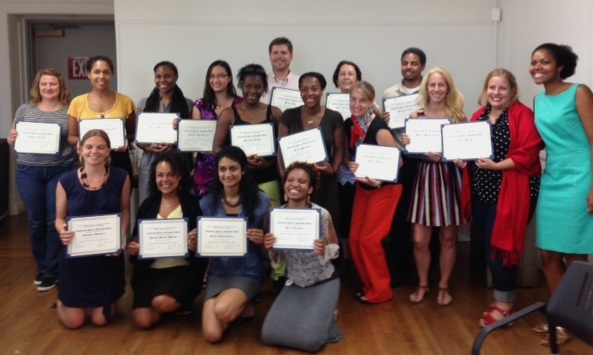 Genéa Stewart, director of the Office of Engaged Scholarship, co-chairs the new engaged scholarship committee with John Krinsky, Political Science professor and longtime practitioner of engaged-scholarship academics. Stewart says that the new committee builds on the successful history of those early faculty participants, like Krinsky, by leveraging their experience and know-how to develop a wider range of opportunities for new faculty involvement—including strategies that allow tentative scholars a chance to dip their toes into the engaged scholarship pool. "Our committee is opening up even more entry points to modes of engagement," Stewart says, "so that no matter where faculty are in their academic careers and responsibilities, there are ways they can still feel connected to the mission of the school." Examples of "light" experiential activities might include bringing a community partner into the classroom for one session to offer real-world practical knowledge to students examining a public issue.
"I guess I've always thought that scholarship that engages the world and issues around it is something I've wanted to do," says co-chair John Krinsky. In 2011, as a Powell Center Community-Based Participatory Research Fellow, Krinsky developed a successful partnership with activist group Picture the Homeless. The organization was investigating the use of community land trusts (CLTs) to help prevent homelessness in the most vulnerable populations, a model Krinsky had researched years prior. "We ran an innovative service-learning course, in which half the students were Picture the Homeless members and staff, and half were CCNY students," Krinsky says. "We studied the history of affordable-housing policy in New York City, which culminated in a study of permanently affordable, community-controlled models. Then we launched another year of study of city neighborhoods with potential for CLT development. Eventually, we joined up with several other groups in the city who were interested in CLTs and having parallel discussions to form the New York City Community Land Initiative [nyccli.org]. It's one of the most exciting things I've been involved with in a long time, with real potential for affecting housing policy."
Stewart and Krinsky say that they are committed to making sure that all engaged-scholarship projects have real professional, pedagogical, and research-related rewards in addition to serving the communities with which they partner and collaborate. And the Office of Engaged Scholarship is poised to help "fill in the gaps" to foster and facilitate successful experiences for faculty, students, and community partners. 
"We want to support a community of engaged scholars across the campus in a way that is forward-thinking and sustainable," Stewart says. "I feel very fortunate to work with a dynamic group of team members who bring such innovative and constructive ideas to the next phase of our development."