CCNY Inaugurates Colin Powell School
Colin Powell School for Civic and Global Leadership (incorporating the Colin Powell Center)
CCNY Inaugurates Colin Powell School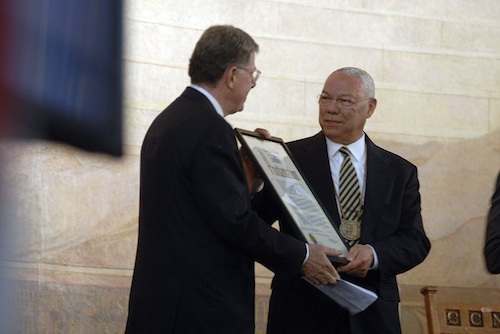 CCNY community members gather on May 2 to celebrate the launch of the Colin L. Powell School for Civic and Global Leadership.
On Thursday, May 2, in the cathedral-like Great Hall of Shepard Hall, the City College of New York celebrated the establishment of the Colin L. Powell School for Civic and Global Leadership. The school includes the departments of anthropology, economics and business, political science, psychology, and sociology, along with groundbreaking programs such as the Skadden Arps Honors Program in Legal Studies. The CUNY board of trustees established the school on April 29, 2013, with a unanimous vote.
Connecting Excellence with Innovation
Linda Powell, the general's daughter and a Colin Powell Center advisory council member, opened the program. Before an audience of nearly 500 community leaders, philanthropists, faculty, students, and other guests, she invoked the value of education to her family and the importance of City College to her father. "Nobody is more deeply aware of or grateful for the impact this institution has made on his life than my father," Ms. Powell said. This commitment, she added, drives his desire to "connect CCNY's excellent academic tradition in the social sciences to the innovative programs in student leadership, service, and engaged scholarship that we've developed over the years at the Colin Powell Center. "
President Lisa s. Coico speaking at the inauguration of the Colin L. Powell School for Civic and Global Leadership.CCNY President Lisa S. Coico spoke next. "From now on, whatever else CCNY is known for, it will be home to the Colin L. Powell School," she said. "Students will enroll in this school to study economics or international affairs, sociology or the law. But they will come to this particular school because they want to connect those disciplines to lives of service. They will be driven by a sense of responsibility, a need to serve, and a hunger for justice."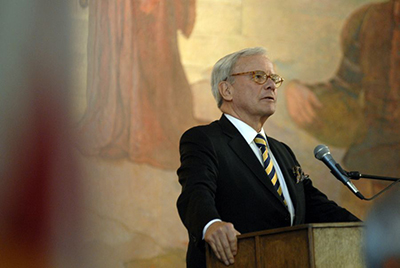 Life-changing Opportunity
Other speakers, including alumna Linda Kaplan Thaler, (CCNY '70, '75), a Colin Powell Center advisory council member, CCNY senior Jatnna Ramirez, and alumnus Trevor Houser (CCNY '06) shared stories of the profound, life-changing opportunity they found through City College. CUNY Chancellor Matthew Goldstein then presented General Powell with the Chancellor's medal, the University's highest executive honor, and described the general as a "great American and a great son of City College—someone who has … really inspired so many young people who want to be just like you."
After Martin Cohen (CCNY '70), chair of the City College 21st Century Foundation, read a proclamation from Mayor Bloomberg declaring May 2 Colin L. Powell School for Civic and Global Leadership Day, General Powell addressed the hall. "We as a people have no greater obligation than to invest in the future of our children," said the general, who was born in Harlem to Jamaican immigrant parents and raised in the South Bronx. "Today is a remarkable day, a very moving day for me, but … it's about the kids. It's about the kids who come here seeking to make their parents proud, seeking to do what they can for their fellow citizens.
Tom Brokaw, a Colin Powell Center advisory council member, closed the May 2 inauguration ceremony. "It's About the Kids"
"And so the school we dedicate today is all about the kids. It's about realizing that we as adults, however successful we have been in our lives, we leave behind only our good works, our good reputation, and the next generation of kids. And so I hope that what CCNY has done best for 160 years, it will continue to do for the next generation, and that the Colin Powell School will enhance what CCNY does best."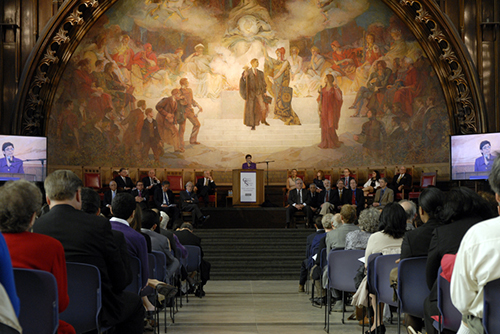 Tom Brokaw, a Colin Powell Center advisory council member, then stepped to the podium to close the ceremony. He spoke, reminding listeners that only in this country has the immigrant dream played out day by day and year by year since since the republic's founding. "One man on this stage—Colin Powell—is the personification of that dream," he said. "And the greatness of this institution and of the Colin Powell School is a constant reminder to us all to renew and re-enlist in our obligations as citizens of America."