Colin L. Powell School Hosts Ambassador Rice
Colin Powell School for Civic and Global Leadership (incorporating the Colin Powell Center)
Colin L. Powell School Hosts Ambassador Rice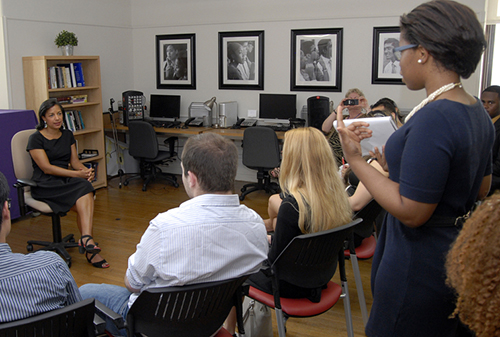 Newly named National Security Adviser Susan E. Rice shares insights with students.
On Thursday, June 27, 2013, Ambassador Susan E. Rice began her last day in New York as U.S. permanent representative to the United Nations with a visit to the Colin L. Powell School of Civic and Global Leadership. The following Monday, July 1, she would begin a new position as President Obama's national security adviser.
Nuanced Responses
In a candid conversation with students, Ambassador Rice discussed subjects such as policy options with Syria, the UN's role in this and other conflicts, obstacles to achieving progress in Africa, and the implications of the recent election in Iran. The ambassador's nuanced and open responses to questions struck a deep chord with students.  "She tackled my question head on, with a thoughtful, honest answer that reflected her personal views," said Grace Nsofor, a 2013 graduate in International Studies, who asked about the UN's changing peacekeeping tactics in the Congo.
The interest the ambassador took in each student also resonated with Powell Center alumnus Anthony Okolo. "She inspired us to use our professions to give back to our communities," he added.
A Place of Transformation
Rice, whose trajectory is a model for students, said City College held a special place in her heart. Her late father, Emmett J. Rice, former governor of the Federal Reserve, moved to Harlem as a young teen and entered CCNY at age 16. Rice received his B.A in 1941 and his master's degree from City College the following year before becoming a captain with the Tuskegee Airman in World War II and building a distinguished career for himself. "City College was a crucial launching pad for my father and, by extension, for me," Ambassador Rice said. "It is a place of transformation. It gives you an opportunity not just to build your careers and reputation, but also to give back."
Ambassador Rice, a member of President Obama's cabinet, has served as senior adviser for national security affairs on the Obama for America Campaign and as a senior fellow at the Brookings Institution, where she focused on U.S. foreign policy, transnational security threats, weak states, global poverty and development. Previously, she served as U.S. assistant secretary of state for African affairs.