Social Critic Andrew Delbanco Kicks off the 'Sternberg Family Lecture in Public Scholarship' Series
Colin Powell School for Civic and Global Leadership (incorporating the Colin Powell Center)
Social Critic Andrew Delbanco Kicks off the 'Sternberg Family Lecture in Public Scholarship' Series
Professor Delbanco, winner of the 2011 National Medal of Humanities, gave the inaugural lecture in the Sternberg Family Lecture Series, titled "Do America's Colleges Have a Future?"
Standing before CCNY's sweeping mural, "The Graduate," in which the children of immigrants and tradesmen receive their diplomas under the approving eyes of  some of history's foremost intellectuals, Andrew Delbanco, perhaps America's finest social critic, addressed an audience of students and educators on the future of American higher education.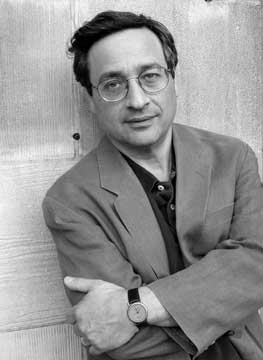 Professor Delbanco delivered the much-anticipated inaugural Sternberg Family Lecture in Public Scholarship on April 1 in CCNY's Great Hall. President Lisa S. Coico opened the evening, and then kept company in the audience with Seymour and Laurie Sternberg, whose generous personal gift endowed the new lectureship in perpetuity for the Colin Powell School.  Mr. Sternberg is a 1965 graduate of CCNY's school of engineering, and serves on the board of the 21st Century Foundation.  He is also a member of the Colin Powell School's Board of Visitors. 
Delbanco, winner of the 2011 National Medal of Humanities and author of College: What it Was, Is, and Should Be, began by asking his audience to consider an image that captures public concerns about the trifecta of rising college costs, perilous job prospects, and crushing student debt. "Is College A Lousy Investment?" shouted the headline of the 2012 Newsweek cover. 
To answer the question, Delbanco, who is Mendelson Family Chair of American Studies and Julian Clarence Levi Professor in the Humanities at Columbia University, turned to the past. Higher education grew from the collective goals of advancing learning, transmitting knowledge, and creating the literate society that a working democracy requires. What began in 1636 as a call to educate new ministers eventually, through means such as land grant colleges and the GI Bill, expanded into a system that empowered women, African-Americans, immigrants, and others. "City College is at the pinnacle of this story," Delbanco said. "It has been a portal of opportunity for countless thousands of young people."
Whether the United States can continue to provide this "exceptional educational opportunity" in the face of rising costs and ever-dwindling state support is the critical question. Delbanco advocated aligning college loan repayments to future income. He also described private support as an invaluable response to the problem, favorably citing the Sternberg family support for public scholarship series. 
While citing the need to invest in STEM fields (science, technology, engineering and math) he cautioned against taking a too-narrow view of college as merely advancing economic competitiveness, scientific advance, or workplace readiness.  There are other realms, he said, where human knowledge does not accumulate as scientific knowledge does.  In the arts, literature, and humanities, college helps each generation discover anew what their human and ethical capacities are.
College, historically, is a place somewhat removed from the world, designed to produce a rarified and unique experience. It's an institution that helps young people ask themselves the fundamental questions of "Who am I" and "How can I create a meaningful life?" It provides opportunities for students to be together and learn from the diversity of their classmates' experiences. This chance to construct a community of learning represented Delbanco's strongest argument against educational trends that increasingly have students studying in isolation from one another, in virtual classrooms on individual computer screens.  The classic college experience, Delbanco said, continues to be "the best dress rehearsal for democracy."