Ashiwel Undieh
Professor, Neuroscience and Pharmacology
Head, Neuromedications Innovation Lab
Main Affiliation
CUNY School of Medicine
Additional Departments/Affiliated Programs
Molecular, Cellular and Biomedical Sciences
Areas of Expertise/Research
Depression Prediction and Therapy
Spinal Cord Injury and Neurorepair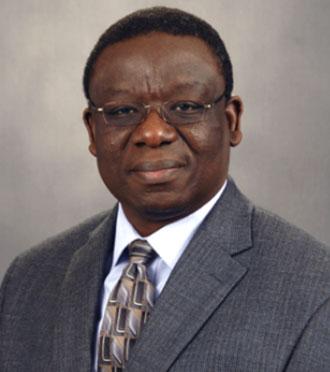 Ashiwel Undieh
Profile
Currently serving as tenured professor of neuroscience and pharmacology in the School of Medicine, Dr. Undieh engages in teaching and research training of medical and graduate students and runs a research laboratory focusing on fundamental and applied biomedical research.
Prior to his current position, Dr. Undieh served as CCNY's Associate Provost for Research (and graduate studies). In this position, Dr. Undieh had overall responsibility for promoting and overseeing research and scholarship throughout the college. He led multiple efforts to develop strategies and programs for the support and expansion of CCNY's comprehensive research agenda, and exercised overall responsibility for research administration and for the STEM graduate programs.
Before coming to CCNY, Dr. Undieh was Professor and Founding Chair of the Department of Pharmaceutical Sciences at Thomas Jefferson University, Philadelphia, and held concurrent appointments in Jefferson's Graduate faculty, the Faber Institute for Neuroscience, and the Kimmel Cancer Center.Through his leadership the Pharmaceutical Sciences department established itself as a thriving teaching and research academic unit, rising to a ranking of 45 among 128 such departments nationwide. He also has extensive experience with developing and managing graduate programs, graduate program review across various disciplines, and pharmacy and medical school curriculum development.
Dr. Undieh's depth and breadth of expertise is being deployed to support faculty mentoring, research training of students and fellows, and institutional advisory and leadership on research enterprise development and sustainability.
Education
BPharm, First Class Honors, University of Nigeria; 1981
MPharm, University of Nigeria Graduate School; 1983
PhD, Medical College of Pennsylvania, Philadelphia; 1990
Research Interests
Dopaminergic Signaling to the Epigenome and Chemogenic Neuroplasticity
(with applications to Addiction, Depression, and Post-traumatic Neurorecovery)
Research in the Undieh lab is focused on elucidating the interplay between dopamine-sensitive epigenetic and metabotropic signaling systems in the mechanisms of chemogenic neuroplasticity. Dopamine is important in the regulation of mood, motivation, memory, motor activity, cognition, and neuroendocrine function. Abnormal dopamine neurotransmission is implicated in diverse disorders including addiction, schizophrenia, depression, and Parkinson disease. Uncovering new knowledge on dopamine signaling and associated epigenetic modulation could accelerate the development of preventive strategies as well as innovative treatments and diagnostics for these disorders.
Epigenetic phenomena can set or reset gene activity without necessarily altering the nucleotide sequences of modulated genes (gene modulation without mutation). We are challenged to clarify how nuerotransmitters such as dopamine communicate with the epigenetic machinery in order to induce or reverse pathologic or treatment-relevant neuroplasticity. Epigenetic endpoints that we examine include DNA methylation, histone alkylation and microRNA activation, with analyses of associated gene or protein expression and metabolism. While dopamine signals through multiple cascades, we are strategically concerned with phosphatidylinositol pathways where cytidine diphosphate diacylglycerol synthase is the springhead and the downstream targets include cascades regulated via phospholipase C, calmodulin kinase, phosphatidylinositol-3-kinase, and the neurotrophin BDNF. We employ integrative approaches that correlate cellular-level genetic/epigenetic and neurochemical parameters with phenotypic expressions in organ systems or organismic behavior. This approach allows us to continually validate the physiological relevance of the molecular observations, and increases the translational prospects of our findings.
Ongoing projects address dopamine receptor synergism and neuroplasticity; transcriptional and functional regulation of nucleolipid signaling; epigenetic modulation of psychostimulant sensitization; pharmacologic modulation of neurotrophic signaling in spinal cord regeneration, and brain-targeted intracellular drug delivery of protein and nucleic acid constructs. Successful completion of our research objectives should move us closer to a blood test for depression, a rational basis for antidepressant drug combination therapy to enhance clinical efficacy, an advanced drug candidate to block the development of addiction to psychostimulants or opioids, and an identified strategy and drug candidate to promote neuroregeneration and functional recovery following spinal cord injury.
Publications
Recent and Representative Publications
Williams SN, Undieh AS. Dopamine-sensitive signaling mediators modulate psychostimulant-induced ultrasonic vocalization behavior in rats. Behav Brain Res. 296:1-6, 2016 [PMID: 26275925].
Lakshmikuttyamma A, Sun Y, Lu B, Undieh AS, Shoyele SA. Stable and efficient transfection of siRNA for mutated KRAS silencing using novel hybrid nanoparticles. Mol Pharm. 11(12):4415-4424, 2014.
Brailoiu GC, Deliu E, Hooper R, Dun NJ, Undieh AS, Adler MW, Benamar K, Brailoiu E. Agonist-selective effects of opioid receptor ligands on cytosolic calcium concentration in rat striatal neurons. Drug Alcohol Depend. 123:277- 281, 2012.
Voulalas PJ, Schetz J, Undieh AS. Differential subcellular distribution of rat brain dopamine receptors and subtype- specific redistribution induced by cocaine. Mol Cell Neurosci 46(3):645-654, 2011.
Undieh AS. Pharmacology of signaling induced by dopamine D1-Like receptor activation. Pharmacology & Therapeutics 128(1):37-60, 2010.
Williams SN, Undieh AS. Brain-derived neurotrophic factor signaling modulates cocaine induction of reward- associated ultrasonic vocalization in rats. J Pharmacol Exp Ther. 332(2):463-468, 2010.
Sahu A, Tyeryar KR, Vongtau HO, Sibley DR, Undieh AS. D5 dopamine receptors are required for dopaminergic activation of phospholipase C. Mol Pharmacol. 75(3):447-453, 2009.
Novikova SI, He F, Bai J, Cutrufello NJ, Lidow MS, Undieh AS. Maternal cocaine administration in mice alters DNA methylation and gene expression in hippocampal neurons of neonatal and prepubertal offspring. PLoS ONE 3(1919):1-15, 2008.