Benjamin Black
Assistant Professor
Main Affiliation
Earth & Atmospheric Science
Areas of Expertise/Research
Effects of Volcanism On Climate
Building
Marshak Science Building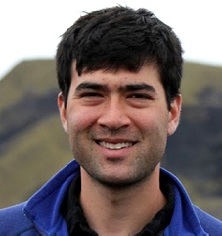 Benjamin Black
Appointments
Assistant professor, Department of Earth and Atmospheric Science, City College of New York, City University of New York
Postdoctoral scholar, Department of Earth and Planetary Science, University of California, Berkeley
Education
Ph.D. (Geology and Geochemistry) Massachusetts Institute of Technology, Sept. 2013
M.F.A. (Creative Writing) New York University, May 2007
A.B. (Earth and Planetary Science) Harvard University, June 2005
Research
Research in Dr. Black's group focuses on why and how volcanoes erupt; the consequences of gases released from magmas for climate and biota; and surface processes on Earth and other solar system bodies. Tools include field work, geochemical measurements, spacecraft data, and numerical models. 

Ongoing projects investigate:
(1) the mechanisms that determine whether magmas erupt,
(2) the eruptive dynamics of flood basalts (rare, enormous volcanic eruptions),
(3) the connection between these voluminous volcanic eruptions and mass extinctions,
(4) the erosional history of Titan and Mars, and
(5) the self-destruction of inwardly migrating moons.
Selected Recent Publications
Black, B.A. and T. Mittal*. (2015) "The demise of Phobos and development of a martian ring system." Nature Geoscience 8, 913-917.   

Black, B.A., R.R. Neely, M. Manga. (2015) "Campanian Ignimbrite volcanism and the final decline of the Neanderthals." Geology 43 (5), 411-414.    

Black, B.A., B.P. Weiss, R.V. Veselovsky, L.T. Elkins-Tanton, and A.V. Latyshev. (2015) "Siberian Traps volcaniclastic rocks and the role of magma-water interactions." GSA Bulletin 127 (9-10), 1437-1452.

Black, B.A., J.-F. Lamarque, C.A. Shields, L.T. Elkins-Tanton, and J.T. Kiehl. (2014) "Acid rain and ozone depletion from pulsed Siberian Traps magmatism." Geology 42(1), 67-70.

Black, B.A., E.H. Hauri, L.T. Elkins-Tanton, and S.M. Brown*. (2014) "Sulfur isotopic evidence for sources of volatiles in Siberian Traps magmas." Earth and Planetary Science Letters 394, 58-69.

Black, B.A., L.T. Elkins-Tanton, M.C. Rowe and I. U. Peate. (2012) "Magnitude and consequences of volatile release from the Siberian Traps." Earth and Planetary Science Letters 317-318.

Black, B.A., J.T. Perron, S.A. Drummond, and D. Burr. (2012) "Estimating Erosional Exhumation on Titan from Drainage Network Morphology." Journal of Geophysical 

Research

-Planets 117.
*indicates student co-author