Chadwick Jenkins
Associate Professor, BA Advisor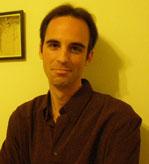 Chadwick Jenkins
Profile
Assistant Professor Chadwick Jenkins has taught courses in the history of Western concert music and the history of Rock at the University of Maryland, College Park (where he earned his Master's Degree) and Music Humanities at Columbia University (where he earned his Ph.D.). His dissertation "Ridotta alla perfettione: Metaphysics and History in the Music-Theoretical Writings of Giovanni Maria Artusi," supported by a fellowship from the Whiting foundation, was granted distinction by the defense committee. He has presented papers at local, national, and international conferences on topics ranging from twelfth-century liturgical drama to the impact of radio on the career of Duke Ellington to theories of parody in relation to the use of Wagner's music in Bugs Bunny cartoons. Dr. Jenkins has published articles and reviews in Current Musicology, Ad Parnassum, and Notes; his chapter "Structure vs. Form in The Sonatas and Interludes for Prepared Piano" appears in the collection John Cage: Music, Philosophy, and Intention, 1933-50, edited by David W. Patterson. His most recent publication is  "A Question of Containment: Duke Ellington and Early Radio," appears in the most recent volume of American Music, vol. 26, no. 4.
Education
B.A., Towson State University
M.M., University of Maryland; M.Phil.
Ph.D., Columbia University