Ernest Patti
Medical Distinguished Lecturer, Medical Education
Main Affiliation
CUNY School of Medicine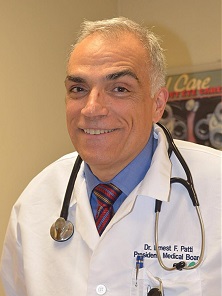 Ernest Patti
Profile
Dr. Ernest F. Patti has been a regular practicing Emergency Medicine Physician since 1997.   He was born and raised in NYC, attending Villanova University for his Bachelor of Science Degree.  After a few years working in the High Rise Construction Industry in NYC, he traveled to the West Indies to begin his medical training at St. George's University School of Medicine where he saw firsthand the effects of poverty, disease, and trauma on proper health, nutrition, and longevity.  His studies continued to England where he had the benefit of learning "the art and science of clinical medicine" in a socialized medical system.  He eventually transferred back to the United States, finishing up at the New York College of Osteopathic Medicine in Old Westbury, NY where he realized the importance of the osteopathic principles of treating the entire body, fostering it to heal, and prevention of disease and injury.   
He is a well respected local physician, is Board certified in Emergency Medicine, and for over 4 years was the Director of Emergency Medicine at St. Barnabas Hospital, Regional Level 1 Trauma Center, Bronx, NY.  He is currently the President of the Medical Board, the Director of Medical Media Affairs, and the Director of the Employee Health Services all at St. Barnabas Hospital.  He recently took a position at the Sophie Davis School of Biomedical Sciences-CUNY School of Medicine where he is a Distinguished Lecturer of Clinical Medicine in Physical Diagnosis.  Dr. Patti is a frequent Medical Contributor to both the National FOX NEWS CHANNEL and WABC TV-Eyewitness News here in NYC.  He has also appeared in the Discovery Channel, Documentary Series, "911: The Bronx" as well as the British Ch 4 Documentary "Extreme A & E-Bronx", all filmed at St. Barnabas Hospital.  Dr. Patti is an active medical educator as well, being personally responsible for the proper training of medical students and resident physicians from both the New York College of Osteopathic Medicine and the Albert Einstein College of Medicine among others.  He understands the supreme importance of training our future physicians, from the start, to be culturally sensitive, caring and compassionate, and accepting to all those who are in need.   
Dr. Patti is an avid lecturer, having spoken at all levels of education including some engagements at Fordham University.  He enjoys making medicine easy to understand and stresses healthy eating habits, exercise, a healthy lifestyle, and prevention of illness and disease to both the younger and older generations.  He began the first Smoking Cessation Program at SBH, and regularly visits schools to speak to our youth about the dangers of smoking.  Dr. Patti serves as a "team physician" for school sports, and has been known to make many "house calls" when needed.  He is active in the national medical societies (ACOEP, ACEP, AOA, Bronx County Medical Society, etc.) and travels with them to Washington D.C. yearly to meet with politicians to discuss important medical issues affecting our country.  While Dr. Patti has many work duties and responsibilities, his focus and energy remains steadfast on the importance of raising his own family and cherishing that family time together.  
Education
D. O. Degree, New York College of Osteopathic Medicine, Old Westbury, NY-1993
B.S., Science-General, Villanova University, Villanova, PA-1982
St. George's University, School of Medicine, Grenada, West Indies former student of the Class of 1991
Community Involvement
Center for Continuing Education, Mamaroneck, NY instructor for "Infant and Baby Safety and CPR" classes to new parents and child caregivers
Larchmont Mamaroneck School District, frequent instructor for "The Human Body and Healthy Life" presentations to elementary school children
Hudson Country Montessori School, New Rochelle, NY frequent instructor for "The Human Body and Healthy Life" presentations to pre-school children
Community Board #6, Bronx, NY  guest speaker for healthcare and bioterrorism
New York Blood Center- Frequent Guest Lecturer and Speaker at Leadership Conferences, University Presentations, Archdiocese of NY Presentations, etc.
Fordham University, Bronx, NY- guest lecturer for Substance Abuse Seminars
Team Physician, New Rochelle H.S. Football Team, New Rochelle, NY
Research
Leaving Against Medical Advice in the Emergency Department, presented at the ACOEP Scientific Assembly, San Francisco, California, October 2010
Prevalence of Anxiety and Depression Among Emergency Department Staff, published in the New York Medical Journal, September 2007
House staff PPD Conversions, 1989-2000, Research Project, in collaboration with Dr. E. Byrnes and Dr. K. Steinberg, June 2001