Jesús Fraga
Lecturer
Main Affiliation
School of Education
Additional Departments/Affiliated Programs
Learning, Leadership, and Culture
Bilingual Education & TESOL Programs
Areas of Expertise/Research
Leadership and Administration of Bilingual Programs and Schools
Building
North Academic Center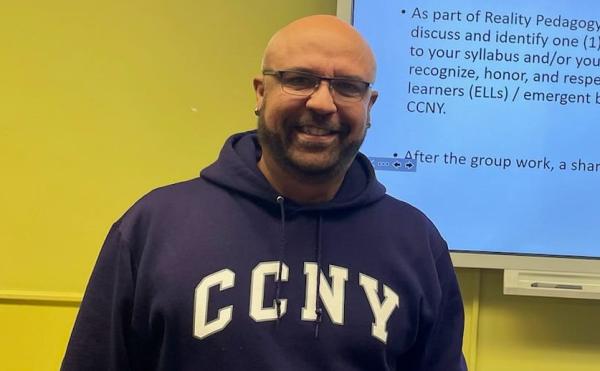 Jesús Fraga
Profile
Jesús Fraga came to The City College of New York (CCNY) in September 2008 with 22 years of experience in teaching and school leadership!  Prior to coming to CCNY, he was the K-12 Director of World Languages and English Language Learner (ELL) Programs for Long Beach Public Schools, Long Island, NY.  From 2003-06, he was the Director of Dual Language Programs for the New York City Department of Education, where he provided leadership, staff, and program development to nearly 70 Dual Language programs/schools citywide.  During his tenure in that position, dual language programs grew; new program offerings opened in Chinese, Haitian, Korean, and Russian, and the annual NYC DoE Dual Language Symposiums were created for all schools citywide. 
Mr. Fraga has a BS in Bilingual Education from City College, CUNY (1986), an MA in Elementary Education from Adelphi University (1988), and an MS in Educational Leadership from Bank Street College (2000).  With the American Field Service (AFS), he participated in a special project on improving education in Peru, where he also took courses in Spanish and Latin American Studies at the University of Arequipa (Peru).  In addition, he has taken professional coursework in Multicultural Education (Fordham University), International Education, Bilingual Education, and Latin American Studies (New York University), and Educational Technology (NY Institute of Technology).  During the 2002-03 school year, he was granted a study/travel sabbatical from the NYC Department of Education, where he improved his skills in Computer Education and traveled extensively through South America and Southeast Asia, giving him a deeper understanding of bilingualism in the developing world.
Currently, with over 30 years of experience, Mr. Fraga's pedagogical background includes elementary and middle school teaching in various New York City schools and districts, and supervision and administration of ELL programs (K-12) at the school, district, and citywide level, as well as urban and suburban experience.  In 1998, he was invited by Miami-Dade Public Schools to provide professional development to bilingual teachers and administrators. In 2005, he was invited by the Department of Education of Chile to present on the benefits of dual language and second language education to teachers and school leaders in Santiago.  In 2007, he was selected to be the keynote speaker of the annual Desfile de la Hispanidad de Nueva York 2007 Gala Dinner, a presentation that celebrated the value of bilingualism for all.
During the 2009-10 school year, Prof. Fraga, in collaboration with other department faculty, conducted two "Nuts and Bolts Workshops – Surviving Your 1st Year Teaching," especially created to support teacher candidates during their first months in the classroom. That same year, he also consulted for Bilingual/ELL programs in Yonkers Public Schools.  In 2009, he participated in a museum partnership between EDCE 6400C and the American Museum of Natural History.  Furthermore in 2009, he joined the college's partnership program with the Lincoln Center Institute, and he became a member of the advisory committee of the Paulo Freire School, a new K-8 dual language school, which opened in September 2010 in New York City. 
In August 2010, Prof. Fraga became program director of the Programs in Bilingual Education and Teaching English to Speakers of Other Languages (TESOL), a large and complex program with undergraduates and graduates, certification and non-certification streams, NYC Teaching Fellows and Subsidized students, as well as local and international students.  He held this role for four years.
In 2011-12, he was served as a consultant for Bilingual/ELL programs for Southampton Public Schools.  In spring 2011, co-chaired the CCNY Immigration and Education Conference, an event that consisted of over 500 participants.  Furthermore, in January 2012, along with two other program colleagues, Prof. Fraga provided the English as a second language program evaluation of a bilingual school in San Salvador, Republic of El Salvador, Central America. 
During the 2014-15 school year, Prof Fraga became the Program Manager for the Subsidized Bilingual Program and the NYC Teaching Fellows Program at CCNY, a special partnership between the DoE and the college.  In fall 2014, he was invited to create an ELL Parent Involvement Plan with district Social Workers in Mineola Public Schools, Long Island, NY.  In addition, in fall 2014, he provided bilingual professional development services to a bilingual school in Santo Domingo, Dominican Republic.  Furthermore, throughout 2014-15 and as community service to New York's multilingual and multicultural community, Prof Fraga collaborated with the Turkish Cultural Center of Queens to provide a series of educational workshops for Turkish speaking parents and the Turkish immigrant community of NYC.
During 2015-16 academic year, Prof Fraga was granted a sabbatical, where he spent twelve months in Turkey and took the opportunity to travel to countries in the nearby region.  As part of his main activities during this time, he taught ENL and Spanish at the School of Foreign Languages of Gediz University, Izmir, in the Turkish Aegean Region.  He was also invited to co-present at the Turkish ESL Conference in Ankara (November 2015) and the TESOL Arabia Conference in Dubai, UAE (March 2016). 
In addition, Prof. Fraga is proud to provide service to the college/university by being a member (or past member) of the following committees:
Department of Leadership and Human Development Executive Committee
Department of Teaching, Learning, and Culture Curriculum Committee
School of Education Student Services Committee
School of Education Executive Committee
School of Education Committee on Course and Standing
University Faculty Senate
Professional Development Ad-Hoc Committee
Department Social Committee.  
Throughout the years, Mr. Fraga has participated in numerous College Recruitment Fairs and Faculty Search Committees at CCNY. Because of his great passion for the world, its languages and multiculturalism, he is also fully bilingual (English/Spanish), has basic knowledge of French and Turkish, and intermediate knowledge of Portuguese.  He has traveled to 91 countries in six continents with a personal goal of 100 in the very near future.  Prof. Fraga is a product of public education and a strong advocate for its success!
Education
MS Ed, Educational Leadership, Bank Street College of Education, 2000
MA,      Elementary Education, Adelphi University, 1988
BS Ed, Bilingual Education, The City College of the City University of New York, 1986
Courses Taught
EDCE 35301: Teaching Reading and Language Arts to Bilingual/Bicultural Students.This course is conducted entirely in Spanish. (Undergraduate)
EDCE 5202C: Teaching Language Arts in Spanish.This course is conducted entirely in Spanish. (Graduate)
EDCE 5300C: Theories, Policies, and Programs for Emergent Bilinguals. (Graduate)
EDCE 5700C: Education that is Multicultural. (Graduate)
EDCE 6400C: Teaching Content (Math, Science, and Social Studies) with Language Arts in English and an Additional Language. (Graduate)

Furthermore, he has supervised graduate and undergraduate bilingual and bilingual special education student teachers in numerous schools throughout the city.  
Research Interests
Bilingual Education, Teaching Reading and Writing in Spanish (Lecto-escritura en Español), Multicultural Education, Leadership of Bilingual Programs and Schools.