Karen Gregory
Lecturer, Sociology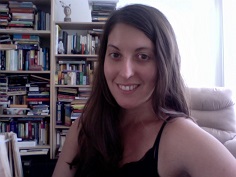 Karen Gregory
Profile
Karen Gregory is a Lecturer in Sociology at the Department of Interdisciplinary Arts and Sciences. Her work explores the intersection of contemporary spirituality, work and labor, and social media. Most recently, she helped found the CUNY Graduate Center's Digital Labor Working Group  http://digitallabor.commons.gc.cuny.edu/ and is currently at work on an on-line project that theorizes and experiments with writing as a mode of sociological thought in the age of "Big Data", as well as what it means to conduct ethnography in what has been called a "flat ontology", or world populated by both human and more-than-human actors.Her writing has been published in Women's Studies Quarterly, Women and Performance, Contexts Magazine, The Journal of Interactive Technology and Pedagogy, The New Inquiry, and The State.
 
Education
1997, Vassar College, BA, Sociology
2012, The Graduate Center of the City University of New York, MPhil, Sociology
2014, The Graduate Center of the City University of New York, PhD, Sociology
Courses Taught
Sociology of the Family, Sociology of Work, New York Labor in the Global Economy, Globalization and Technology
Publications
Clough, P., K. Gregory, B. Haber, and J. Scannell. Forthcoming. "Nonrepresentation at the Scale of Big Data: A Challenge to the Sociological Imagination." InNonrepresentational Methodologies: Re-Envisioning Research, ed. Phillip Vannini. Oxford: Taylor & Francis.
Gregory, K. 2014. "The Teaching of Labor and the Labor of Teaching: Reflections on Publicness and Professionalism."Journal of Interactive Pedagogy and Technology 4.
Gregory, K. 2013. "Quality Is Our Recipe: Gaming the Lost Affect of Care."Women and Performance: A Journal of Feminist Theory23(4).
Gregory, K. 2012. "Negotiating Precarity: Tarot as Spiritual Entrepreneurialism."Women's Studies Quarterly40(3/4).
Gregory, K. 2011. "A Night at Tarot School."Frequencies: An On-line Journal of the Social Science Research Council. http://freq.uenci.es/
Gregory, K., and P. Clough. 2010. "Playing and Praying to the Beat of a Child's Metronome." Subjectivity 3: 4.
Gregory, K. 2006. "Dinosaurs and Fear in the Heartland: The Creation Museum and Family Discovery Center."Contexts6(2).
Gregory, K. 2006. "Ethnography of Care: Notes from a Domestic Violence Hotline."City College Ethnographic Fieldwork Guide.
Updated as of May 20, 2014