Mardi Jaskot
Tutoring Coordinator
Main Affiliation
Writing Center
Office
NAC NAC 3rd fl /Amsterdam Avenue Plaza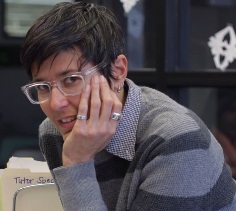 Mardi Jaskot
Profile
Mardi Jaskot is a writer and educator who was born and raised in Hawaii, and earned her B.A. in Creative Writing from The University of Puget Sound in Washington. She received the Graduate Award for Children's Literature and an MFA in Creative Writing from CCNY in 2011. She has been teaching at CCNY since 2008.
 
Mardi Jaskot is the Tutoring Coordinator at The Writing Center. It offers tutoring, workshops, a computer lab, and other forms of academic support to all City College students. She began there as a tutor in 2010, and now assists the director in managing daily operations, including a staff of forty. She also develops The Workshop Series, and trains the workshop instructors. The Writing Center is a professional and welcoming environment supporting student success.
 
Mardi Jaskot is a staff developer for Poetry Outreach. Poetry Outreach is an organization that sends writers and teachers into public elementary, middle, and high schools to teach poetry and foster a love of language. In this capacity, she teaches poetry, recruits and trains poetry instructors, conducts seminars, and is an enthusiastic supporter of young poets.
Education
MFA, The City College of New York, 2011
NYS Teacher Certification, Brooklyn College, 2001
BA, The University of Puget Sound, 1991
Courses Taught
Literature and Psychoanalysis
Introduction to Creative Writing
Intermediate Creative Writing: Reading as Writers
Brazilian Film and Literature
Critical Reading and Writing
Modern African Society
Introduction to Creative Writing
Intermediate Creative Writing: Reading as Writers
Brazilian Film and Literature
Critical Reading and Writing
Modern African Society 
Research Interests
Teaching Writing as a Tool For Critical Thinking
Teaching  and Metacognition
Writing Centers and Student Success
The Arts and Humanities and Building Classroom Communities
Building Bridges Within Campus and Beyond Campus
Poetry in the Public School Classroom
Publications
Reading Series: CUNY Turnstyle, CCNY MFA Reading Series, Slideshow, Perch
Publications: SynApse, Poetry In Performance, Queer Conventions, Promethean
Additional Information
NCTE Annual Convention, Poetry Outreach and the Future of Poetry In The ELA Classroom, Boston, Fall 2013
Poetry Outreach Conference, Teaching Poetry, Teaching Literacy, The City College of New York, Summer 2013
The New Jersey College English Association, Poetry Outreach: Adding Value and Community To Your University, Seton Hall University, Spring 2013