Michael Grossberg
Assistant Professor, Computer Science
Co-Director of the Data Science and Engineering Master's Program (phishing alert: Not currently advertising for RA position. Beware of scam.)
Additional Departments/Affiliated Programs
Areas of Expertise/Research
Computer Vision
Data Science
Data Visualization
Machine Learning
Web Development
Building
North Academic Center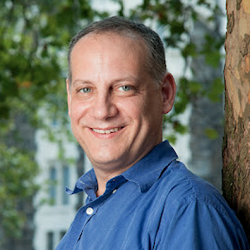 Michael Grossberg
Profile
Michael D. Grossberg is an Associate Professor of Computer Science at City College, City University of New York. He works applying machine learning and visualization techniques to science problems, particularly in problems in medical imaging, remote sensing, and climate data analysis. He works with collaborators at the NOAA-CREST center and Memorial-Sloan Kettering Cancer Center. Before coming to CCNY, he spent four years as a Research Scientist with the Columbia Automated Vision Environment (CAVE), at Columbia University. He received his PhD in Mathematics from the Massachusetts Institute of Technology in 1991. His research in computer vision has included topics in the geometric and photometric modeling of cameras, and analyzing features for indexing. Dr. Grossberg was a Lecturer in the Computer Science Department at Columbia University. He was also a Ritt Assistant Professor of Mathematics at Columbia University. He has held postdoctoral fellowships at the Max Plank Institute for Mathematics in Bonn, and Hebrew University in Jerusalem. He has authored and coauthored papers that have appeared in ICCV, ECCV, CVPR. He has filed several U.S. and international patents for inventions related to computer vision.
Education
Ph.D MIT
BA. U of Pennsylvania
Courses Taught
DSE I1020 Introduction to Data Science
DSE I2100 Applied Machine Learning and Data Mining
CSC 59969 Data Visualization
CSC 47300 Web Development
G 2010 MIS Software Engineering and Object Oriented Design
I 43300 Advanced Topics in Internet Programming (web services)
CSC 59866/7 Senior Design (Data Visualization)
CSC 47100: Computer Vision
CSC 32200: Software Engineering
CSC 10200: Introduction to Computing (C/C++/Python)
Research Interests
Data Visualization, Computer Vision, Graphics, and Machine Learning.
Publications
Aizenmann, H., M. Grossberg, I. Gladkova, and N. Krakauer. 2015. "Toolbox for Evaluating Ensembles Using an Information Gain Measure." AMS Annual Meeting, Phoenix.
Hu, Y, M Grossberg, and G Mageras. 2015. "SU-d-BRA-03: What Image Features Are Useful for Tumor Segmentation in Multi-Modal Images?" Medical Physics 42 (6). American Association of Physicists in Medicine: 3213–3.
Tessler, Z., C. Vörösmarty, M. Grossberg, I. Gladkova, H. Aizenman, J. Syvitski, and E. Foufoula-Georgiou. 2015. "Profiling Risk and Sustainability in Coastal Deltas of the World." Science 349 (6248). American Association for the Advancement of Science: 638–43.
Hu, Y, M Grossberg, and G Mageras. 2014. "Tumor Segmentation with Multi-Modality Image in Conditional Random Field Framework with Logistic Regression Models." In Engineering in Medicine and Biology Society (EMBC), 2014 36th Annual International Conference of the IEEE, 6450–4. IEEE.
Cross, J., I. Gladkova, W Paul Menzel, A. Heidinger, and M. D. Grossberg. 2013. "Statistical Estimation of a 13.3 μM Visible Infrared Imaging Radiometer Suite Channel Using Multisensor Data Fusion." Journal of Applied Remote Sensing 7 (1). International Society for Optics; Photonics: 073473–3.
Gladkova, I., J. Cross, P. Menzel, A. Heidinger, and M. Grossberg. 2013. "Statistical Estimation of a 13.3 Micron Channel for VIIRS Using Multisensor Data Fusion with Application to Cloud-Top Pressure Estimation." Proc. AMS 29th Conference on Environmental Information Processing Technologies, Austin, TX
Gladkova, I., M. Grossberg, G. Bonev, P. Romanov, G. Riggs, and D. Hall. 2013. "A Full Snow Season in Yellowstone: A Database of Restored Aqua Band 6." Geoscience and Remote Sensing Letters, IEEE 10 (3). IEEE: 553–57.
Gladkova, I., F. Shahriar, M. Grossberg, R. Frey, and W. P. Menzel. 2013. "Impact of the Aqua MODIS Band 6 Restoration on Cloud/Snow Discrimination." Journal of Atmospheric and Oceanic Technology 30 (12): 2712–9.
Krakauer, N., M. Grossberg, I. Gladkova, and H. Aizenman. 2013. "Information Content of Seasonal Forecasts in a Changing Climate." Advances in Meteorology 2013. Hindawi Publishing Corporation: 12.
Tessler, Z., C. Vörösmarty, K. McDonald, R. Schroeder, M. Grossberg, I. Gladkova, and H. Aizenman. 2013. "A Global Deltas Typology of Environmental Stress and Its Relation to Terrestrial Hydrology." AGU Fall Meeting Abstracts 1: 02.
Aizenman, H., M. Grossberg, D. Jones, N. Barnes, J. Smerdon, K. Anchukaitis, and Julien E. Geay. 2012. "Web Based Visualization Tool for Climate Data Using Python." 92nd AMS Annual Meeting, Second Symposium on Advances in Modeling and Analysis Using Python.
Gladkova, I., M. Grossberg, G. Bonev, P. Romanov, and F. Shahriar. 2012. "Increasing the Accuracy of MODIS/Aqua Snow Product Using Quantitative Image Restoration Technique." Geoscience and Remote Sensing Letters, IEEE 9 (4). IEEE: 740–43.
Gladkova, I., M. Grossberg, F. Shahriar, G. Bonev, and P. Romanov. 2012. "Quantitative Restoration for MODIS Band 6 on Aqua." Geoscience and Remote Sensing, IEEE Transactions on 50 (6). IEEE: 2409–16.
Hu, Y., A. Grossberg M.and Wu, Na. Riaz, C. Perez, and G. Mageras. 2012. "Interactive Semiautomatic Contour Delineation Using Statistical Conditional Random Fields Framework." Medical Physics 39 (7). American Association of Physicists in Medicine: 4547–58.
Grossberg, M., J. Gabaldon, P. Alabi, J. Neiman, and I. Gladkova. 2011. "Graphyte Software for Integrated Remote Sensing Research Using HPCC." In SPIE Optical Engineering+ Applications, 81531F–81531F. International Society for Optics; Photonics
Gladkova, I., M. Grossberg, G. Bonev, and F. Shahriar. 2011. "A Multiband Statistical Restoration of the Aqua MODIS 1.6 Micron Band." In SPIE Defense, Security, and Sensing, 804819–9. International Society for Optics; Photonics.
Gladkova, I., F. Shahriar, M. Grossberg, G. Bonev, D. Hillger, and S. Miller. 2011. "Virtual Green Band for GOES-R." In SPIE Optical Engineering+ Applications, 81531C–81531C. International Society for Optics; Photonics.
Grossberg, M., F. Shahriar, I. Gladkova, P. Alabi, D. Hillger, and S. Miller. 2011. "Estimating True Color Imagery for GOES-R." In SPIE Defense, Security, and Sensing, 80481A–80481A. International Society for Optics; Photonics.
Hu, Y, M Grossberg, and G Mageras.  2011. "TH-a-220-07: Semi-Automatic Multi-Modality Image Segmentation for Normal Organ Delineation in Head & Neck Radiation Treatment Planning." Medical Physics 38 (6). American Association of Physicists in Medicine: 3847–7.
Nayar, S., G. Krishnan, M. Grossberg, and R. Raskar. 2011. "Visual Chatter in the Real World." In Robotics Research, 13–24. Springer Berlin Heidelberg
Ahmed, S, R Amin, I Gladkova, A Gilerson, M Grossberg, S Hlaing, F Shariar, and P Alabi. 2010. "Characterizing Bio-Optical and Ecological Features of Algal Bloom Waters for Detection and Tracking from Space." In SPIE Defense, Security, and Sensing, 767804–4. International Society for Optics; Photonics.
Bonev, G, I Gladkova, and M. Grossberg. 2010. "Increasing the Accuracy of MODIS Snow Product Using Quantitative Restoration for MODIS Band 6 on Aqua." AGU Fall Meeting Abstracts 1: 1343.
Gladkova, I., M. Grossberg, and F. Shahriar. 2010. "Quantitative Image Restoration." In SPIE Defense, Security, and Sensing, 769519–9. International Society for Optics; Photonics.
Hu, Y, M Grossberg, and G Mageras.  2010. "Fast Graph-Based Medical Image Segmentation with Expert Guided Statistical Information." In Information Technology and Applications in Biomedicine (ITAB), 2010 10th IEEE International Conference on, 1–5. IEEE
Gladkova, I., M. Grossberg, S. Gottipati, F. Shahriar, and G. Bonev. 2009. "Error Mitigation for CCSD Compressed Imager Data." In SPIE Optical Engineering+ Applications, 744408–8. International Society for Optics; Photonics.
Grossberg, M., I. Gladkova, I. Guch, P. Alabi, F. Shahriar, G. Bonev, and H. Aizenman. 2009. "Rich Client Data Exploration and Research Prototyping for NOAA." In SPIE Optical Engineering+ Applications, 74560C–74560C. International Society for Optics; Photonics.
Grossberg, M., S. Gottipati, I. Gladkova, M. Rabinowitz, P. Alabi, T. George, and A. Pacheco. 2009. "A Comparative Study of Lossless Compression Algorithms on Multispectral Imager Data." In SPIE Defense, Security, and Sensing, 733408–8. International Society for Optics; Photonics.
Hu, Y, M Grossberg, and G Mageras. 2009.  "Survey of Recent Volumetric Medical Image Segmentation Techniques." In Biomedical Engineering, edited by Carlos Alexandre Barros de Mello, 321–46. Rijeka, Croatia: InTech.
Said, E., A. Homaifar, and M. Grossberg. 2009. "Creating Virtual Sensors Using Learning Based Super Resolution and Data Fusion." In Aerospace Conference, 2009 IEEE, 1–9. IEEE.
Hu, Y., M. Grossberg, and G. Mageras. 2008. "Semi-Automatic Medical Image Segmentation with Adaptive Local Statistics in Conditional Random Fields Framework." In Engineering in Medicine and Biology Society, 2008. EMBS 2008. 30th Annual International Conference of the IEEE, 3099–3102. IEEE.
Yu, G., M. Grossberg, G. Wolberg, and I. Stamos. 2008. "Think Globally, Cluster Locally: A Unified Framework for Range Segmentation." Proceedings of the 4th International Symposium on 3D Data Processing, Visualization and Transmission (3DPVT'08), Atlanta, USA.
Gladkova, I, S Gottipati, and M Grossberg. 2007. "A New Lossless Compression Algorithm for Satellite Earth Science Multi-Spectral Imagers", Proceedings of the SPIE, 6683. International Society for Optical Engineering; 1999: 6683.
Gottipati, S., J. Goddard, M. Grossberg, and I. Gladkova. 2007. "A Comparative Study of Lossless Compression Algorithms on Modis Data." In Optical Engineering+ Applications, 66830F–66830F. International Society for Optics; Photonics.
Grossberg, M, S Gottipati, and I Gladkova. 2007. "The Impact of Striping Artifacts on Compression." In Proceedings of the SPIE, 6683–22. International Society for Optical Engineering; 1999.
Park, Jong-Il, Moon-Hyun Lee, Michael Grossberg, and Shree K Nayar. 2007. "Multispectral Imaging Using Multiplexed Illumination." In Computer Vision, 2007. ICCV 2007. IEEE 11th International Conference on, 1–8. IEEE.
Gladkova, I, and M Grossberg. 2006. "A Lossless Compression Algorithm for Hyperspectral Data." Proceedings of the SPIE, Satellite Data Compression, Communications, and Archiving II 6300: 630001.
Gladkova, I, M Grossberg, E Grayver, D Olsen, N Nalli, W Wolf, L Zhou, and M Goldberg. 2006. "Priority-Based Error Correction Using Turbo Codes for Compressed AIRS Data." In SPIE Optics+ Photonics, 630008–8. International Society for Optics; Photonics.
Grossberg, M, S Gottipati, I Gladkova, M Goldberg, and L Roytman. 2006. "An Analysis of Optimal Compression for the Advanced Baseline Imager Based on Entropy and Noise Estimation." In SPIE Optics+ Photonics, 63000M–63000M. International Society for Optics; Photonics.
Nayar, S., G. Krishnan, M. Grossberg, and R. Raskar. 2006. "Fast Separation of Direct and Global Components of a Scene Using High Frequency Illumination." ACM Trans. on Graphics (SIGGRAPH), July, 935–44.
Swaminathan, R., M.D. Grossberg, and S.K. Nayar. 2006. "Non-Single Viewpoint Catadioptric Cameras: Geometry and Analysis." International Journal of Computer Vision 66 (3): 211–29.
Fujii, Kensaku, Michael D Grossberg, and Shree K Nayar. 2005. "A Projector-Camera System with Real-Time Photometric Adaptation for Dynamic Environments." In Computer Vision and Pattern Recognition, 2005. CVPR 2005. IEEE Computer Society Conference on, 1:814–21. IEEE.
Grossberg, M., and S. Nayar. 2005. "The Raxel Imaging Model and Ray-Based Calibration." International Journal of Computer Vision 61 (2). Kluwer Academic Publishers: 119–37.
Grossberg, M., and S. Nayar.  2004. "Modeling the Space of Camera Response Functions Images." EEE Transactions on Pattern Analysis and Machine Intelligence 26 (10): 1272–82.
Grossberg, M., H. Peri, S. Nayar, and P. Belhumeur. 2004. "Making One Object Look Like Another: Controlling Appearance Using a Projector-Camera System." In Computer Vision and Pattern Recognition, 2004. CVPR 2004. Proceedings of the 2004 IEEE Computer Society Conference on, 1:452–59. IEEE.
Hadjidemetriou, E., M. Grossberg, and S. Nayar. 2004. "Multiresolution Histograms and Their Use for Recognition." IEEE Transactions on Pattern Analysis and Machine Intelligence 26 (7): 831–47.
Swaminathan, R., M. Grossberg, and S. Nayar, Beyond Perspective Imaging - Geometry and Design Proc. of Workshop on "Imaging Beyond the Pinhole Camera", Schlo Dagstuhl. Wadern, Germany June 2004
Swaminathan, R., M. Grossberg, and S.K. Nayar. 2004. "Designing Mirrors for Catadioptric Systems That Minimize Image Errors." Fifth Workshop on Omnidirectional Vision, May.
Grossberg, M., and S. Nayar.  2003. "Determining the Camera Response from Images: What Is Knowable?" IEEE Transactions on Pattern Analysis and Machine Intelligence 11 (November): 1455–67.
Grossberg, M. and S. Nayar.  2003. "What Is the Space of Camera Response Functions?" In Computer Vision and Pattern Recognition, 2003. Proceedings. 2003 IEEE Computer Society Conference on, 2:II–602. IEEE.
Hadjidemetriou, E., M. Grossberg, and S. Nayar.  2003. "Multiresolution Histograms and Their Use for Texture Classification." 3rd International Workshop on Texture Analysis and Synthesis at ICCV.
Nayar, S., H. Peri, M. Grossberg, and P. Belhumeur. 2003. "A Projection System with Radiometric Compensation for Screen Imperfections." ICCV Workshop on Projector-Camera Systems (PROCAMS), October.
Swaninathan, R, M. Grossberg, and S. Nayar. 2003. "A Perspective on Distortions." In Computer Vision and Pattern Recognition, 2003. Proceedings. 2003 IEEE Computer Society Conference on, 2:594–601. IEEE.
Grossberg, M., and S. Nayar. 2002. "What Can Be Known About the Radiometric Response from Images?" In Computer Vision—ECCV 2002, 189–205. Springer Berlin Heidelberg.
Hadjidemetriou, E., M. Grossberg, and S. Nayar.  2002. "Resolution Selection Using Generalized Entropies of Multiresolution Histograms." In Computer Vision—ECCV 2002, 220–35. Springer Berlin Heidelberg
Grossberg, M., and S. Nayar. 2001. "A General Imaging Model and a Method for Finding Its Parameters." In Computer Vision, 2001. ICCV 2001. Proceedings. Eighth IEEE International Conference on, 2:108–15. IEEE.
Hadjidemetriou, E., M. Grossberg, and S. Nayar. 2001. "Spatial Information in Multiresolution Histograms." In Computer Vision and Pattern Recognition, 2001. CVPR 2001. Proceedings of the 2001 IEEE Computer Society Conference on, 1:702–9. IEEE.
Swaminathan, R., M. Grossberg, and S. Nayar. 2001. "Caustics of Catadioptric Cameras." In Computer Vision, 2001. ICCV 2001. Proceedings. Eighth IEEE International Conference on, 2:2–9. IEEE.
Hadjidemetriou, E., M. Grossberg, and S. Nayar. 2000. "Histogram Preserving Image Transformations." In Computer Vision and Pattern Recognition, 2000. Proceedings. IEEE Conference on, 1:410–16. doi:10.1109/CVPR.2000.855848.
Park, J. , M. Lee, M. Grossberg, and S. Nayar. 2012. "Method of Multispectral Imaging and an Apparatus Thereof.", US Patent 8,284,279
Gladkova, I., M. Grossberg, and L. Roytman. 2011. "Selectively Lossy, Lossless, and/or Error Robust Data Compression Method.", US Patent 7,907,78
Nayar, S., M. Grossberg, H. Peri, and P. Belhumeur. 2010. "Methods and Systems for Compensating an Image Projected onto a Surface Having Spatially Varying Photometric Properties.", US Patent 7,663,640
Nayar, S., K. Gurunandan, M. Grossberg, and R. Raskar "Method for Separating Direct and Global Illumination in a Scene", US Patent App. 11/624016
Grossberg, M., S. Nayar, 2006 "Method and system for enhancing data quality", US Patent 7,151,801
Hadjidemetriou, E., Grossberg M.D., and S.K. Nayar. 2001. "Histogram Preserving Image Transformations." International Journal of Computer Vision 45 (1): 5–23.
Yemini, Y., M. Grossberg, and D. Florissi. 2001. "Method and Apparatus for Providing Forwarding and Replication Services on a Dynamically Addressed Network." US Patent App. 09/775,349
Yemini, Y., M. Grossberg, and D. Florissi. 2001 "Method and Apparatus for Dynamically Addressing a Circuits Based Network." US Patent App.  09/775,348
Yemini, Y., M. Grossberg, and D. Florissi.  2001. "Method and Apparatus for the Exchange of Data Between a Dynamically Addressed Network and a Foreign Network." US Patent App. 09/775,346
Yemini, Y., M. Grossberg, and D. Florissi.  2001. "A Method and Apparatus for Dynamically Addressing and Routing in a Data Network." US Patent App. 09/775,349
Yemini, Y., M. Grossberg, and D. Florissi.  2001. "Method and apparatus for providing services on a dynamically addressed network." US Patent App. 09/775,347
Swaminathan, R., M. Grossberg, and S. Nayar. 2000. "Method and Apparatus for Reducing Distortion in Images." US Patent 7.245.761.
Grossberg, M., and Y. Karshon. 1998. "Equivariant Index and the Moment Map for Completely Integrable Torus Actions." Advances in Mathematics 133 (2): 185–223.
Grossberg, M., and Y. Karshon. 1994. "Bott Towers, Complete Integrability, and the Extended Character of Representations." Duke Math Journal 76 (1): 23–58