Michelle Juarez
Assistant Medical Professor
Main Affiliation
CUNY School of Medicine
Building
Marshak Science Building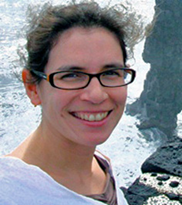 Michelle Juarez
Education
Ph.D., 2004, State University of New York, Stony Brook 
B.s., 1998, University of California, Berkeley 
Profile
Dr. Juarez is Assistant Professor in the Department of Molecular, Cellular & Biomedical Sciences. Previously, she was Assistant Project Scientist at the University of California, San Diego, and NIH-NIGMS IRACDA fellow. Dr. Juarez is a member of the American Society for Cell Biology, Genetics Society of America, Society for Developmental Biology, and the Society for the Advancement of Chicanos and Native Americans in Science. In addition to using fruit flies as a model system to investigate the genetic regulation of tissue repair and inflammation after injury, Dr. Juarez promotes STEM Outreach, Science Communication, and Mentoring.
Research Interests
Drosophila Genetics
Developmental Biology
Intersection between epidermal wound response and innate immunity
Transcriptional regulation of epidermal wound response
Molecular Biology and Fluorescence Microscopy 
Selected Publications
1. Capilla A, Karachentsev D, Patterson RA, Hermann A, Juarez MT, McGinnis W. Toll pathway is required for wound-induced expression of barrier repair genes in the Drosophila epidermis. Proc Natl Acad Sci U S A. 2017 Mar 28; 114(13):E2682-E2688.
2. Juarez MT. Drosophila Embryos as a Model for Wound-Induced Transcriptional Dynamics: Genetic Strategies to Achieve a Localized Wound Response. Adv Wound Care (New Rochelle). 2016 Jun 01; 5(6):262-270.
3. Juarez MT, Patterson RA, Li W, McGinnis W. Microinjection wound assay and in vivo localization of epidermal wound response reporters in Drosophila embryos. J Vis Exp. 2013 Nov 01; (81):e50750.
4. Patterson RA, Juarez MT, Hermann A, Sasik R, Hardiman G, McGinnis W. Serine proteolytic pathway activation reveals an expanded ensemble of wound response genes in Drosophila. PLoS One. 2013; 8(4):e61773.
5. Juarez MT, Patterson RA, Sandoval-Guillen E, McGinnis W. Duox, Flotillin-2, and Src42A are required to activate or delimit the spread of the transcriptional response to epidermal wounds in Drosophila. PLoS Genet. 2011 Dec; 7(12):e1002424.
PubMed Library - https://www.ncbi.nlm.nih.gov/sites/myncbi/michelle.juarez.1/bibliography/45624026/public/?sort=date&direction=ascending
Videos
https://www.youtube.com/watch?v=urYc8A4YnK4&feature=youtu.be
https://www.jove.com/video/50750/microinjection-wound-assay-vivo-localization-epidermal-wound-response
Blogs
http://blogs.plos.org/scicomm/2018/01/23/cultivating-a-new-stem-audience/
https://blog.frontiersin.org/2017/06/07/communicating-research-findings-outside-of-the-scientific-community-is-an-important-and-challenging-part-of-science/
https://medium.com/stem-and-culture-chronicle/growing-together-the-mentee-mentor-relationship-9c3317e94ea2
Education and Outreach
https://kids.frontiersin.org/article/10.3389/frym.2016.00027
http://www.lifescied.org/content/16/2/le2.long