Sarah O'Neill
Assistant Professor
Main Affiliation
Psychology
Building
North Academic Center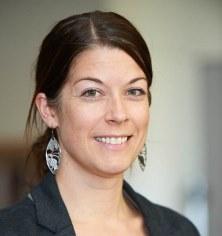 Sarah O'Neill
Biography & Education
Dr. Sarah O'Neill received her Ph.D. in Psychology and Postgraduate Diploma in Clinical Psychology from the University of Otago, Dunedin, New Zealand. She worked with Dr. Rachel Zajac to investigate factors that influence children's responses to cross-examination style questioning.  Specifically, she sought to understand the mechanisms that account for children's often inconsistent and inaccurate responding to cross-examination questions; cognitive individual difference factors that may affect children's cross-examination performance; and the effectiveness of an intervention designed to improve children's cross-examination performance.        
In the fall of 2009 Sarah moved from New Zealand to New York to take up a post-doctoral fellowship at Queens College of the City University of New York under the mentorship of Distinguished Professor Jeffrey Halperin.  During her time at Queens College, Sarah worked on two of Dr. Halperin's federally-funded studies, the Queens College Preschool Project (QCPP) and Non-Pharmacological Interventions for Preschoolers with ADHD (NIPA).  One of the key aims of the QCPP study is to understand the relation between children's neuropsychological development and change in their ADHD severity over time.  The NIPA study evaluated the efficacy of two non-pharmacological treatments for young children with ADHD.   
In the fall of 2013 Sarah joined the CCNY faculty as an Assistant Professor where she continues to research ADHD.  Specifically, she is interested in better understanding the mechanisms that drive long-term outcomes in individuals with ADHD and in developing evidence-based interventions for ADHD.
Degree/Date: Ph.D. 2009
Institution: University of Otago, Dunedin, New Zealand
Specialization: Clinical Psychology
Research Interests
Research and Scholarship Group
Dr. O'Neill runs the Attention and Neuropsychological Development (ATTEND) Lab at CCNY. The ATTEND Lab studies the neuropsychological and psychosocial factors that increase risk for, and moderate the trajectory of Attention-Deficit/Hyperactivity Disorder (ADHD) across the lifespan. At the group level, this highly prevalent neurodevelopmental disorder is associated with significant functional impairment across several domains. These group-level characteristics, however, hide the incredible heterogeneity that characterizes the disorder, and that has made it extremely challenging for researchers to the identify the pathophysiology of the disorder, effective interventions that alter trajectories of the disorder, and the associated outcomes of ADHD, particularly at the level of the individual. The ATT&ND Lab uses a multi- method approach to better understand the factors that affect the course of the disorder and the difficulties experienced in key areas of functioning, including interpersonal relationships, education and employment, and physical health, with the view to inform the development of evidence-based interventions for the disorder. The ATT&ND Lab has four main areas of research:
1. What Role Does Executive Dysfunction Play In ADHD?
Several prominent theories of ADHD emphasize the importance of higher ordercognitive dysfunction, such as working memory difficulties and behavioral disinhibition, as central to ADHD etiology.  It is clear, however, that successful performance on executive function tasks does not solely depend on the higher-order cognitive ability of interest, but also on many non-executive processes (e.g., processing efficiency, motivation).  We are investigating how these more basic processes impact on an individual's performance on executive function tasks to better understand how and to what extent executive function deficits are manifested in children and adolescents with ADHD.
2. Why Are Children and Adults With ADHD At Greater Risk Of Obesity?
Researchers have tended to investigate the cognitive, academic and social difficulties faced by individuals with ADHD, while their physical health has been less well studied.  Recent evidence suggests, however, that children and adults with ADHD are at greater risk of excessive weight gain, which places them at risk for myriad health problems.  We study common neural and neuropsychological risk factors for both ADHD and obesity, with a view to informing intervention design.
3. How Does Physical Exercise Impact Cognitive Functioning?
There is a robust literature, primarily in animals and in aging human populations, showing that physical exercise positively impacts brain structure and cognitive performance. Less is known, however, about the impact of physical exercise on the cognitive functioning of young adults and children; this is particularly the case for individuals with ADHD.  We are investigating the acute effects of moderate intensity exercise on young adults' working memory and different aspects of attention. Furthermore, we are also interested in better understanding the factors that may moderate the relation between exercise and cognitive functioning, such as body mass index, fitness level, ADHD symptom severity, and severity of internalizing problems.
4. Why Are Children With ADHD At Risk For Learning Problems?
The co-occurrence of a learning disorder in children with ADHD, and of ADHD in children with a learning disorder is around 15-40%, irrespective of whether community or clinical samples are recruited. We investigate why children with inattention may be at greater risk of developing a learning disorder, with a special focus on neuropsychological mechanisms that may explain the ADHD-learning disorder relation.
Visit our lab website for more information: https://www.oneillattentionlab.com/
 
Publications
Kryza-Lacombe, M., Tanzini, E., & O'Neill, S. (2018). Hedonic and eudaimonic motives: Associations with academic achievement and negative emotional states among urban college students. Journal of Happiness Studies,doi.org/10.1007/s10902-018-9994-y. Epub 2018 June 16.  

O'Neill, S., Halperin, J. M., & Coghill, D. R. (2018). Neuropsychological functioning and ADHD: a developmental perspective. In T. Banaschewski, D. R. Coghill, & A. Zuddas (Eds.), Oxford textbook of Attention Deficit Hyperactivity Disorder. Oxford, UK: Oxford University Press

O'Neill, S, Rajendran, K., Mahbubani, S., & Halperin, J. M. (2017). Preschool predictors of ADHD symptoms and impairment during childhood and adolescence. Current Psychiatry Reports, 19(12):95. doi: 10.1007/s11920-017-0853-z. Epub 2017 Oct 30.

Rabinovitz, B. B., O'Neill, S., Rajendran, K., & Halperin, J. M. (2016). Temperament, executive control, and ADHD across early development. Journal of Abnormal Psychology, 125(2), 196-206. doi: 10.1037/abn0000093. 

O'Neill, S., Thornton, V., Marks, D. J., Rajendran, K., & Halperin, J. M. (2015). Early language mediates the relations between preschool inattention and school-age reading achievement. Neuropsychology, 30, 398-404. Epub 2015 Nov 16.
Additional Information
Professional Activities:
Current Projects:
Courses Taught:
PSY 246: Introduction to Human Development: Infancy and Childhood
PSY 373: Neuropsychology 
PSY 7611: Neuropsychological Assessment