Stephen Jablonsky
Retired Sage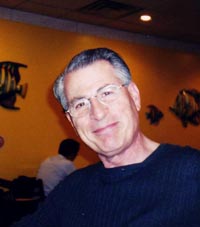 Stephen Jablonsky
Profile
Dr. Jablonsky is a 1962 graduate of the college. He returned in 1964 as an adjunct faculty member and was hired full-time in 1968. From 2002 to 2014 he was the chair of the department. Relieved of that burden, he returned to the classoom and was occupied with writing free digital textbooks for the students lucky enough to study with him. The 2018-2019 school year was his 51st as a full-time faculty member and we must assume he was, by then, getting pretty good at professing. He has poured all that experience into the textbooks he revised each semester, and even had time to return with vigor to music composition. He is still an avid tennis player when he is not seated at his office computer.
Strange as it may seem, he is better known as a painter than he is as a composer. Currently there are over 200 of his paintings on permanent exhibit throughout the college.
Dr. Jablonsky retired in August as a full-time faculty member and taught every Friday afternoon as an Adjunct Professor. He is now fully retired due to anticipated budgetary constraints. His 56 years in the classroom have come to an end.
Education
The High School of Music & Art, 1958
B.A., The City College of New York, 1962
Graduate Study, Harvard University, 1962-3
M.A., New York University, 1964
Graduate Study, Queens College, Fortran 4-B, 1969-70
Ph.D., New York University, 1973
 Dissertation: "The Development of Tonal Coherence in the Revised Operas of Giuseppe Verdi," Martin Chusid, mentor
The National Orchestral Association, Conducting Fellowship Program, 1973-6, Leon Barzin, music director
Graduate Study, The University of Bridgeport, Family Counseling Program, 1982-3
Courses Taught
Classes taught 2016-2020:
Music Composition
Instrumentation & Arranging
FIQWS: Modernism in the Arts (1909-1929)
Music 10100. Introduction to Music
Research Interests
The interrelatedness of all things, specializing in Truth and Beauty.
Dr. Jablonsky has spent the past 65 years attempting to write music that is engaging, entertaining, and coherent. You can hear a representative number of his compositions at Soundcloud.com.
For a real treat, check out his channel on YouTube.
He is also a man of letters having written innumerable satires and commentaries on the acrid political climate in these United States since the good old days of the Bush Crime Family that were distributed to friends, family, colleagues, and former students around the globe. If you wish to be on his mailing list contact him at jablonsky@optimum.net .
Publications
Digital Textbooks:
Music in the Big Apple. A free digital textbook for students in Music 10100. revised 2019. 157 pages.
More than You Wanted to Know About Music When You Foolishly Signed Up for Music 10100. A free digital textbook. revised 2018. 163 pages.
Music Composition Made Easy: An Adenture in Sound. A free digital textbook for Music 43000. revised 2017. 144 pages.
Modernism in the Arts 1909-1929. A free digital textbook for FIQWS. revised 2017. 155 pages.
An Informal Guide to the Fine Art of Musical Arranging. A free digital textbook for Music 36202. revised 2018. 82 pages.
A Listener's Guide to Stravinsky's Symphonies of Wind Instruments. A free pamphlet distributed to members of the Society for Music Theory. 2013, 13 pages.
Peer-reviewed Articles:
"Wagner's Harmonic Game Plan for the Composition of the Prelude to Tristan und Isolde," International Journal of Musicology, New Series Vol. 2, 2016, pp. 165-195.
"The Fibonacci Numbers and Musical Form," The Fabulous Fibonacci Numbers, Promethues Books, 2007, Chapter 8, pp. 271-291.
"Introduction aux graphes de tonalité: Le cercle chromatique des quintes," Musurgia, Volume X/3-4, 2004, pp. 91-104.
Published Textbooks:
Gaining Music Literacy, Kendall Hunt Publishers, 2014
The All-Star Rhythm & Pitch Book, Kendall Hunt Publishers, 2005, revised 2014
Molto Cantabile!, Sight Singing the World's Great Melodies, Kendall Hunt Publishers, 2013
 
Tonal Facts & Tonal Theories, Kendall Hunt Publishers, 2005, rev. 2009
Tonal Facts & Tonal Theories Workbook 2, Kendall Hunt Publsihers, 2006
Tonal Facts & Tonal Theories Workbook 1
, Kendall Hunt Publishers, 2005
Published in-house for use at CCNY:
Thinking Harmonically at the Keyboard, 2004, rev. 2009
Tonal Facts & Tonal Theories Workbook 3, 2006
The Dictation Resource Program, 2008, rev. 2012