Tashuna Albritton
Assistant Medical Professor
Main Affiliation
CUNY School of Medicine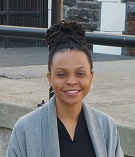 Tashuna Albritton
Profile
Tashuna Albritton is an Assistant Medical Professor in the Department of Community Health and Social Medicine. Dr. Albritton has extensive training in community-based behavioral intervention research, particularly with minority populations, in both urban and rural communities. She completed a 3-year postdoctoral fellowship at the Yale University Center for Interdisciplinary Research on AIDS and School of Public Health. Her research focuses on sexually transmitted infections and HIV prevention intervention among African American adolescents. She also examines the individual, interpersonal, community and environmental level factors that influence risk behaviors among young and vulnerable populations.
Education
Ph.D., 2011, University of North Carolina at Chapel Hill
M.S.W., 2002, Howard University
B.A., 1998, University of North Carolina at Chapel Hill
Research Interests
Adolescent sexual health
HIV/AIDS and Sexually Transmitted Infections Prevention Interventions
Urban and Rural Sexually Transmitted Infections Disparities
Community Health
Health Policy
Community-Based Participatory Research
Social Technology Innovation and Intervention Research 
Publications
1.       Albritton T, Martinez I, Gibson C, Angley M, & Grandelski V. What about us?: Economic and policy changes affecting rural HIV/AIDS services and care. Social Work in Public Health (Accepted).
2.       Gordon, DM, Divney A, Albritton T, Magriples U, & Kershaw T. The influence of general discrimination and social context on young urban expecting couples' mental health. Journal of Child and Family Studies (In Press).
3.       Vincent W, Gordon, DM, Campbell C, Ward NL, Albritton T, & Kershaw T. Adherence to traditionally masculine norms and condom-related beliefs: Emphasis on African American and Hispanic men. Psychology of Men and Masculinity 2016; 17 (1): 42-53.
4.       Albritton T, Angley M, Gibson C, Sipsma, H, & Kershaw T. Mental health utilization among young diverse parenting couples. American Journal of Community Psychology 2015; 56 (1): 89-100.
5.       Albritton T, Sallah S, Akers A, Blumenthal C, O'Brien S, Council B, Muhammad M, & Corbie-Smith G. A process evaluation of an HIV/STI intervention for rural African American youth. Qualitative Health Research 2014; 24 (7): 969-982.
6.       Albritton T, Angley M, Grandelski, V, Hansen, N, & Kershaw TS. Looking for solutions: Gender differences in relationship and parenting challenges among low-income young parents. Family Process 2014; 53 (4): 686-701.
7.       Albritton T, Fletcher KM, Divney A, Gordon D, Magriples U, & Kershaw TS. Who's asking the important questions? Sexual topics discussed among sexually active young couples. Journal of Behavioral Medicine 2014; 37 (6): 1047-1056.
8.       Ritchwood TD, Albritton T, Akers A, Dave G. Carthron D, Adimora A, Project GRACE, & Corbie-Smith G. The effect of Teach One Reach One (TORO) on youth acceptance of couple violence. Journal of Child and Family Studies 2015; 24 (12): 3805-3815.
9.       Ramallo, J, Kidder T, Albritton T, Blick G, Pachankis J, Grandelski V, & Kershaw T. Exploring social networking technologies as tools for HIV prevention for men who have sex with men. AIDS Education and Prevention 2015; 27 (4): 298-311.
10.   Ritchwood TD, Penn DC, Peasant CJ, Albritton T, & Corbie-Smith G. Condom use self-efficacy among younger rural adolescents: The influence of parent-teen communication, and knowledge of and attitudes toward condoms. Journal of Early Adolescence (In Press).
11.   Kershaw T, Murphy A, Lewis J, Divney A, Albritton T, Magriples U, & Gordon D. Family and relationship influences on parenting behaviors of young parents. Journal of Adolescent Health 2014; 54 (2): 197-203.
12.   Kershaw T, Gerber R, Divney AA, Albritton T, Sipsma H, Magriples U, & Gordon D. Bringing your baggage to bed: The effects of past relationships on sexual risk behavior. AIDS and Behavior 2014; 18 (1): 159-170.
13.   Cene C, Akers A, Williams-Lloyd S, Albritton T, Hammond WP, & Corbie-Smith G.  Understanding social capital and HIV risk among rural African Americans. Journal of General Internal Medicine 2011; 26 (7): 737-744.
14.   Akers A, Youmans S, Lloyd SW, Smith DM, Banks B, Blumenthal C, Albritton T, et al. Views of young, rural African Americans of the role of community social institutions in HIV prevention.  Journal of Health Care for the Poor and Underserved 2010; 21 (2): 1-12.
15.   Coker-Appiah DS, Akers A, Banks B, Albritton T, Leneick K, & Wynn M, et al.  In their own voices: Rural African American youth speak out about the design and implementation of a community-based prevention intervention.  Progress in Community Health Partnerships: Research, Education, and Action 2009; 3 (4): 301-312.
Book Chapters
Ellison A, Black A, Akers A, Albritton T, Sallah S., Wynn M…, Corbie-Smith G. HIV prevention in a rural community: Multigenerational community engagement. In S Rhodes & R Aronson (Eds.), Innovations in HIV prevention research and practice through community engagement, 2014.