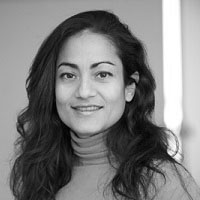 During the 2018-2019 academic year, the Rangel Center sponsored the MPA Program's scholar-in-residence, Dr. Adriana Espinosa. 
Dr. Espinosa is an assistant professor of psychology at the Colin Powell School for Civic and Global Leadership at The City College of New York, where she teaches graduate-level statistics and research methods.
As scholar-in-residence, Dr. Espinosa focused on adult education program design for minority and immigrant groups, as well as research-informed strategies to promote social inclusion and reduce social inequality. Her contributions to the MPA Program included the following public lectures, interviews, and policy papers:
Dr. Espinosa's research for the Department of Psychology focuses on the role of identity, emotional intelligence, self-confidence, and parent-child relations in the health and adaptation of marginalized groups. She completed her Ph.D. in Economics from the University of California, Berkeley.
The Rangel Center also supports MPA students who serve as research assistants to Dr. Espinosa and other research projects within CUNY. Students work with faculty on research of mutual interest.