TABLE OF CONTENTS
DegreeWorks (DGW) is an easy-to-use web based academic advising tool for undergraduate programs. This system allows faculty, advisors and staff to make informed decisions regarding academic progress toward degree completion.
DegreeWorks performs best while using Mozilla Firefox or Internet Explorer as a browser.
Click here to download:
SOME BENEFITS OF USING DEGREEWORKS
Track students overall degree progress

Personalized advising and academic planning

View course grades and cumulative grade-point average (GPA)

Transparent course and credit transfer

Clear path to graduation

---
CUNYfirst- Student System of Record
DegreeWorks extracts all student data from CUNYfirst such as transfer credits, prior degree(s), degree type, major, concentration, minor, and associated requirement terms. If any information is missing from CUNYfirst it will not display on DegreeWorks.
Pathways-Common Core Credits
Students who have earned a bachelor's, associate in arts, or associate in sciences degree from a regionally accredited and recognized institution of higher education and who transfer to a CUNY college will be deemed to have automatically fulfilled the Common Core requirements for a CUNY degree. Additional information is available on CUNY's Common Core website.
Pathways-College Option 
In addition to the 30-credit Common Core, students in bachelor's degree programs also must fulfill a College Option requirement specified by their college. The number of College Option credits is 6 to 12, depending on whether a student transferred into the college and, if so, how many credits he or she had at the time of transfer. Additional information is available on CUNY's College Option website.
Bulletin Year and Degree Requirements
Every student follows a specific bulletin year requirement for their degree, major, concentration, and minor. The major, concentration, and minor catalog year depends upon the date of declaration. DegreeWorks utilizes this information to produce an accurate and customized degree audit for each student.
Chancellor's Office Approval Requirements
Academic requirements must be approved by the Chancellor's Office before being coded into DegreeWorks. For details regarding this process, you may contact Eric Lopez at elopez3@ccny.cuny.edu or visit https://www.ccny.cuny.edu/academicaffairs/ccnypolicies
Hidden Pre-requisites: Please see details regarding the pre-requisite courses from the Chancellor's Office.
CUNY Baccalaureate Degree
All CUNY Baccalaureate students have an individualized major so they must consult with their advisor for guidance. For details go to: https://cunyba.cuny.edu/
Academic Residency Requirements
To earn a degree, students must complete college, major and minor academic residency requirements.
Maximum Applicable Transfer Credits
There are a maximum number of allowable transfer credits in the major and minor based upon the academic residency requirement.
Time-frame of Updates From CUNYfirst to DegreeWorks
DegreeWorks is fully integrated into CUNYfirst and the Financial Aid Certification and Tracking System (FACTS). DegreeWorks will generally be refreshed within 24 to 48 hours after a change is made on a student's CUNYfirst record. We urge you to notify students accordingly.  
Graduation Certification Process
DegreeWorks is not being utilized for graduation certification at the moment. Please contact your division and/or academic department regarding this process. You may also contact Dion Dennis ( ddennis1@ccny.cuny.edu ) in the Registrar's Office for detail.
Approval by Chancellor's Office
Academic requirements must go through an approval process. Please contact Eric Lopez for details.
⇒
Coding into DegreeWorks
Academic requirements are only coded into DegreeWorks once they are approved by the Chancellor's Office.
⇒
Financial Aid Certification and Tracking System (FACTS)
FACTS uses the course information from DegreeWorks in order to perform eligibility analysis of credits contributory toward the approved program of study. Contact Financial Aid Office for details.
View details about New York State AID »

---
DegreeWorks (DGW) liaisons are designated in each school and division. Your DGW liaison will assist you with understanding DegreeWorks audit, managing curriculum changes, exception management, and understanding how "Elective class Not allowed" may negatively impact financial aid. Please click the link below to familiarize yourself with DGW liaisons in your division/school:

---
Faculty, Advisors & Staff
For curriculum changes and updates to the requirements in DegreeWorks, email directly to Tom Sabia at tsabia@ccny.cuny.edu . Please be sure to include the supporting documentation approved by the Chancellor's Office.
For issues regarding student-specific records please follow the steps below:
Step 1- Contact your DegreeWorks liaison with supporting documentation and indicate the discrepancy.
Click here to locate an advisor/liaison.

Step 2- Include information about the record in question (student name and EMPLID) and a brief description of the issue.

Step 3- Your DegreeWorks liaison will research the issue and triage it to the right individual.
---
NOTE:Please use Mozilla Firefox or Internet Explorer while using DegreeWorks.
Three ways to access DegreeWorks using your CUNYfirst credentials: 
Use the DegreeWorks link in the CUNYfirst "Student Center" page or CUNY's home page.
OR
Use the CCNY website "LOGIN" DegreeWorks link.
⇒
FOR FACULTY, ADVISOR AND STAFF
Once you login by using your CUNYfirst credentials, you will be able to view the "Application Selection" landing page below. Click on the DegreeWorks link.

Note: If you do not see this selection please write to tsabia@ccny.cuny.edu for assistance.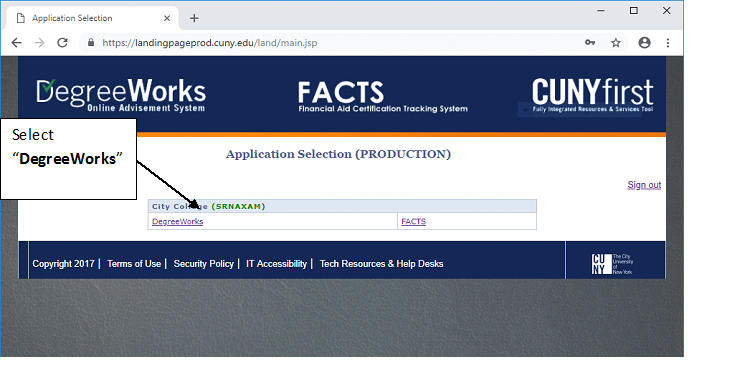 FOR STUDENTS
Note: Matriculated students automatically have access to their DegreeWorks record when they login by entering their CUNYfirst credentials.
If a student is unable to view their DegreeWorks record, please advise them to use Mozilla Firefox browser.
To report access issues, students can write to DGW_Help@ccny.cuny.edu for assistance.
---
You may search for a student record by entering the EMPLID and hitting "Enter" key on your keyboard.
Advanced Search:
Locating a student record is easy via the advanced search, just click the "Find" button and enter the student's EMPLID or name. You may also search by selecting the degree, major, concentration, etc.

---
Below is an overview of the DegreeWorks worksheet. In order to earn a degree, students must satisfy these requirements.
Degree Requirements Section
This section provides a summary of the degree requirements as well as the overall credits required to graduate. For questions regarding transfer credits, please contact Transfer Evaluation Services at CCNY.
CUNY Skills Assessment
This section displays the status of the Skills Assessment Requirements. If these requirements are not fulfilled, please contact the Office of Evaluation and Testing at testing@ccny.cuny.edu .
Pathways-General Education Requirements
General Education or Pathways requirements will display based upon the year of entry into City College. For details regarding the pathways requirements contact a DegreeWorks liaison/advisor in your division. Click here to locate an advisor/liaison.
NOTE: If a student holds a prior degree (AA, AS or Baccalaureate) general education/pathways requirements are waived and the following section will not appear in the audit.
College Option Section
The College Option section shows the college specific requirements that you need to fulfill for your degree. The number of College Option credits is 6, 9, or 12, depending upon the number of transfer credits and whether or not an associate degree has been earned.
NOTE: If a student holds a prior baccalaureate degree, the college option requirements are waived and the following section will not appear in the audit.
Click here for more information regarding the college option.
Major Requirements Section
The major requirements section lists the specific courses that are required to complete a major.