Research Reopening
(Last update: 07/02/2020) CCNY is in stage 2 of research reopening.
This page serves as a source for guidelines and rules pertaining to college-wide post COVID-19 reopening of research activities. Please review each section with paying special attention to your building/department guidelines since those are usually derived from wider guidelines of parent administrative unit.
Quick links to CUNY, CCNY, Government guidelines.
List of Authorized Researchers 
Buildings:
Only faculty/staff/employees listed above will be allowed to enter respective buildings.
Please refer to subsequent guidelines if wish to have your name added.
---
Research Reopening Process
Overview: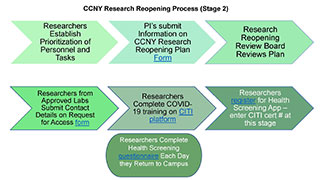 Click to enlarge and access links
Details:
In order to continue to minimize the risk of infection of SARS-CoV2, all research that can be done remotely as well as all other activities (office work, analysis, writing) must continue to be done off-campus to minimize the number of people per building and the travel on campus.
Staff who must work on funded projects and individuals with career deadlines (e.g. graduate students, postdocs, junior faculty) may be given priority to resume research activities on campus following approval by the Research Reopening Review Board and the Provost. To apply for approval to resume limited research activities prior to full campus reopening, please complete the following steps. Only complete these steps if you meet one of the priorities at this time.
1. Read the guidelines for CCNY Research Reopening and share with all members of your group. It is critical that this is done first.
2. Discuss with all lab members plans for research activities, including travel to campus, distancing in labs, cleaning and disinfection, and communication of changes. 
3. Go to this link to begin the process. You will fill out basic information and be able to download a template for your reopening plan. This plan needs to be as detailed as possible including explicit justification for prioritization. The last step of the form will prompt you to upload your plan to a Dropbox folder.
4. The Research Reopening Review Board will review these plans and respond with any questions.  Final approval will be granted by the RRRB and the Provost.
5. Each individual must complete the "COVID-19: Back to Campus (Fall 2020)" course, available for free here.
6. Communicate any changes to your plan to the RRRB by uploading a revised plan.
---
CCNY
College guidelines.
CCNY phasing-in research reopening guidelines.(Updated 07/02/2020)
Provost's research reopening memo (06/08/2020)
Individual Building Guidelines.
GSOE Restarting Research Town Hall - June 17, 2020 
Science Reopening Research Town Hall slides (06/19/2020)
Marshak, Steinman, ASRC*, CDI*, Harris*
*plans being finalized
Questions?
Please visit CCNY reopening Slack channel.
CUNY
Framework for CUNY Phasing in of On-Site Research
Research is essential to the University mission, fundamental for CUNY's capacity to advance discovery and innovation, and is important for our regional economy. In early March we were guided by public health and safety considerations and followed regional, state, and federal guidance to pause on-site research across CUNY except for essential and COVID-19 related research.
We will continue to prioritize the welfare of our CUNY community as we plan for gradually phasing in on-site research at University-owned and leased properties, and may need to step back along the way as public health and safety considerations evolve. Our expectation — similar to regional institutions like New York University and Stony Brook University — is that we will be able to begin phasing in more on-site research as New York City's reopening enters its second phase, per New York State's On Pause reopening framework, subject to meeting college, University, City, and State standards and obtaining the required approvals to do so. To this end, we are currently planning to resume research activities following a 4-stage framework.
Stage 1 – Plan and prepare to phase in on-site research, with an eye toward Stage 2 research priorities. Plans include establishing clear research priorities and CUNY approval processes per City and State guidance, working with relevant researchers, to discern space, equipment, and personnel needs for safety, developing health and safety protocols, and establishing communication and health monitoring plans.
Stage 2 – Expand on-site access to research, priorities including: externally funded and deadline-driven work (regardless of researcher rank or tenure status), research by graduate students who are near degree completion, untenured faculty research, and/or research requiring season-specific sample collections. Plan and prepare for Stage 3 priorities.
Stage 3 – Expand on-site access to tenured associate and full professors, and graduate students and postdoctoral research associates. Plan and prepare for Stage 4 priorities.
Stage 4 – Expand on site access to undergraduate students
Prior to their implementation, plans for each stage in this framework must be approved by the corresponding bodies designated by The City University of New York to ensure compliance with City and State reopening standards.
Government
New York City guidelines - https://forward.ny.gov/reopening-new-york-city
NYS Office-Based Work Guidelines for Employers and Employees
CDC Cleaning and Disinfecting guidelines.
Higher education research guidelines for employers and employees 
Interim guidance for higher education research during the covid-19 public health emergency