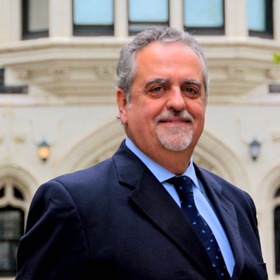 Maurizio Trevisan, M.D., M.S., dean of the Sophie Davis School of Biomedical Education since 2011 and provost of The City College of New York since 2012, oversees the transition of the Sophie Davis School into the CUNY School of Medicine.
"Serving the underserved with a special focus on primary care is a major source of pride and satisfaction," Trevisan says. "This medical school carries on its longstanding tradition of providing opportunities to pursue medical careers for talented young men and women from diverse backgrounds." 
Housed on the campus of City College, the fully-accredited medical school is the first of its kind in Harlem. It advances the mission of recruiting underrepresented minorities into medicine, and increases medical services and the availability of primary care physicians in historically underserved communities.
In addition to being an able administrator, the Naples native is an experienced chronic disease epidemiologist. His specific interest is the link between life style factors and the etiology of chronic conditions. He has authored or co-authored more than 300 articles, many of which appeared in publications such as Journal of the American Medical Association, Annals of Internal Medicine and The New England Journal of Medicine.
"Throughout my career, wonderful mentors helped me to become an established researcher and to transition into an administrative leader," Trevisan says. "I continue to honor them by serving as a mentor to our promising junior faculty and students and hope that as they progress in their careers, they, too, will mentor others." 
About The City College of New York
Since 1847, The City College of New York has provided low-cost, high-quality education for New Yorkers in a wide variety of disciplines. More than 16,000 students pursue undergraduate and graduate degrees in: the College of Liberal Arts and Sciences; the Bernard and Anne Spitzer School of Architecture; the School of Education; the Grove School of Engineering; the Sophie Davis School of Biomedical Education, and the Colin Powell School for Civic and Global Leadership. U.S. News, Princeton Review and Forbes all rank City College among the best colleges and universities in the United States.