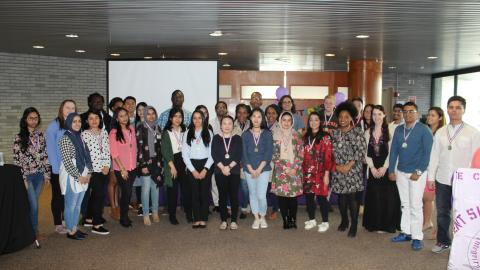 We help outstanding students achieve their goals.
Student Support Services Program
For over thirty years the US Department of Education has sponsored a TRIO opportunity program for CCNY undergraduates known as the Student Support Services Program. It is the largest SSSP TRIO program in New York State and the fourth largest in the country.
The Student Support Services Program (SSSP) provides undergraduates with the resources they need to successfully complete their degrees. Our comprehensive services help students achieve their academic and professional goals. 
Whether you are seeking guidance choosing a major, want to earn better grades, or are preparing for graduate school, our mission is to help you succeed!
RESOURCES AND ACTIVITIES
Grant aid in amounts up to $1,000 for eligible students
Zitrin Scholarship of $5,000 for outstanding students
Zitrin Tutor-Mentor Award of $500.
Advising and counseling
Peer mentoring
Tutoring
Workshops
Cultural Diversity program 
Scholars Showcase of Poster presentations
Award Ceremony
HOW DO I KNOW I AM ELIGIBLE?
We recruit highly motivated freshmen, sophomores, juniors and transfer students whose household income does not exceed the levels shown here. Students must be U.S. citizens or permanent residents and cannot be enrolled in SEEK to be eligible for admission.
HOW CAN I APPLY?
 You can also apply online  at the Application section of the website.
CONTACT INFORMATION
Elizabeth Thangaraj
Director
North Academic Center
Room 6/148
160 Convent Avenue
New York, NY  10031
p: 212.650.6825
f:  212.650.6231
e:  sssp@ccny.cuny.edu