Welcome to the City College of New York
The City College of New York (established as 'The Free Academy' in 1847) is the founding institution of the City University of New York and home to eight schools and divisions, each dedicated to the advancement of research and knowledge. We're the place where Albert Einstein first presented his theory of general relativity outside of Europe, our alumni discovered the polio vaccine, helped build the Internet, and designed the Panama Canal. And, our alumni have gone on to become Supreme Court Justices, Secretaries of State, leaders of industry, world-renowned researchers and award winning actors and musicians. We're the City College of yesterday, today and tomorrow. See yourself here. City College
Learn more about CCNY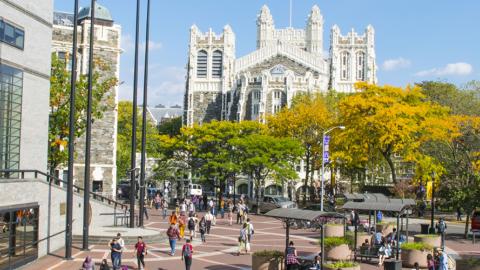 CCNY Fast Facts
Why CCNY? Here are a few reasons.
$5M+
Total student scholarships, stipends, and fellowships awarded
115+
Number of undergraduate majors and master's programs
95.6%
Full-time faculty members who hold terminal degrees in their fields
150+
Total number of countries that CCNY students represent
CCNY Fast Facts Sheet
View all events
View all news
View all news
Learn more about where CCNY, the home of upward social mobility, is planning to go in the coming year and beyond. 
Explore Our Five Year Plan