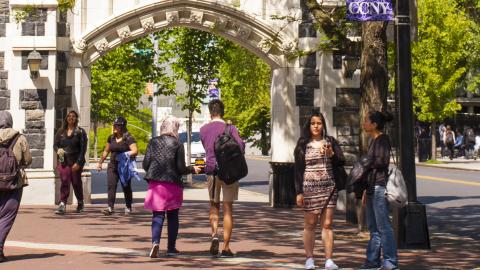 WHO WE ARE
The Early College Initiative (ECI) at the City University of New York (CUNY) was established in 2003 as part of the nationwide Early College High School Initiative, a project sponsored by the Bill and Melinda Gates Foundation. 
ECI is a network of 17 New York City Department of Education public high schools and secondary schools that are each partnered with a CUNY college. ECI develops and supports innovative public schools across New York City that provide students from a broad range of backgrounds with an opportunity to earn both a high school diploma and an associate degree (or up to 60 college credits) at no cost to themselves and their families. ECI schools are a part of a growing national network of over 280 early college schools now serving more than 80,000 students in 41 states, as well as Washington, D.C.
ECI schools are designed so that underrepresented populations including students of color, first generation college goers, low-income, English Language Learners, and all students can not only access college but attain success through degree completion.
WHAT WE DO
ECI removes institutional barriers and provides supports for students as they transition from middle school to high school and from high school to college. ECI schools are student-learning centered and allow students to build the confidence and skills necessary to graduate from both high school and college, primarily through experiencing the rigor and expectations of college courses while being supported through their high school community.
Each ECI school has its own school governance structure that is aligned to the expectations of all NYC DOE schools. These schools also work closely with CUNY through the college partner and sometimes with industries through the employer partner. 
ECI staff lays the groundwork for each ECI school by establishing and cultivating the college and employer partnerships, managing and distributing funds for college courses and curriculum alignment, collaborating with the NYC DOE to develop each school's focus, and advising on majors and degree pathways, among other things.
The work of convening the high school, college, and employer partners—and connecting their work into a seamless experience for students—is largely that of ECI staff and the liaisons. Each college and industry liaison is employed by and reports to their college and employer partner, respectively. Though not ECI staff members, the liaisons work very closely with ECI staff as planning partners, informally and formally. Every school has a formal steering committee or planning committee that meets on a regular basis to review, plan, and direct the work of the school. These committees are comprised of members of the school, college, DOE, ECI, and the employer partner, when applicable.
CCNY ECI
City College of New York partner school is City College Academy of the Arts (CCAA) a 6th-12th school. CCAA is a learning community that is safe, supportive, rigorous, and challenging. CCAA offers integrated academic experiences that allow students to begin taking college courses as early as the 9th grade.