CCNY is plugged into the fiber network of the COSMOS beyond-5G testbed
The City College of New York is now directly connected to the COSMOS beyond-5G testbed, which is supported by multi-million dollar investment from the National Science Foundation (NSF). The testbed was created to help U.S. researchers experiment with new methods that will shape and revolutionize the future of wireless networks in smart cities and communities. 
COSMOS, in New York City, was one of the first two testbeds to receive funding under the NSF's Platforms for Advanced Wireless Research(PAWR) initiative. The project is aimed at design, development, and deployment of a city-scale advanced wireless testbed to support real-world experimentation on next-generation wireless technologies and applications.
Designed with a focus on ultra-high bandwidth and low-latency wireless communications, COSMOS is led by researchers at Rutgers, Columbia and NYU, and in partnership with The City College of New York, New York City, Silicon Harlem, IBM and the University of Arizona. 
The Federal Communications Commission (FCC) designated the testbed envisioned coverage area (one square mile in West Harlem, with City College to the north, Columbia University's Morningside Heights campus to the south, and the Hudson River to the west) as one of the nation's first innovation zones, thereby enabling research institutions and the wireless industry to test new advanced technologies within the designated zone.
The connection to the testbed is enabled by a generous in-kind contribution of dark fiber by Crown Castle that directly connects the testbed facilities at CCNY and Columbia.
"With the number of internet connected devices estimated to have reached more than 46 billion in 2021 – a 200 percent increase since 2016 – it is more important than ever before that we invest in infrastructure that can process all that data in real time," said Mark Reudink, vice president of technology strategy at Crown Castle. "This test bed will do just that, facilitating important research on technologies that have the potential to change our lives for the better, while also serving as a model for future infrastructure investments on a larger scale."
The COSMOS testbed creates many opportunities for CCNY students and faculty to learn about high-speed internet communications and experiment with new concepts.
"CCNY faculty, staff and partner companies who have interests in 5G, Internet of Things (IoT), Edge Cloud, Smart City, V2X (Vehicle to Everything) and others can work with our lab and the COSMOS team to experiment their ideas," said Myung Lee, Co-PI and electrical and computer engineering professor at CCNY. "Currently, several students are working on theories that can be experimented on the COSMOS and COSM-IC (COSMOS Interconnecting Continents) testbeds. For students and the Harlem community, the testbed can be a learning experience for future wireless and high-speed communications."
One of the projects that CCNY lab students are currently working on is to secure vehicular communication, which will help ensure safety for pedestrians by informing vehicle's presence to them and allowing the vehicle to automatically control its speed while avoiding collision with people and other vehicles using V2X communication.  
Through the COSMOS initiative, CCNY will help transform wireless networks to support future wireless services such as extreme broadband wireless systems, massive connected IoT devices, local emergency systems, and other smart-city applications.
Professor Maria C. Tamargo elected to the National Academy of Engineering (NAE)
Professor Maria C. Tamargo, is elected to the National Academy of Engineering (NAE) Class of 2020.  She is recognized for forging the way toward an inclusive science and engineering research community and for contributions to molecular-beam epitaxy of semiconductor materials. The induction ceremony took place virtually on October 4, 2020.
https://www.ccny.cuny.edu/news/ccnys-maria-tamargo-named-member-nationa…
---
Electrical Engineering Professor M. Umit Uyar receives U.S. Army funding for drone research
M. Ümit Uyar, Professor of Electrical Engineering, has recently received a $1.2 million in funding from the U.S. ARMY to further his research aimed at designing autonomous drone flight and task control by artificial intelligence and game theory based algorithms that would not require preplanned mission directives and allow for real-time response to unpredictable changes in theatre.
A team led by computer engineering professor Umit Uyar of The City College of the City University of New York is working to design such drones, referred to as autonomous unmanned aerial vehicles or UAVs, which work as a swarm to collectively accomplish complex tasks that cannot be done by any individual one.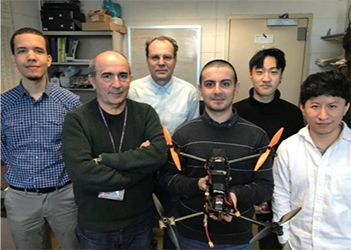 With a previous grant from the U.S. Army Combat Capabilities Development Command, organized by the MSI STEM Research Development Consortium, Uyar and colleagues have taken the first steps towards programming artificial intelligence into UAVs that allows the UAVs to react quickly, usually within milliseconds. Uyar and Janusz Kusyk, a professor and artificial intelligence and game theory specialist at the New York City College of Technology, are working together to use game theory to program the UAVs. Game theory, popularized by the 2001 film "A Beautiful Mind" about the economist John Nash, calls for each interacting party to act in its own best interests by taking into account what others will do.
---
Electrical Engineering Professor Alexander Gilerson receives three year NASA research award  
Professor Alexander Gilerson is a leading researcher in remote sensing of coastal and ocean waters from satellites, aircraft, ships, and ocean platforms using multi/hyperspectral and polarization imaging techniques, and design and deployment of sensor systems. His work is funded by NASA, NOAA, DOD, etc.  He is a recent recipient of a three year NASA research award titled: Retrieval of water parameters from hyperspectral and polarimetric imaging. This project aims to retrieve optical properties of coastal/ocean waters from above water measurements and from satellite observations based on the established bio-optical model and pre-calculated with vector radiative transfer simulations of the polarization state of above water radiance in a broad range of conditions. Results will be supported and validated by measurements using a state-of-the-art imaging system, which includes a hyperspectral imager in a range of wavelengths 365-1000 nm with polarimetric capabilities and a multi-spectral polarimetric imaging camera.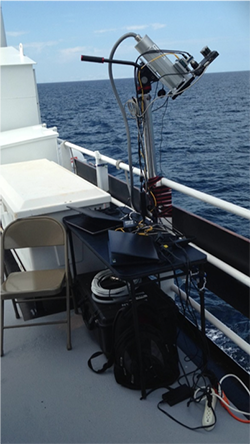 Measurements will be carried out from the ocean platforms, ships in ocean cruises and from helicopters. The results will better characterize the microphysical properties of hydrosols, such as the bulk refractive indices and the slope s of particle size distribution. While the work will be primarily focused on retrieval of water parameters in coastal waters with various concentrations of mineral particles with more pronounced polarization signatures, simulations and field work for open ocean waters will be also included, as small changes in concentrations of chlorophyllous particles in clear waters lead to a strong change of the degree of polarization from water. Applications of proposed approaches for the detection and characterization of plastics debris in various waters will be considered.
The project is directly relevant to NASA PACE mission currently planned for 2023.
---
Electrical Engineering Professor receives National Science Foundation grant for his research
Professor Sang-Woo Seo's research is on theoretical analysis of photonic devices and systems; nano/micro fabrication and processing; three-dimensional photonic integration/packaging; optical MEMs for biological applications; integrated microsystems using RF, bioMEMs, and photonics; integrated microfluidics, and flexible photonics devices for sensors and display.
He is a recent recipient of an NSF grant ($349,000) on light-induced liquid flow control for biomimetic retinal implants and therapies.
Neurotransmitter-based chemical stimulation is a relatively new concept and has demonstrated its potential to mimic neural information processes and bypass damaged neural synaptic interfaces.
However, most of the current efforts rely on limited cell numbers and their responses because of the lack of appropriate methods to investigate larger arrayed cell populations. Based on light-induced liquid flow control, the project will explore a novel three-dimensional microfluidic platform to address the fundamental limitations of the current chemical stimulation approach when it is applied to highly interconnected, large-arrayed neural stimulation.
---
CCNY Alumnus Dr. Peter Delfyett elected to National Academy of Engineering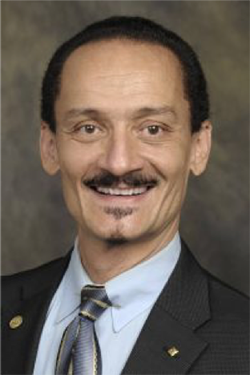 Dr. Peter Delfyett, a 1981 alumnus of The City College of New York, and University Board of Trustee Chair Professor of Optics, ECE, and Physics, University of Central Florida, Orlando, was elected to the National Academy of Engineering for contributions to development and commercialization of low-noise, high-power ultrafast semiconductor lasers.  He will be formally inducted during the NAE's annual meeting in Oct. 2021.
Election to the National Academy of Engineering is among the highest professional distinctions accorded to an engineer. Academy membership honors those who have made outstanding contributions to "engineering research, practice, or education, including, where appropriate, significant contributions to the engineering literature" and to "the pioneering of new and developing fields of technology, making major advancements in traditional fields of engineering, or developing/implementing innovative approaches to engineering education."  Election of new NAE members is the culmination of a yearlong process. The ballot is set in December and the final vote for membership occurs during January. 
Dr. Delfyett is also the winner of the 2021 Arthur L. Schawlow Prize in Laser Science from the American Physical Society (APS). Regarded as the highest accolade in the field, the prize recognizes outstanding contributions to basic research which uses lasers to advance the knowledge of the fundamental physical properties of materials and their interaction with light.
Peter J. Delfyett received the B.E.(E.E.) degree from The City College of New York in 1981, the M.S. degree in EE from The University of Rochester  in 1983,  the M. Phil and Ph.D. degrees from The Graduate School & University Center of the City University of New York in 1987 and 1988, respectively.  His Ph.D. thesis was focused on developing a real time ultrafast spectroscopic probe to study molecular and phonon dynamics in condensed matter using optical phase conjugation techniques.
https://creol.ucf.edu/person/peter-j-delfyett/
---
Electrical Engineering Professor Alexander Khanikaev recipient of a Special Creativity Award from the National Science Foundation
Professor Alexander Khanikaev is the recipient of a Special Creativity Award from the National Science Foundation Division of Materials Research.  The award extends Dr. Khanikaev's current grant "Novel Aspects of Topological Photonics in Open Optical Systems: Non-Hermiticity and Fano-Resonances" by two additional years ($300,000).  This award is in recognition of excellence in research, productivity, and impact on topologically nontrivial photonic systems and nonlinear photonic nanostructures and plasmonic metamaterials, as well as the broader impacts emanating from his NSF project.
The NSF Special Creativity award from the Division of Materials Research (DMR) is designed to recognize its most creative investigators who are attacking research problems at the forefront of their fields. Recipients of the award receive an automatic two-year extension on their NSF grant in which the award-winning research was performed and freedom to work on research topics of their choosing during the period of the extension.
Dr. Khanikaev is also the recent recipient of an Office of Naval Research $1,017,000 four year research grant in Topological Polaritonics.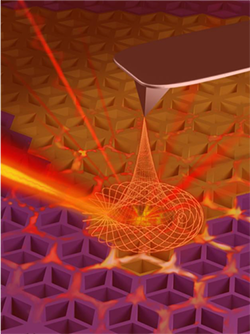 Professor Alexander Khanikaev, was elected as a 2021 Fellow Member of The Optical Society in recognition of his pioneering contributions to topological photonics and novel photonic materials.
In a recent article in Advanced Materials, titled " Near‐Field Characterization of Higher‐Order Topological Photonic States at Optical Frequencies" Dr. Khanikaev and his team applied a near-field technique to investigate a higher-order topological photonic metasurface. They show that the near-field profiles reveal the topological nature of optical modes (depicted as a torus in the picture). Topology manifests in the displacement of the Wannier center, giving rise to the topological dipole polarization and emergence of the topological boundary states observed in the optical near-field.
---
Last Updated: 01/27/2022 13:58