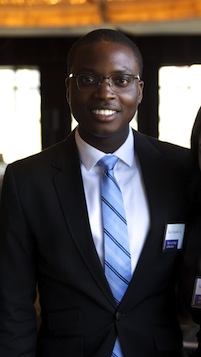 Oluwadamisi Atanda (Kay), Political Science, Thomas R. Pickering Graduate Fellow
The secret to winning an award is there is no secret
.
Applying for any fellowship or scholarship is challenging, but the process itself is rewarding. You learn a lot about your goals and skills, and, simultaneously, you improve them. It helps you to put many of your experiences and accomplishments—how far you have come and how much you have overcome—in perspective. Whatever you produce at the end, with strategic amendments, can be used for future applications. It is never a wasted effort.
Begin early. Starting your application three or four months before the deadline is not too early. It gives you sufficient time to research the program and understand the application process. Review previous recipients of a particular fellowship, to see if you have commonalities as a basis to request an introduction. Iinquire about their experience since receiving the fellowship and their experience with the application process. An early start also allows you to participate in webinars or information sessions fellowship programs might offer. Remember to ask for letters of recommendation at least one month in advance of the application deadline. Give recommenders sufficient information about the program and share drafts of your essays with them. When requesting a recommendation, meet with them to discuss your motivations and goals. This can help them craft a letter that describes your unique qualities. 
The "meat." The essay is one of the most important application components. Most fellowship committees aren't looking for "perfect" candidates. Rather, they seek people with stories; people who have experienced or are experiencing challenges; people who have overcome difficulties; people who yearn for adventure; and people who are curious to learn and passionate about their interests. They also want people who know how to write and convey their stories.
I usually begin by writing out, paying no initial attention to the word count, my story as it relates to the essay prompt—experiences, accomplishments, etc. I often begin with a personal anecdote. I share my motivations for pursing a particular course of study or career path and how my various experiences contributed to that motivation. Excite and spark the curiosity of your reader; let them think, let them laugh, let them cry, and let them want to reach through the pages of your essay to want to meet you.
The essay should have a theme; let all that you write tie into a succinct and central narrative. 
Rewrite, rewrite, and rewrite. A favorite professor often told me, "all great writing is rewriting." It is important to work on your essay constantly. Perhaps the most important advice that I can share with you is that you should always be honest in your writing. Scholarship committees can figure out which essays are genuine. If at some point, you feel that your essay isn't truly reflective of your experiences and who you are, stop, go away from the essay for a few hours, and go back and review your original motivations for applying. Consider changing your writing location from time to time. I have produced some of my best revisions writing outside in the park and in the subway. Ask for feedback on your writing from recommenders, mentors, and even faculty not too familiar with your writing.
In the end, remember to always give gratitude to all those that help you throughout your application process.

Alla Zamarayeva, Chemical Engineering, Goldwater Scholar, NSF-GRFP awardee.
Go for it
If you are reading this application advice, you are most likely thinking about applying. If you are thinking about applying, you must have done enough to qualify; therefore, I encourage you to start working on the application right away, without further hesitation.
When I learned about the Goldwater scholarship during an information session, I was skeptical about my success.  The application process is rigorous and requires months of commitment. But I looked at it as an opportunity to improve my writing skills and learn how to write an effective application.  Which are indispensable skills that you will definitely use throughout your academic carrier.
Applying for Goldwater changed my whole academic experience for the better. Working closely with the National Scholarship Coordinator, Jennifer Lutton, allowed me to evaluate my accomplishments to date and, more importantly, set new goals. The process made me a better writer; and it also resulted into the honor of receiving Goldwater scholarship.   
Organize your time wisely 
It gets extremely busy during the semester, therefore it is important to schedule between your classes, research, extra-curriculars, and working on an application. Set a certain amount of hours per week to work on your application and dedicate those hours to this purpose, no excuses, no exceptions.
Avoid hackneyed expressions, add more personal perspective
Selection committees will be reviewing many applications throughout the selection process. Make sure that yours stands out.  Learn what the committee is looking for and incorporate unique experiences in your essays to reveal who you are as a person.  This will also make your application interesting to read.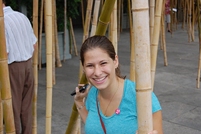 Lana Guardo, Environmental Justice (CUNY B.A.), Udall Scholar
Before my academic advisors convinced me to apply to be a Udall Scholar, I was very hesitant to commit to the competition. I knew how difficult the application process was and how formidable the other applicants would be. What if I put all of my efforts into the application essays, only to emerge scholarship-less? Despite these uncertainties, and with the encouragement of my academic advisors, I did decide to apply.  I could not be more grateful to have made this commitment, not only because I did win the honor of the scholarship, and the monetary award, but also because through the application process itself I was able to better understand my accomplishments thus far, solidify my career and life goals, and better put into motion my plans for achieving them.

The application consisted of eight separate essay questions about my experience with research, field work, public service and leadership positions in my field of environmental advocacy, as well as my future career aspirations. I began to write my responses in the beginning of December and sent in my finalized essays by the end of February. I met with my scholarship advisor frequently to discuss and edit my responses and to perfect my overall application. The help I received from my advisor was crucial; it played a substantial role in the quality and specificity of my application. When deciding what information to include in my essays, I found it helpful to research how the scholarship would be evaluated and what the readers would be looking for in a high-score application.

Because the editing process was so intensive, I would recommend getting an early start on writing the essays. I also suggest having a support system to review your writing and overall application multiple times before handing it in. The editing process for the Udall Scholarship application was lengthy, but the end product was very gratifying. Once I finished, I had created a polished, written response to questions that appear in many general applications for jobs, internships, programs, schools and scholarships. A complete application can be used for other purposes in the future and the process of crafting one gives you the unique opportunity to think critically about your own life, goals, and involvement in your field of interest.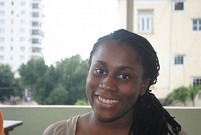 Ayodele Oti, International Environmental Public Health and Human Ecology (CUNY B.A.), Truman Scholar
Throughout my college career I was privileged to work with really great advisers when it came to applying for scholarships. During that time there are some things that I learned, and while some may sound cliche or obvious, they proved useful to me.

1) Plan wisely. Starting a month before a nationally competitive scholarship is too late. Why? Drafting takes time and requires other eyes on your writing apart from your own and gathering your thoughts--especially for questions that illicit an emotional response--takes time an energy. If recommendation letters are required, you want your recommender to have ample time to put together a great recommendation. Once you think you will be applying for a particular scholarship, start sooner rather than later.

2) Mock interviews help. It's important to prepare for a mock interview as if it were the real thing; but, it is also important to not let any poor (or even good) performance in one get to you. Sometimes mock interviewers will be harder on you than those in the actual interview, or they will be easier. This means you should try to have a balance of interview styles, so you are the most prepared.

3) Sometimes you have to let go. There will be times when you are asked to edit an application and remove items that you thought were great. While ultimately the decision is up to you, it is important to sometimes separate yourself from the application as if you are an outsider reading it. Often, you will come up with something better than you initially thought.
Gareth Rhodes, Public Policy and Political Economy (CUNY B.A.), Truman Scholar
Think how you fit the scholarship, not how the scholarship fits you: How one approaches an application is key. Instead of simply selling yourself and discussing your proudest accomplishments, think about exactly what the scholarship is looking for. Most scholarships are not just looking for smart, accomplished people. They want a specific type of person - e.g., someone who will be a leader in government, someone who will master a given field in science or medicine, someone who will serve in international diplomacy. Once you have identified exactly what the scholarship is looking for - and you have a picture in your mind of the "ideal scholar"--then look at how your accomplishments, your past occupations, classes, and future ambitions best fit into this picture. Select the achievements/personal stories that best portray you as an ideal nominee and ignore the other ones. For example, if you are applying for a Truman Scholarship, which looks for individuals fully committed to pursuing leadership roles in public service, while it is impressive to have excelled and won recognition for an internship with a prestigious law firm, spending too much time discussing this in your application will likely not convince the Truman Scholarship Foundation that you are what they are looking for in a scholar.
 
Tell stories to illustrate your accomplishments and make your application interesting: Compelling stories that create a visual in the readers' mind will make your application stand out and memorable. "I was head delegate for a Model UN team that won first place" is boring. Tell the story of how you represented some rogue country, brought hostile allies together behind your innovative resolution, whipped the votes together over sushi, overcame stifling opposition, and did something no one thought possible.
 
Prepare and Start Early: While every applicant will have their own unique approach, nothing is more important in my opinion than preparation and beginning far in advance. This will give you the time to rewrite dozens of time, have dozens of different sets of eyes pour over and criticize your work, and also allow you to get to know your application so well that you won't be caught off guard if there is an interview.
Last Updated: 05/07/2021 13:23