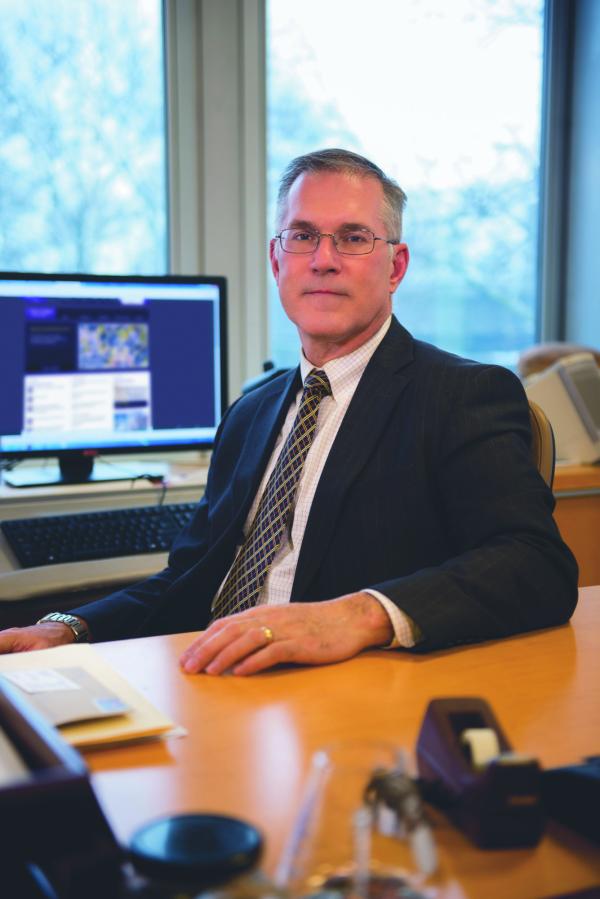 For the third year running, CCNY President Vince Boudreau has made City and State's Power list in Higher Education.
Dr. Vincent Boudreau, City College of New York president, who merges educational advancement and a commitment to social mobility to workforce development has been named to City & State's 2023 Higher Education Power 100 list. The list recognizes the 100 most influential people in academia statewide, including leaders of some of New York's best-known colleges, universities and professional schools.
His award this year marks his third consecutive year of inclusion in City and State's Power list in Higher Education.
Boudreau's legacy of leadership began with his appointment as the founding dean of the Colin Powell School for Civic and Global Leadership at CCNY. He was appointed City College's 13th President in December 2017.
In including Boudreau in the 2023 list, City and State special projects editor John Celeck noted: "Boudreau was picked because his leadership and tenure are pivotal to higher education statewide."
Degree Choice, a ranking agency for colleges and universities, evaluates CCNY alongside other institutions across the country in the category of national universities – colleges and universities with PhD programs. In 2022, CCNY ranked #1. Princeton and MIT were #2 and #3 respectively.
"If you look at social mobility factors, where a student's earning power is when they start college compared to where they are when they finish, CCNY students outpace their peers," said Boudreau.
Boudreau also points to the emphasis placed on workforce development made possible through initiatives like CCNY's Charles B. Rangel Infrastructure Workforce Initiative.
"There's an insufficient national workforce available to participate in the reconstruction of America's infrastructure, and that workforce is far less diverse than it should be," said Boudreau. "At the Rangel center, we're working to change that. For instance, we have a program to train drone operators for use in infrastructure assessment work. We'll start licensing drone operators as early as March, 2023," said Boudreau.
Boudreau's energy and commitment to CCNY programs also draws the attention of donors. At the start of his administration, annual fundraising totals were between $12 and $17 million per year. Those numbers have steadily increased since they rebuilt CCNY's fundraising machinery. The college raised a little more than $61 million in 2022.
About the City College of New York
Since 1847, The City College of New York has provided a high-quality and affordable education to generations of New Yorkers in a wide variety of disciplines. CCNY embraces its position at the forefront of social change. It is ranked #1 by the Harvard-based Opportunity Insights out of 369 selective public colleges in the United States on the overall mobility index. This measure reflects both access and outcomes, representing the likelihood that a student at CCNY can move up two or more income quintiles. Education research organization Degree Choices ranks CCNY #1 nationally among universities for economic return on investment. In addition, the Center for World University Rankings places CCNY in the top 1.8% of universities worldwide in terms of academic excellence. Labor analytics firm Emsi puts at $1.9 billion CCNY's annual economic impact on the regional economy (5 boroughs and 5 adjacent counties) and quantifies the "for dollar" return on investment to students, taxpayers and society. At City College, more than 15,000 students pursue undergraduate and graduate degrees in eight schools and divisions, driven by significant funded research, creativity and scholarship. This year, CCNY launched its most expansive fundraising campaign, ever. The campaign, titled "Doing Remarkable Things Together" seeks to bring the College's Foundation to more than $1 billion in total assets in support of the College mission. CCNY is as diverse, dynamic and visionary as New York City itself. View CCNY Media Kit.
 
Erica Rex
p: 845.668.0322
e: erex.ccny.cuny.edu