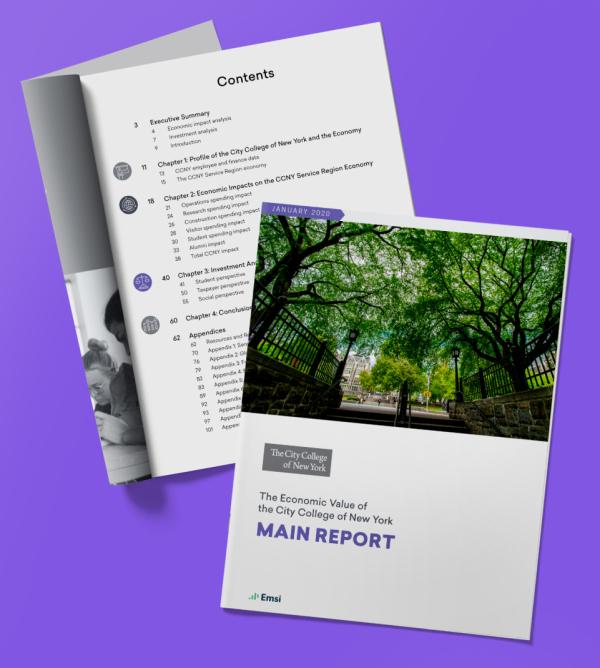 The City College of New York (CCNY), the founding college of the largest urban university system in the United States, added $1.9 billion in income to 10 counties in the New York region in fiscal year 2017-18. This is according to an economic impact study released by the labor analytics firm Emsi.
The study measures the economic impact of City College on the business community and the benefits CCNY generates in return for the investments made by its key stakeholder groups -- students, taxpayers, and society. The report focuses on what Emsi terms the "CCNY Service Region," 10 counties comprising of the Bronx, Kings, Nassau, New York, Putnam, Queens, Richmond, Rockland, Suffolk and Westchester.   
Emsi calculated the impacts created in the region by CCNY in FY 2017-18 as follows:
•    $288.3 million – operations spending impact;
•    $31.9 million – research spending impact;
•    $18.3 million – construction spending impact;
•    $57.4 million – visitor spending impact;
•    $50.9 million – student spending impact;
•    $1.5 billion – alumni impact.
This adds up to $1.9 billion or 16,760 jobs supported by CCNY, which was founded in 1847 and is the oldest institution in CUNY.
 In addition, for every dollar of public money invested in CCNY, taxpayers receive a cumulative value of $3.00 over the course of the students' working lives.
Overall, the study shows that CCNY creates value in many ways. It plays a key role in helping students increase their employability and achieve their individual potential.
The College also facilitates new research developments and draws visitors and students to the 10-county region, generating new dollars and opportunities for the CCNY Service Region.
"CCNY provides students with the education, training, and skills they need to have fulfilling and prosperous careers," said Emsi. "Furthermore, CCNY is a place for students to meet new people, increase their self-confidence, and promote their overall health and well-being."
"This study illustrates the critical economic impact that the storied City College, just one of CUNY's 25 colleges, has on New York City and its metropolitan area," said CUNY Chancellor Félix V. Matos Rodríguez. "The cumulative impact of millions of dollars in research grants brought in by CCNY's faculty, the $1.5 billion economic impact of their alumni and the attraction of visitors to its historic campus, help explain why City College — like CUNY — is a vital New York institution that contributes mightily to the economic life of the City and the State."
"We always knew that investing in CCNY was a smart decision, but the Emsi study gives us precise and methodologically transparent data to back those convictions," said City College President Vince Boudreau. "Moreover, our widely reported, fantastic social mobility numbers mean that these economic returns are taking place via the education and elevation of previously marginalized populations.  That fact vastly deepens any calculation of our social and economic impact."
Martin Cohen, a distinguished CCNY alumnus (Class of 1970) and co-chair of the newly formed Foundation for City College, Inc., applauded the institution's enormous value.
"CCNY's significant impact on the New York economy illustrates why it's important to support the College's growth and development, which is the primary goal of the new Foundation," said Cohen. "Since its founding in 1847, CCNY has been a great investment for New York City and this study shows that it's a great investment on an even larger scale across the region."
With a remarkably diverse student population of more than 16,000, CCNY influences both the lives of its students and the regional economy. The college supports a variety of industries in the CCNY Service Region, serves regional businesses, and benefits society as a whole in New York from an expanded economy and improved quality of life. The benefits created by CCNY even extend to the state and local government through increased tax revenues and public sector savings, Emsi noted.

The firm used data for the study from several sources. These include FY 2017-18 academic and financial reports from CCNY, the U.S. Bureau of Labor Statistics, the U.S. Census Bureau and Emsi's Multi-Regional Social Accounting Matrix model.

Click here to access the entire report.
About Emsi
Emsi is a labor market analytics firm that integrates data from a wide variety of sources to serve professionals in higher education, economic development, workforce development, talent acquisition, and site selection. Emsi is a leading provider of economic impact studies and labor market date to educational institutions in the U.S. and internationally. Since 2000, Emsi has completed over 2,000 economic impact studies for institutions across three countries.   
About CUNY
The City University of New York is the nation's largest urban public university, a transformative engine of social mobility that is a critical component of the lifeblood of New York City. Founded in 1847 as the nation's first free public institution of higher education, CUNY today has seven community colleges, 11 senior colleges and seven graduate or professional institutions spread across New York City's five boroughs, serving 275,000 students and awarding 55,000 degrees each year. CUNY's mix of quality and affordability propels almost six times as many low-income students into the middle class and beyond as all the Ivy League colleges combined. More than 80 percent of the University's graduates stay in New York, contributing to all aspects of the city's economic, civic and cultural life and diversifying the city's workforce in every sector. CUNY's graduates and faculty have received many prestigious honors, including 13 Nobel Prizes and 26 MacArthur "Genius" Grants. The University's historic mission continues to this day: provide a first-rate public education to all students, regardless of means or background.
 About The City College of New York    
Since 1847, The City College of New York has provided a high quality and affordable education to generations of New Yorkers in a wide variety of disciplines. CCNY embraces its role at the forefront of social change. It is ranked #1 by the Harvard-based Opportunity Insights out of 369 selective public colleges in the United States on the overall mobility index. This measure reflects both access and outcomes, representing the likelihood that a student at CCNY can move up two or more income quintiles In addition, the Center for World University Rankings places CCNY in the top 1.2% of universities worldwide in terms of academic excellence. More than 16,000 students pursue undergraduate and graduate degrees in eight professional schools and divisions, driven by significant funded research, creativity and scholarship. CCNY is as diverse, dynamic and visionary as New York City itself. View CCNY Media Kit.