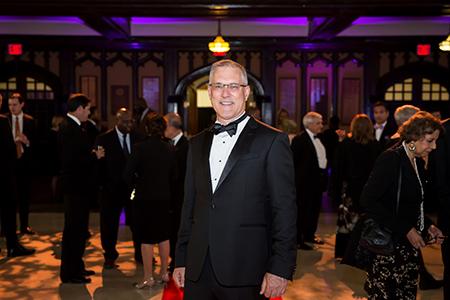 President Vincent Boudreau at the 16th annual Presidential Awards Gala in the Great Hall. Photo Credit: Eugene Chiu Photography.
The City College of New York kicked off its 175th anniversary celebration last night by launching a campaign to triple its endowment to $1 billion over the next 10 years.
"The Campaign for City College: Doing Remarkable Things Together" was announced by City College President Vincent Boudreau before an audience of more than 200 people gathered in the Great Hall of Shepard Hall for the College's 16th annual Presidential Awards Gala. 
"In commemorating the 175th anniversary of CCNY's founding, we rededicate ourselves to serving the historic vision bequeathed to us, and to embark on a new challenge to secure our future," said Boudreau, who has been president of the founding college of what is now the City University of New York since November 2016. "The idea of 'Doing Remarkable Things Together' is to ensure that people from all walks of life, whatever their economic or social circumstances, will have access to a college dedicated to the idea that a democratic society begins with educational opportunity for the whole people."
Increasing the existing endowment will lay the foundation for continuing success by supporting creative scholarships, internships, fellowships, and entrepreneurship initiatives, and upgrading physical facilities. These ambitions will also help to expand the College's world-class research profile.
"Two key elements of this campaign are to enhance academic excellence and to improve the student experience," said Martin Cohen '70, chairman and co-founder of investment firm Cohen & Steers, Inc. and the Board Chair of the Foundation for City College, Inc., which oversees the campaign. "City College already provides the best education that one can get; we need to ensure that future generations of students are assured of having the same opportunity to obtain that education."
The Gala honored engineer, researcher, developer, mentor and humanist Seymour Moskowitz '54, co-founder of CoVant Management, Inc., and Pearl Moskowitz, philanthropist; particle physicist and inventor Arden Warner '90; the Greater Harlem Chamber of Commerce; and Yvon Chouinard, founder of Patagonia, Inc.
A special feature of this year's event was a tribute to one of City College's most prominent alumni, retired US Army General and former Secretary of State Colin L. Powell '58, who died in October.
Founded in May 1847 as the Free Academy to provide children of immigrants and the poor access to free higher education based on academic merit alone, the College now consists of eight schools and divisions: The Bernard and Anne Spitzer School of Architecture; the CUNY School of Medicine at The City College of New York; the Colin Powell School for Civic and Global Leadership; the School of Education; the Grove School of Engineering; and the Division of Humanities and the Arts; the Division of Interdisciplinary Studies at Center for Worker Education (CWE); and the Division of Science.
City College now boasts a coeducational enrollment of 14,000 undergraduate students, and 2,600 graduate and professional students, supported by almost 1,500 faculty and 2,300 professional staff members.  
There are more than 100,000 living City College alumni worldwide. Among those alumni are scores of graduates who have made their impact on the world, including 10 Nobel Laureates. 
The College consistently ranks highly in key indicators such as best value, academic excellence, diversity and social mobility, as determined by important publications such as The Wall Street Journal, Money magazine, US News & World Report, Forbes and Princeton Review, and by organizations such as the Harvard-based Opportunity Insights' overall mobility index and the Center for World University Rankings.
To learn more about "Doing Remarkable Things Together" and to donate, go to https://giving.ccny.cuny.edu/donate-now.
About the City College of New York
Since 1847, The City College of New York has provided a high-quality and affordable education to generations of New Yorkers in a wide variety of disciplines. CCNY embraces its position at the forefront of social change. It is ranked #1 by the Harvard-based Opportunity Insights out of 369 selective public colleges in the United States on the overall mobility index. This measure reflects both access and outcomes, representing the likelihood that a student at CCNY can move up two or more income quintiles. In addition, the Center for World University Rankings places CCNY in the top 1.8% of universities worldwide in terms of academic excellence. Labor analytics firm Emsi puts at $1.9 billion CCNY's annual economic impact on the regional economy (5 boroughs and 5 adjacent counties) and quantifies the "for dollar" return on investment to students, taxpayers and society. At City College, more than 16,000 students pursue undergraduate and graduate degrees in eight schools and divisions, driven by significant funded research, creativity and scholarship. CCNY is as diverse, dynamic and visionary as New York City itself. View CCNY Media Kit.