Douglas Troeger
Professor
Additional Departments/Affiliated Programs
Building
North Academic Center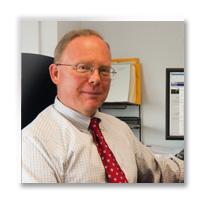 Douglas Troeger
Profile
Education
A.B. (Philosophy) Brown University
Sc.B. (Chemistry) Brown University
M.S. (Mathematics) Stevens Institute of Technology
Ph.D. (Mathematics) Stevens Institute of Technology
Courses Taught
CSc 33500 : Programming Language Paradigms
Research Interests
Computational Group Theory and Symbolic Computation, Functional Programming, Semantics of Programming Languages.
Publications
Challenge Response Password Security Using Combinatorial Group Theory, to appear in Groups, Complexity and Cryptology (with G. Baumslag, Y. Bryukhov, and B. Fine).
Virtual Properties of Cyclically Pinched One-Relator Groups, International Journal of Algebra and Computation, Vol. 19 No. 2, pp 213 - 227, 2009 (with G. Baumslag, B. Fine and C. F. Miller).
Virtually Free-by-Cyclic One-Relator Groups I., Aspects of Infinite Groups, Algebra and Discrete Mathematics, Volume 1, World Scientific, B. Fine, G. Rosenberger and D. Spellman, eds., pp.9-25, 2008 (with G. Baumslag).
Reflections on the Residual Finiteness of One-Relator Groups, Groups, Geometry and Dynamics, Vol.1 No. 3, pp. 209-219, 2007 (with G. Baumslag and C. F. Miller)
Additional Information
Professional Experience
Prior to joining City College, I had faculty appointments at Stevens Institute of Technology and Syracuse University. Prior to that I worked in industry, as a chemist in the Chemical Physics Division of Allied Chemical Corporation.
Current Professional Affiliations
Association for Computing Machinery, European Association for Theoretical Computer Science