Gordon Thompson
Professor
Additional Departments/Affiliated Programs
Black Studies Program
Office
NAC 6/216D - 4/149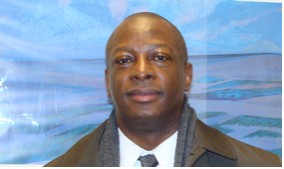 Gordon Thompson
Profile
A laudable career spanning nearly 24 years of teaching and service at City College, Louisiana State University, and Stanford University.
·As director of the Black Studies Program: demonstrated record of administrative leadership, including planning, budgeting for and managing an academic program.
·As creator, principal investigator and director of the RAP-SI project of the Black Male Initiative: demonstrated ability to successfully organize a staff and build a service-oriented mentoring program.
·As director of the Langston Hughes Festival Committee: has been in continuous service to the Committee since 1990.
·As professor of African American and American literature in the English Department: demonstrated strong publication record with scholarly expertise in the area of African American narrative praxis.
·As scholar: demonstrated record of peer-reviewed publications and frequent participant at national and international conferences and editor and co-editor of several books.
·And has demonstrated modest but successful record of grant and contract funding with state and university-wide organizations. 
Education
Ph. D. in American Studies|Yale University, 1987
M. A. in American Studies | Yale University, 1983
M. A.in Afro-American Studies | Yale University, 1982
B. A. in English | City College/CUNY, 1979
Publications
 Books:
The Assimilationist Impulse in Representative African American Narratives (Edwin Mellen Press, 2011).
Black Music, Black Poetry:Genre, Performance, and Authenticity (Ashgate Press, 2014).
Contributions to Books:
Black America [Three Volumes]: A State-By-State Historical Encyclopedia, (co-author, William Gibbons): edited by Alton Hornsby Jr. (ABC-CLIO, Inc., 2011). 
"Kindred Souls," chapter in Black Gay Genius, editors, Joseph Beam and Charles Stephens (Vintage Entity Press, 2014).
Articles: Refereed Journals:
"Methodism and the Consolation of Heavenly Bliss in Phillis Wheatley's Funeral Elegies" in CLA Journal, (September 2004; Vol., XLVIII, 1): 34-50.
"Projecting Gender: Personification in the Works of Zora Neale Hurston" in American Literature: (Dec. 1994).
"Ambiguity in Melvin Tolson's Harlem Gallery," in Callaloo: A Journal of Afro-American and African Arts and Letters: (Winter l986).
Articles, other:
"Sentimentalism and Aggression in Paul Laurence Dunbar's 'When Malindy Sings," in IRADAC/CAAN Work in Progress Journal,(2004; Vol. II): 161-187.
Encyclopedia entries:
"Melvin Tolson" in Encyclopedia of African American Culture and History (New York: Macmillan, 1995).
"Charles Chesnutt" in Encyclopedia of African American Culture and History (New York: Macmillan, 1995).
Review Essays:
"Mandela: The Xhosa Way": Book Review of Conversations with Myself, by Nelson Mandela (Farrar, Straus and Giroux, 2010) pp. 454 in The Journal of African American History (Fall 2012).
"Sins of Omission," review of Masculinist Impulses: Toomer, Hurston, Black Writing, and Modernity by Nathan Grant U P Missouri: 2004), inAmerican Book Review (March/April 2005; Vol. 26, 3): 2726 words.
"Love's Labor's Lost," review of The Missing by Rangi McNeil The Sheep Meadow Press: 2003) in American Book Review, (Nov./Dec., 2003; Vol. 25, 1): 1117 wds.
"The Multifarious Dimensions of African American Thought" review ofThe Origins of African American Literature,1680-1865, by Dickson D. Bruce Jr. (U P Virginia: 2001) in The American Book Review, (November/December 2002; Vol. 24, 1).
"Forgotten Forbears Resurrected" review of Lost Plays of the Harlem Renaissance1920-1940, edited by James V. Hatch and Leo Hamalian (1996) inThe American Book Review(July - August 1998; Vol. 19, 5).
"An Alignment of Fragments," review ofHonorable Amendments by Michael Harper inThe American Book Review(August-Sept., 1996; Vol. 17, 6).
Additional Information
Thompson acted as chief coordinator for extra-curricular events such as Black History Month's activities in his capacity as director of the Black Studies Program, City College/CUNY 2010-2013.
Co-Curator (with William Gibbons) for the Langston Hughes Festival Exhibition: "32 Years of Program Covers: Celebrating African American Writers" in the Morris Raphael Cohen Library, CCNY: September 2010-December 2010.