Nickolas Pappas
Professor
Main Affiliation
Philosophy
Areas of Expertise/Research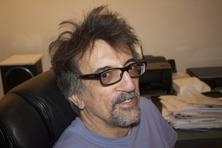 Nickolas Pappas
Profile
Nickolas Pappas received his Ph.D. from Harvard in 1987 and came to City College in 1993. His research concentrates on the two areas of ancient philosophy and aesthetics, and the overlap between them: how poetry and other arts were understood in the ancient world. He also has a strong research interest in Nietzsche. 
Publications
Recent Publications
Books
The Philosopher's New Clothes: The Theaetetus, the Academy, and Philosophy's Turn against Fashion, London, Routledge, 2015.
Politics and Philosophy in Plato's Menexenus: Education and Rhetoric, Myth and History (co-written with Mark Zelcer), London, Routledge, 2014 (forthcoming).
Guidebook to Plato and the Republic, London, Routledge: first edition 1995, second edition 2004, third edition 2013.  Translated into Portuguese (2003), Greek (2005), Chinese (2007).

Journal Articles & Chapters in Books
"A Little Move toward Greek Philosophy: Reassessing the Statesman Myth," in John Sallis (ed.) Plato's Statesman: Dialectic, Myth, and Politics. Albany, State University of New York Press, 2017, pp. 85-106.
"Women at the Gymnasium and Consent for the Republic's City," Diálogos 98 (2015):  27-54.
"Nietzsche's Apollo," Journal of Nietzsche Studies 45 (2014): 43-53.

"Beauty in Classical Philosophy: Plato, Aristotle, Plotinus," entry in Michael Kelly (ed.) The Encyclopedia of Aesthetics, 2nd edition.  Oxford, Oxford University Press, 2014 (forthcoming). 

"Plato's Menexenus as a History that Falls into Patterns," co-written with Mark Zelcer, Ancient Philosophy 33 (2013): 19-31.

"The Impiety of the Imitator in Republic 10," Epoché 17 (2013): 219-232.

"Magic and Art in Vertigo," in Katalin Makkai (ed.) Essays on Vertigo, London, Routledge 2012, 18-44.

"Plato's Aesthetics," entry in Stanford Encyclopedia of Philosophy.  Electronic publication: http://plato.stanford.edu/entries/plato-aesthetics.  Revised in 2012 from original 2007 entry.

"Plato on Poetry: Imitation or Inspiration?" Philosophy Compass 10 (2012): 1-10.  Electronic publication.