Omnia Khalil
Lecturer Doctoral
(she/her)
Additional Departments/Affiliated Programs
Areas of Expertise/Research
Cities
Counterinsurgency
Critical Urban Geography
Egypt
Middle East and North Africa
Securitization
Violence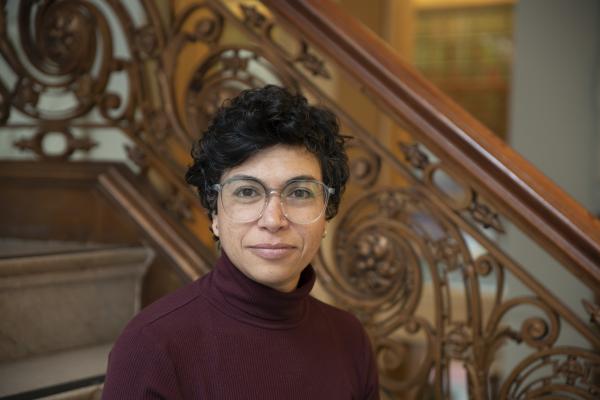 Omnia Khalil
Profile
Omnia Khalil has a Ph.D., CUNY Graduate Center, Anthropology program. Her research titled The Making of Counter-Insurgent Geographies in Post-revolutionary Cairo focuses on urban redevelopment and securitization of Bulaq Abule'lla where thousands of families were dispossessed in addition had different roles at the Egyptian revolution of 2011. Khalil has number of publications whether for the public at MadaMasr and Assfair Alarabi, and academic publication at different journals. Her research interests focus on violence, critical urban geography, political economy, securitization, and (counter)insurgency. Since 2008, Khalil focuses, as an urban researcher, on community participatory action planning and she has led many projects in Cairo, working with local communities.
Education
Ph.D. CUNY Graduate Center
M.A. American University in Cairo
B.Sc. Cairo University
Courses Taught
Global Perspective, Global Social Theory, Introduction to Anthropology (4 subfields), Cross Cultural Perspectives
Research Interests
Anthropology of Violence, Anthropology of Middle East and North Africa, Cities, Counterinsurgency, Times of Ruptures, Securitization
Publications
Peer-Reviewed and Journal Articles
Khalil, Omnia. "The Afterlives of Cairenes: The Making of New Social Geographies from Elsewhere than Bulaq Abule'lla". Égypte/Monde arabe, 23 | 2021, 27-43.
Khalil, Omnia. "The State as Un Urban Broker: Subjectivity Formation, Securitization, and Place-Making in Post-Revolutionary Cairo." Urban Anthropology and Studies of Cultural Systems and World Economic Development. 48 (1,2) (2019): pp 85-128.
Khalil, Omnia. "The People of the City: Unraveling the How in Ramlet Bulaq." International Journal of Sociology 45, no. 3 (July 3, 2015): 206–22. 
Khalil, Omnia. "The Everyday in Ramlet Bulaq," Middle East Report 274 (Spring 2015). 
Book Chapters 
Commodification of Violence, at Wikalet El-Balah. in Nashtari Kul shay' (We Buy Everything: Housing and Urban Changes in Cairo) نشتري كل شيء: تحولات السكن والعمران في القاهرة. Editors, Shawkat Yahia and Shehab Ismail. Cairo: Al-Maraya. 2021
Public Writing 
Analytical articles on the Urban and the Built Environment issues in Egypt in Mada-Masr, Khatt30, and Assafir AlArabi.
https://www.madamasr.com/ar/contributor/أمنية-خليل/
https://www.khatt30.com/author/omnia-khalil/
https://assafirarabi.com/ar/author/author-551/